Alon Nechushtan 'Loose Winds' For Andalus Ensemble And A Concert Band World Premiere Announced, December 10
The piece will be performed during the Manhattan Wind Ensemble fall concert and conducted by Sarah Fernandez.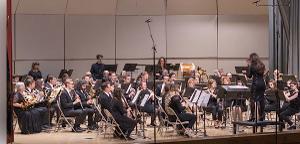 The world premiere of Alon Nechushtan's "Loose Winds" for Andalus Ensemble and a concert band will be December 10, 2022 at 8pm at Sally A. Rocker Theater at The Trevor Day School, 312 E. 95th Street, NYC.
The piece will be performed during the Manhattan Wind Ensemble fall concert and conducted by Sarah Fernandez. Tickets are $20 in advance or $25 at the door, and $10 in advance or $12 at the door for students and children under 12. For more information and to purchase tickets, visit eventbrite.com/e/mwe-fall-concert-2022-loose-winds-tickets-467787504017.
The evening will celebrate new and diverse composers, including two world premieres as well as brand new commissioned works. Manhattan Wind Ensemble will be joined by additional instrumentation.
The program features:
"Overture for Education" by Joshua A. Idio
"A Thousand Inner Voices" by Mat Campbell
"On Parade (Quick March)" by Amanda C. E. Aldridge
"Slavic Nightmares" by Jim Territo (World Premiere)
"Sasparilla" by John Mackey (Featuring soloist Jo Ellen Fusco)
"Loose Winds" by Alon Nechushtan (World Premiere)
Nechushtan notes that from the outset, the concept for his new composition "Loose Winds" was developed with Manhattan Wind Ensemble in mind: his first online encounter with the celebrated ensemble by searching the words "Manhattan winds" surprisingly landed him on a weather website, describing the Upper West Side wind conditions, rather than directing him to the band's website.
Nechushtan then had the epiphany of jotting down wind inspired movements with the notion that the large woodwind ensemble will emulate the actual blowing winds. The composer hails from the Middle East and the climate of the 'Hamsin' - hot wind that influences his native Israel, along with other countries like Lebanon and the Arab peninsula came to mind rather early.
"I was born and raised in Israel, where summer is a desert climate by default," said Nechushtan. "When the Hamsin wind erupts suddenly, the boundaries of comfortability are pushed to the extreme conditions. I was inspired by a few other winds that populate the region, such as the Sharqi and Simoom, and decided to portray them as a sound narratives in my work by mapping out their intensity level and general character, and translating these to little black dots in my music notebook - with the notion that, historically, the old people of the Maghreb and the Levant surely had to encountered these as well."
"The piece was written as a concerto for an Andalus Ensemble and a wind concert band orchestra," continues Nechushtan. "And I was grateful for having Sarah Fernandez, Manhattan Wind Ensemble's conductor and musical director, who commissioned the piece and helped me every step along the way, and for the help from Dr. Samuel Thomas, New York Andalus Ensemble director. A collaboration between these two stylistically diverse ensembles beautifully blends the Western standardized instruments of the Manhattan Wind Ensemble with the unique Eastern sounds of the Andalus Ensemble: darbuka drum, ney flute, riq, qanun and oud."
"I wanted to start with a strong instrumental pulsating up tempo melody," said Nechushtan. "'Tushiya,' using the popular mode Hijaz, which will proceed with a short improvised transitional episode, or Taqsim, continued with composing lyrics to a thousand year old poem by Shlomo Ibn Gabirol, which speak about the mystical wind and rain that brings blessings to all sentient beings, and concluding with a blazing finale that brings both ensembles to a mutual culmination, the equivalent of a classical symphonic scherzando-finale movement."
The idea of bringing several organizations together to a collaboration isn't strange to Nechushtan, who last month premiered his historical opera Chinatown-Boogie, that brought together Con Vivo Ensemble and its extended opera singers, along with the Nimbus Dance Company and Jersey City Theatre Center, all under a support from Jersey City Cultural Affairs and the New Jersey State Historical Commission.
To summarize this adventure, Nechushtan said, "I see music, whether instrumental or vocal, as a universal language regardless of the forces executing it or the musical genres uses. Thus, I hope to evoke a convergence between east and west, old and new, uptown and downtown, traditional and 'the now.' While this venture may be a new uncharted land in band music repertoire, I hope this humble expansion will be accepted."
New York Andalus Ensemble is a multi-ethnic, multi-faith group that performs in Arabic, Hebrew, Spanish, and Ladino. Drawing upon repertoire from the ninth century to the 1960s, from al-Andalus and the Maghreb (Morocco, Algeria, Tunisia). newyorkandalusensemble.com
Manhattan Wind Ensemble (MWE) is a community for professional and amateur musicians in NYC to come together to perform and expand the wind band literature and engage with audiences throughout the New York area.
MWE is an approximately fifty-person symphonic band composed of both professional and non-professional woodwind, brass and percussion players. Under the direction of its Music Director, Sarah Fernandez, MWE rehearses weekly and performs several times per year throughout the New York City community. For more information, visit manhattanwindensemble.com.
"A talent to watch, with a surfeit of ideas, an unbridled spirit and bold, two-fisted sense of Architecture" - (Down Beat magazine 2011), composer Alon Nechustan's music adventures have brought him to far corners such as the Yokohama Festival Japan with his contemporary compositions, The Sao-Paolo Brazil Jewish Music Festival with his Quintet Talat, Toronto, Manila with his concerto for the Philippine Symphony Orchestra and The Tel Aviv New Music Biennale with his Compositions for Large Ensemble. A resident of New York City, he has performed in venues such as Carnegie Hall, Central Park Summer Stage, The Blue Note Jazz Club and Joe's Pub frequently with his projects as a band leader of various groups or as an in-demand sideman. All About Jazz magazine called him "a fantastic pianist-composer with abundant chemistry and boundless eclecticism." He studied composition with Michael Gandolfi, orchestration with Lee Hyla, and additional composition lessons with Lukas Foss At the B.U, John Harbison & Louis Karchin at June In Buffalo Composition Masterclasses with Fredrick Rjewski, Pierre Boulez and Alexander Gehr. Piano with Fred Hersch, Paul Bley, Ran Blake, Danilo Perez, big band and jazz composition with Bob Brookmeyer, improvisation with Jerry Bergonzy, Bob Moses, George Garzone, Henry Threadgill and Uri Caine. He has released over 10 solo recordings on various leading recording labels: Enja (Germany), MGN (Netherlands), Tzadik (USA), BuckyBall (USA), Creative Sources (Portugal), Between the Lines (Netherland), Ayler (Sweden). www.musicalon.com
---
Shop BroadwayWorld

Shop this season's new musicals! Get dressed up for a night at the theatre, or just a night at home, with merch from some of Broadway's biggest hits including SOME LIKE IT HOT, KIMBERLY AKIMBO, and more!
---
Related Stories