Lauren Jauregui Comes to Teatro Gran Rex in March
The performance is on 1 March 2023.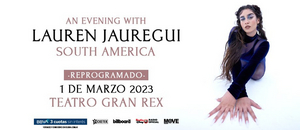 Las fechas sudamericanas del tour mundial de Lauren Jauregui que se llevan a cabo en Argentina, Brasil y Chile fueron reprogramadas para marzo 2023.
La nueva fecha de para este espectáculo en Buenos Aires es 1 de marzo del 2023, Teatro Gran Rex. Los tickets ya adquiridos seguirán siendo válidos para esta nueva fecha.
El Teatro Gran Rex informa que los eventos que se realizan en esta sala podrían ser fotografiados o filmados para su posterior difusión en medios y /o campañas publicitarias.
El ingreso al establecimiento implica la autorización a la Productora y a Cordero, Cavallo y Lautaret S.A. a utilizar el contenido filmado y /o fotografiado y el uso de imagen personal sin compensación alguna.
Muchas gracias