BWW Review: COSI FAN TUTTE at Santa Fe Opera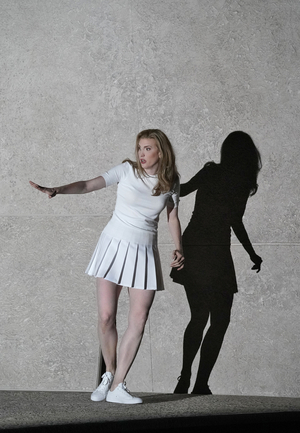 On July 26, 2019, Santa Fe Opera presented R. B. Schlather's rambunctious production of W. A. Mozart's dramma giocoso Così fan tutte. His first act started with Don Alfonso as a cowboy and the two couples, Fiordiligi with Gugliemo and Dorabella with Ferrando dressed in tennis whites. Later, Terese Wadden's costumes included long slit dresses, a long jacket for Fiordiligi and a highly revealing pants suit for Dorabella.
A drunken Don Alfonso sported a long muumuu for Act II. Ferrando and Guglielmo wore new jeans as soldiers and old, stained ones as the new lovers. Despina was seen in a proper print dress in Act I, adding only a mustache for her stint as the doctor. For Act II she had a long black chiffon gown with one sleeve and a magic wand that shot off sparklers.
Paul Tate dePoo's scenery consisted of bare walls with a pit and no furniture for Act I. For Act II, he added windows. That left room for all sorts of roughhousing and there was plenty of it, before, during and after major arias. Jax Messenger's lighting design always showed the audience where to look on the action-filled stage.
Although there usually is a chorus in this opera to see the men off to war and welcome them back, in this production they were heard from offstage. There was no break between the Scene I, when the men punched each other while wrestling, and Scene 2 when they met their sweethearts at the sisters' home. When told that the men had to go to war, Emily D'Angelo as Dorabella exhibited her distress by rolling on the stage floor while singing an excellent rendition of the difficult aria, "Smanie implacabili" ("Torments implacable"). In this performance, every aria was acted as fully as physically possible and no artist simply sang with feet firmly planted on the stage. Opera has entered a new age.
Since Don Alfonso wanted to be sure that the ladies' maid, Despina, did not tell them that they were being tested, he bribed her. Despina was portrayed by the veteran Canadian coloratura soprano, Tracy Dahl, who practically stole the show with her amusing antics. Although it is more than 30 years since her debut, her clear voice was still strong and her charisma kept the audience watching her the whole time she was onstage. The aria in which she tells the sisters, "Una donna a quindici anni"-"A fifteen year old woman" knows how to twist a man around her finger brought down the house.
Baritone Rod Gilfry, too, is a most capable veteran singing actor and he created a believable character in the midst of some wild comic goings on. Despite his misogynistic lyrics, his resonant bronzed tones were a balm on the ears and he was fun to watch pouring liquor on the heads of the other singers in Act II.
Amanda Majeski, who has sung several leading roles at Santa Fe, showed herself to be a capable Fiordiligi whose top notes bloomed with silver magic as she romped around the stage. For "Come Scoglio" ("Like a rock"), she was comedically impassive and for "Per pietà" ("For pity") she truly begged for forgiveness as she used every note in her wide range to encompass the scope of Mozart's writing.
Tall and slim Ben Bliss had a moderately sized tenor voice with a distinctive tone. He was a charming Ferrando who sang the aria: "Un'aura amorosa" ("A loving aura") with a captivating sweetness as he showed that he, too, could move while singing. As his energetic co-conspirator Guglielmo, Jarrett Ott sang with resounding low notes that helped outline his well-drawn character.
Conductor Harry Bicket played the overture at a brisk pace and kept the counterpoint flowing. His Act I matched the energy the director demanded of the performers and the result was clean and crisp. He slowed down slightly for the more difficult vocal aspects of Act II and allowed the singers to shape their arias to their vocal abilities. Harpsichordist Clinton Smith played the recitatives with verve.
In the end Rod Gilfry as Don Alfonso wins his bet with Ferrando and Guglielmo. Alfonso triumphantly declares "così fan tutte," ("all women are like that"). We may not agree, but the object of this performance was fun for the audience and the thunder of applause after the finale proved that the goal has been reached. Così fan tutte can again be seen at Santa Fe Opera on August 1, 5, 13, and 22nd.
Photo: Ken Howard for Santa Fe Opera
Related Articles View More Albuquerque

Stories

Shows