Photo Flash: Thom Sesma & Kim Huber in MTWichita's THE KING AND I, Opening Tonight
Music Theatre of Wichita continues its 42nd summer season with a new production of Rodgers and Hammerstein's classic The King and I, starring Broadway veterans Kim Huber as Anna, Thom Sesma as The King, and Alan Ariano as The Kralahome. Directed by Mark Madama (25th season at MTWichita) and choreographed by Peggy Hickey (A Gentleman's Guide to Love and Murder), the production plays July 10 - 14 at the Century II Performing Arts Center in Wichita, Kansas. XuZheng He is set designer, David Neville is lighting designer, and Thomas W. Douglas is musical director. Check out a first look below!
MTWichita was recently saluted on PBS during Kristin Chenoweth's Lincoln Center concert, in which she sang "My Lord and Master" as a re-creation of the Tuptim she performed at this theatre while in college. (She laughingly recalled how she attempted to compensate for her own non-Asian heritage by having the other cast members call her "Kristi Chen.")
During the years since similar culturally questionable casting was the norm with The King and I, many talented performers of Asian heritage have been brought to prominence in revivals of this classic show. Of Music Theatre of Wichita's five productions to date of The King and I, this new edition certainly boasts the most appropriately diverse cast.
Beside Kim Huber (Beauty and the Beast, Sunset Boulevard) as the English schoolteacher Anna Leonowens, and Edward Sturm as her young son Louis, virtually all of the principal characters, and many of this summer's resident performing company, are artists with Asian heritage.
In addition to Thom Sesma (Miss Saigon, Titanic, The Times They Are A'Changin') as the King, other artists include Alan Ariano (Miss Saigon, Les Miserables) as the Kralahome, Kay Trinidad and Karl Josef Co (Allegiance) as Tuptim and Lun Tha, and Tami Swartz (Madama Butterfly, Master Class) as Lady Thiang. Young Timothy T.V. Cao as Prince Chulalongkorn leads a 40-member troupe of royal princes and princesses. Los Angeles based dancers Lisa Gillespie and Jasmine Ejan portray Eliza and George in "The Small House of Uncle Thomas" Ballet."
Photos by: Squid Ink Creative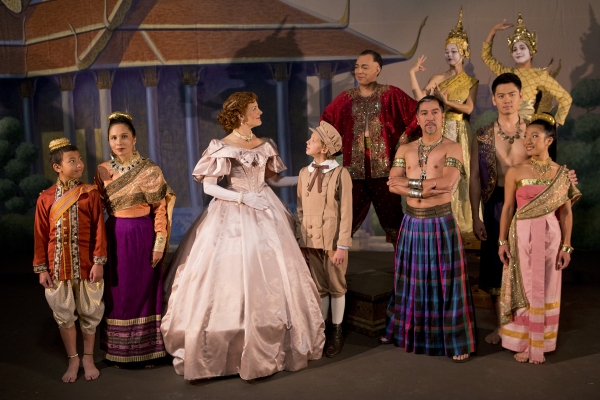 Timothy T. V. Cao, Tami Swartz, Kim Huber, Edward Sturm, Thom Sesma, Alan Ariano, Karl Josef Co, Kay Trinidad, Lisa Gillespie, Jasmine Ejan

Cast of THE KING AND I