Photo Flash: Theatre Wichita presents SEVEN BRIDES FOR SEVEN BROTHERS
Music Theatre Wichita continues its 2017 Season, "Hollywood to Broadway: A Summer Festival of Musical Theatre" with a new rendition of the vibrant 1954 movie musical turned stage show Seven Brides for Seven Brothers, which opened June 28 in the Century II Concert Hall in downtown Wichita, KS. The second of five locally produced Broadway-scale productions, Seven Brides for Seven Brothers is part of the organization's 46th season, which is also the 30th season for producing artistic director Wayne Bryan.
The production stars Broadway veterans Jeremy Stolle (Phantom of the Opera) as Adam Pontipee, and Catherine Charlebois (Wicked) as Milly Braden, leading a resident company of professional singer/actor/dancers from fifteen university programs across the United States.
MTWichita's production is directed by Larry Raben (The Producers - actor; Falling For Eve - director), with choreography by Peggy Hickey (Anastasia, A Gentleman's Guide To Love and Murder) and associate John J. Todd (Phantom of the Opera, Movin' Out OBC). Other members of the artistic team include costume designer Deborah Roberts, hair and makeup designer Danae Jimenez, lighting designer David Neville, and sound designer David Muehl. Original set design is by XuZheng He, with additional scenery by Jordan Slusher. Maestro Thomas W. Douglas conducts a 24-piece orchestra.
This production, the third rendition produced in MTWichita's history, features popular Johnny Mercer-Gene de Paul songs from the classic MGM film ("Bless Your Beautiful Hide," "Goin' Courtin'," "Lonesome Polecat") alongside new songs by Oscar-winners Al Kasha and Joel Hirshhorn, created for the Broadway version and for the subsequent adaptation which premiered in 2007 at the Paper Mill Playhouse. Much of the show's enduring popularity stems from the spectacular athleticism demanded of the singing-dancing cast, most specifically the actors portraying the six younger brothers (Jared Thomas Roberts, Alec Cohen, Matthew Davies, Mitchell McCroskey, Myles Woolstenhulme, and Trevor Michael Schmidt) and the ladies they are courting (Libby Lloyd, Katie Griffith, Lily Kaufmann, Cassie Austin Taylor, Keyna Hoselton, and Katie Pohlman).
Music Theatre Wichita has earned a reputation as one of the foremost summer opportunities for young upcoming talents. This year's Broadway season featured nearly forty MTWichita alumni, including cast members of Hello, Dolly!, Come from Away, Bandstand, Anastasia, Miss Saigon, A Bronx Tale, Sunset Boulevard, Cats, Charlie and the Chocolate Factory, and many more. Founded in 1972, MTWichita has produced the world premiere of the revised Good News!, the U.S. premiere of Betty Blue Eyes, and the regional premieres of such Disney titles as The Little Mermaid, Beauty and the Beast, and High School Musical. MTWichita has also created cast albums for Honk! and Good News!

Tickets are on sale now for all performances, either online at mtwichita.org, or by calling 316.265.3107. More information, including biographies, histories, and videos, can be found at www.MTWichita.org, and on social media sites Facebook (Music Theatre Wichita), Twitter (@MTWichita) and Instagram (MTWichita).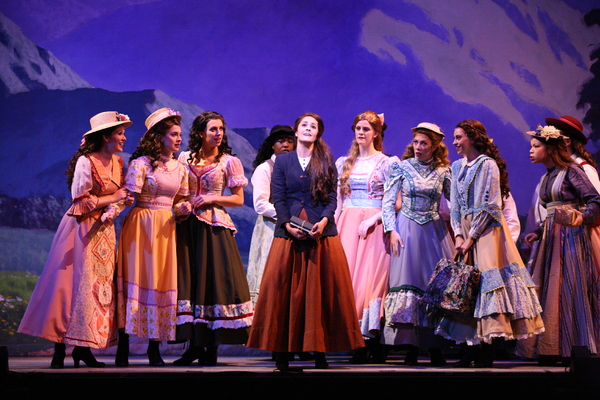 Catherine Charlebois and Company women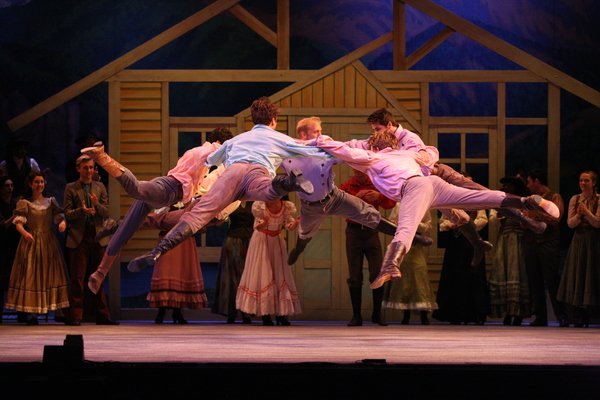 Choreography by Peggy Hickey

Seven Brides for Seven Brothers Company

Jeremy Stolle and brothers

Bride Lily Kaufmann and brother Matthew Davies in Peggy Hickey's spring ballet

Bride Lily Kaufmann and brother Matthew Davies in Peggy Hickey's spring ballet