Stage Adaptation of David Walliams's GANSTA GRANNY Returns To The West End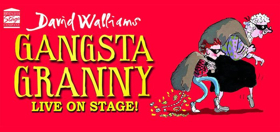 Birmingham Stage Company today announces the return of their smash-hit adaptation of David Walliams's bestselling book, Gangsta Granny, to the West End. The Olivier Award and UK Theatre Award nominated production opens at the Harold Pinter Theatre for a limited two week run, opening on 16 August, with previews from 14 August, and running until 26 August. Tickets go on sale today via ATG pre-sale and general on-sale on 3 May.
David Walliams's most popular story Gangsta Granny is back in the West End for two weeks following a national tour. This award-winning production, which was nominated for the Best Entertainment & Family Olivier Award, features an amazing cast, stunning sets and will have you dancing in the aisles!
It's Friday night and Ben knows that means only one thing - staying with Granny! There will be cabbage soup, cabbage pie and cabbage cake to eat and Ben knows one thing for sure - it's going to be soooooo boring! But what Ben doesn't know is that Granny has a secret - and Friday nights are about to get more exciting than he could possibly imagine, as he embarks on the adventure of a lifetime with his very own Gangsta Granny!
David Walliams said: "Gangsta Granny is my most popular book so it's wonderful to see the brilliant BSC's terrific adaptation back
in the West End
again. It's a fantastic, award-winning show - and so much better than the book!"
David Walliams is one of Britain's most popular writers and comic actors. Walliams has revolutionised reading for children and become one of the most influential writers today. In the ten years since the publication of his first novel, The Boy in the Dress (2008) illustrated by the iconic Sir Quentin Blake, David Walliams has become a global bestseller with sales exceeding twenty-three million copies, and his books have been translated into fifty-three languages. In July, 2017 he became the first children's writer to spend 100 weeks (non-consecutive) at number one in the children's charts, beating his rivals by over 20 weeks. He also topped the Sunday Times bestseller charts four times, more than any children's author ever. With a canon of ten chartbusting novels and six hilarious picture books, published by HarperCollins Children's Books, Walliams has cemented his place as one of the most important children's authors of our time. The enduring popularity of his stories extends to stage and screen. In 2014 he established King Bert Productions with Miranda Hart, Jo Sargent and Conor McCaughan with the aim of delivering original comedy, outstanding drama and unique entertainment programmes across global markets. King Bert has produced over twenty-five programmes to date including the 2017 television adaptation of Grandpa's Great Escape for the BBC starring Walliams alongside Sir Tom Courtenay and Jennifer Saunders. He also appeared in the Sky One adaptation of his novel, Ratburger shown Christmas 2017. The Boy in the Dress, Billionaire Boy and Gangsta Granny have also been adapted into TV comedy-dramas. His novels and picturebooks have also been made into touring theatre productions including Mr Stink, Ratburger, The First Hippo on the Moon and of course the Birmingham Stage Company's Gangsta Granny and Awful Auntie. Little Britain, which he co-created with Matt Lucas, started on Radio 4 and soon progressed to BBC1. The show has won numerous international awards including three BAFTAs, and now plays in over 100 countries. Little Britain Live performed to a million people in the UK, Ireland and Australia. David and Matt followed Little Britain with the hugely popular spoof airport documentary series Come Fly with Me. Walliams has proved himself as a dramatic actor inBBC2's, Capturing Mary with Dame Maggie Smith, in BBC1's Agatha Christie series Partners in Crime, as Frankie Howerd in the biopic Rather You Than Me for BBC4, and on the stage in Harold Pinter's No Man's Land starring alongside Sir Michael Gambon. He received the Comedy Award at the Evening Standard Theatre Awards for his performance as Bottom in A Midsummer Night's Dream directed by Michael Grandage. His film credits also include The Look of Love, directed by Michael Winterbottom, Great Expectationsdirected by Mike Newell, Dinner for Schmucks with Steve Carell and Paul Rudd and directed by Jay Roach, Run Fat Boy Run directed by David Schwimmer and starring Simon Pegg, and Stardust directed by Matthew Vaughn. David is a trustee of Comic Relief, a charity he has personally raised £8.5m for - he most notably swam the English Channel in 2006 and the River Thames in 2011 to raise awareness for the charity. David is also an Ambassador for the children's charity, Make A Wish. Due to David's generous support of Comic Relief and other charities he was awarded an Officer of the Order of the British Empire (OBE) in summer 2017 as part of the Queen's birthday Honours. Since 2012 David has appeared as himself as a judge alongside Simon Cowell on one of the biggest shows on TV, Britain's Got Talent.

Neal Foster is Actor/Manager of The Birmingham Stage Company. Since its foundation the BSC has staged over eighty productions and become one of the world's leading producers of theatre for children and their families. During the BSC's twenty-six year history, Foster has performed roles including Grandma in George's Marvellous Medicine, the title role in Skellig at The New Victory Theatre, New York, Storey in Awful Egyptians (Sydney Opera House) and Rex in Barmy Britain (Garrick Theatre and Apollo Theatre). As a director, his work includes Fantastic Mr Fox, Tom's Midnight Garden, The Jungle Book (all national tours) and Barmy Britain - Part One! Two!, Three! (Garrick Theatre), The Best of Barmy Britain (Apollo Theatre) and More Best of Barmy Britain (Garrick Theatre) with Barmy Britain Part Four! to open at the Apollo Theatre this Summer. He has adapted and directed the national tours of Awful Auntie as well as Gangsta Granny by David Walliams and Gangsta Granny made its West End debut at the Garrick last year.
Gangsta Granny is adapted and directed by Neal Foster, design is by Jackie Trousdale, lighting by Jason Taylor, sound by Nick Sagar, music by Jak Poore and choreography by Paul Chantry & Rae Piper of Chantry Dance Company.
Gangsta Granny live has been created by Neal Foster and The Birmingham Stage Company. In addition to this, BSC has been touring Horrible Histories Live on Stage for eleven years throughout the UK, Ireland, Dubai, Qatar, Abu Dhabi, Bahrain, Hong Kong, Singapore and Australia. Other current productions include the centenary tour of George's Marvellous Medicine by Roald Dahl.
Gangsta Granny is suitable for ages 5 +
More Hot Stories For You