Simon Callow Will Star In His Critically Acclaimed One-Man Show A CHRISTMAS CAROL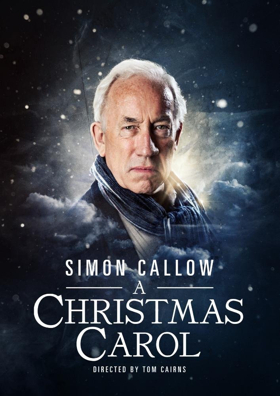 The traditional Christmas staple of Charles Dickens' much loved A Christmas Carol, returns this festive season to the West End stage starring Simon Callow, running at the Arts Theatre for a strictly limited season from 8 December to 12 January.
With critically acclaimed, sell-out seasons in 2011, 2012 and 2016, A Christmas Carol with Simon Callow, has become a traditional and well-loved adaptation for the festive season. Using the adaptation Dickens made for his own public performances, Simon Callow together with director and designer Tom Cairns, have conjured up a moving, funny and fast-paced one-man theatrical spectacular, that is both intensely dramatic and profoundly heart-warming.
Dickens takes us on a man's astonishing journey through his past, his present and (terrifyingly) his future, led by his three ghostly guides. Will Ebenezer Scrooge, tight-fisted, cruel and bitter, finally re-join the human race and learn to embrace the true generous and humble spirit of Christmas?
From the miser's dank and creaking house filled with shadows to cosy hearths, from stark graveyards to joyful festivities, this treasured story offers a celebration of goodness, a plea for justice and the promise of redemption.
National treasure, Simon Callow, is returning to reprise his role and is stepping back into Charles Dickens' shoes following previous performances as the author in the stage productions The Mystery of Charles Dickens at the Playhouse Theatre, Dr Marigold & Mr Chops at Riverside Studios, the film Hans Christian Andersen: My Life as a Fairytale, on television in the BBC's An Audience with Charles Dickens, and Doctor Who in 2005 and 2011. Callow has even written two books about the author, Dickens' Christmas in 2003 and Charles Dickens and the Great Theatre of the World in 2012.
The enduring popularity of A Christmas Carol, both as a novel and on stage, is testament to a story that transcends over centuries and it has never been out of print. Within two months of its original publication in 1843, eight stage productions were known to have been mounted, and Dickens himself chose the story to perform not only at his first public reading in 1853 but also at his farewell performance in 1869.
A Christmas Carol is produced by Assembly Festival, directed and designed by Tom Cairns, with sound design by Ben and Max Ringham, and lighting by Adam Povey.
Alongside the return of the critically acclaimed stage production, Simon Callow and Tom Cairns have also reimagined the production especially for the cinema. A Christmas Carol starring Simon Callow is in cinemas nationwide on Tuesday 11 December. Visit www.cinemalive.com for screenings.
Simon Callow went to work in the Box Office of Sir Laurence Olivier's Old Vic Theatre in 1967, subsequently training at the Drama Centre until 1973, when he left for his first acting job as the front end of a horse in Büchner's Woyzeck at the Edinburgh Festival. He then played in repertory at Lincoln, and with the Young Lyceum and Traverse Theatre Companies in Edinburgh. His first West End appearance was in 1975 opposite Harry Secombe in The Plumber's Progress; later that year, he worked for Gay Sweatshop. He then joined Joint Stock Theatre Company for two years, played Titus Andronicus at the Bristol Old Vic, Arturo Ui at the Half Moon Theatre and Eddie in Mary Barnes at the Royal Court, before joining the National Theatre to create the part of Mozart in Amadeus and perform all of Shakespeare's Sonnets.
Callow has since worked at The Royal Court Theatre, National Theatre, Bush Theatre, Southwark Playhouse and in many West End theatres. He has toured extensively, an activity about which he is passionate. In 1988, he played Faust in both parts of Goethe's play at the Lyric Hammersmith. In 1997, he acted in The Importance of Being Oscar, following this in 2000 with The Mystery of Charles Dickens, which he played for four years in Britain, Ireland, America (New York and Chicago) and Australia (Sydney and Melbourne). In 2005, he acted in The Holy Terror by Simon Gray. Callow has appeared in The Woman in White and, for the RSC, Merry Wives: The Musical. In 2008, he played Captain Hook in Peter Pan in which he made his entrance singing Michael Jackson's Bad.
In 2009, he played Pozzo in Waiting for Godot with Ian McKellen, Ronald Pickup and Patrick Stewart at the Theatre Royal Haymarket. In Christmas 2009, he played two unknown one-man plays by Charles Dickens, Mr Chops and Dr Marigold at the Riverside Studios, and in 2010 played his one-man show about Shakespeare, The Man from Stratford across the British Isles and in Trieste. In 2011 and 2012, he did highly successful seasons of Being Shakespeare, a revised version of The Man from Stratford, in the West End.
Callow gave the English language première of Emmanuel Darley's Tuesday at Tesco's, at the Edinburgh Festival in 2011, which won a Fringe First Award and the Glasgow Herald's Archangel. Over Christmas in 2011, 2012 and 2016, he gave an acclaimed performance in his one-man version of A Christmas Carol. In 2013, he performed in the world premiere of Matthew Hurt's play The Man Jesus at the Lyric Theatre Belfast, and performed his own one-man play Inside Wagner's Head in the Linbury Studio at the Royal Opera House, after which he acted with Felicity Kendal in a tour of Chin-Chin. In 2015 he appeared in Tuesday at Tesco's off-Broadway.
This year, 2018, saw him perform Frank McGuiness's new dramatization of Oscar Wilde's De Profundis in Edinburgh, and from December he will be reviving A Christmas Carol for the last time at the Arts Theatre. Early next year, 2019, he will appear in Noël Coward's last play, A Song at Twilight, at the Theatre Royal Bath, with other people, which makes a nice change.
His films include Amadeus, A Room with A View, Four Weddings and a Funeral, Thunderpants, The Phantom of the Opera, The Viceroy's House, Mindhorn, and most recently, Victoria and Abdul. His latest films soon to be released are The Blue Iguana, The Matchbox and film version of A Christmas Carol.
His television credits includes the 1980's cult sitcom, A Chance in a Million and, most recently, The Rebel, for UK Gold.
He has directed over thirty plays, musicals and operas, including the original West End production of Shirley Valentine, the première of Single Spies at the National Theatre, Les Enfants du Paradis at the RSC, Carmen Jones at the Old Vic, Die Fledermaus for Scottish Opera, Jus' Like That at the Garrick Theatre and The Magic Flute at Holland Park Opera, with designs by Tom Phillips. In 2015, he directed the world premiere of Iain Bell's opera of A Christmas Carol for the Houston Grand Opera; he also wrote the libretto. In 2017, he directed Christophe Hampton's The Philanthropist at the Trafalgar Studio. He directed the film of The Ballad of the Sad Café, starring Vanessa Redgrave, Keith Carradine and Rod Steiger, in 1990.
He has also written sixteen books, including: Being an Actor, Shooting the Actor and Love is Where it Falls, as well as biographies of Oscar Wilde, Charles Laughton and the first three volumes of a life of Orson Welles; Dickens's Christmas has recently been reissued. His most recent books are My Life in Pieces, which won the Sheridan Morley Theatre Biography Award, Charles Dickens and the Great Theatre of the World and Being Wagner, which appeared in January 2017.
Callow was appointed C.B.E in 1999 and is an honorary doctor of Queen's University Belfast, Birmingham University, the Open University, and Kingston University, as well a Fellow of the University of the Arts London. In 2014 he was made a Freeman of the City of London.
Tom Cairns (Director/Designer) is a multi award-winning director and works across several disciplines in the UK and worldwide. His work encompasses Film, International Opera and Theatre production. His theatre directing credits include: Scenes From an Execution, Aristocrats and The Odyssey (all at the National Theatre), Being Shakespeare (Trafalgar Studios, and in New York and Chicago), All About My Mother and Cloud Nine (both at the Old Vic), Phaedra (Donmar Warehouse), Aunt Dan and Lemon (Almeida Theatre), Minetti (Edinburgh International Festival), A Christmas Carol (Arts Theatre), The Music Teacher (New York), A Delicate Balance (Nottingham Playhouse), The Lady From the Sea (Citizens Theatre) and Miss Julie (Greenwich Theatre).
Tom's opera credits include: The Exterminating Angel (Salzburg Festival, Royal Opera House and The Metropolitan Opera), La Traviata (Glyndebourne Festival Opera), The Tempest (Royal Opera House, Opéra National du Rhin, Strasbourg, Royal Opera, Copenhagen), La Voix Humaine (Royal Opera House), The Second Mrs Kong (Glyndebourne Festival Opera), La Bohème (Staatsoper, Stuttgart), Un ballo in maschera (Bayerische Staatsoper, Munich), The Makropulos Case (Opera North and Edinburgh International Festival), Jenu?fa, Werther (Opera North), Don Giovanni (Scottish Opera), and King Priam (English National Opera, Opera North and Flanders Opera).
His film and TV credits include: A Christmas Carol (BBC Films, The Space) Marie and Bruce written by Wallace Shawn and Tom Cairns starring Julianne Moore and Matthew Broderick; Amongst Women adapted from the novel by John McGahern (BBC2) BAFTA nomination - Best Television series, Banff Television Festival - Grand Prize; Trouble in Tahiti written by Leonard Bernstein (BBC) Grammy Nomination, Vienna Television Festival - Best Film; The Human Voice after Cocteau (Ch 4); Big Day BBC) written by Jim Broadbent (BBC); Alistair Fish written by Russell Hoban (BBC) Winner - Art Film Festival, Slovakia; The Anniversary written by Jim Broadbent.
Assembly Festival - After 38 festivals, Assembly Festival is the longest running multi-venue operator at the Edinburgh Festival Fringe. Work from their programme regularly plays other theatres and festivals around the world. They are based in Edinburgh all year round at the Assembly Roxy, where they host theatre, music, comedy and events and also tour the best of their program around the world. Assembly Festival pride themselves on putting the world's best talent on stage in Edinburgh, and beyond.
More Hot Stories For You