Photo Flash: ROPE Begins Rehearsals At The Almeida Theatre
Roger Michell will direct PatRick Hamilton's classic thriller Rope running from 10 December 2009 - 6 February 2010, with press night on 16 December. Designs are by Mark Thompson with lighting by Rick Fisher and sound by John Leonard. Rope will be produced at the Almeida in association with Sonia Friedman Productions. Booking for Rope, sponsored by Aspen Re, is now open.
The cast includes
Bertie Carvel
(Rupert Cadell), Emma Dewhurst (Mrs Debenham), Michael Elwyn (Sir Johnstone Kentley),
Henry Lloyd
Hughes (Kenneth Raglan),
Blake Ritson
(Wyndham Brandon),
Alex Waldmann
(Charles Granillo) and Pheobe Waller-Bridge (Leila Arden).Said to be inspired by the real life murder of a young boy in 1920 by two University of Chicago students, Leopold and Loeb, Hamilton's thriller is set in a Mayfair apartment. Wyndham Brandon and Charles Granillo have murdered fellow student Ronald Kentley and deposited his body in a chest in their living room. Believing they are above suspicion and common morality they invite the student's father, his aunt and several of their friends over for tea, served on the chest.
Bertie Carvel
's theatre credits include The Pride for the Royal Court, The Circle for
Chichester
Festival Theatre
and Parade for the
Donmar Warehouse
as well as Man of Mode, The Life of Galileo and Coram Boy for the
National Theatre
. His film credits are
John Adams
and Suits and Stripes. On television his credits include Waking The Dead, Hawking and Midsomer Murders.Emma Dewhurst's theatre credits include In Flame at the Bush and New
Ambassadors Theatre
s, Medea at the
Queen's Theatre
, The Invention of Love for the
National Theatre
, Smoke for the Royal Exchange Theatre and Dangerous Corner for the Theatre Royal Northampton. Her television credits include The Palace for ITV and Doctor's and In a Wild Workshop, both for the BBC.Michael Elwyn's theatre credits include Three Sisters for the Royal Exchange Theatre, The Long Road for Soho Theatre and Revelations for Hampstead Theatre as well as many credits for the Open Air Theatre, Regent's Park and The Orange Tree. His extensive television credits include The Tudors, A Small Island and The Queen's Sister. His film credits include Surveillance, The French Lieutenant's Woman and Shadowman.
Henry Lloyd
-Hughes' theatre credits include Punk Rock at the Lyric Hammersmith, Divine for Soho Theatre, Shoot/Get Treasure/Repeat: The Odyssey and The Miracle for the
National Theatre
. His film credits include Harry Potter and the Goblet of Fire and Unrelated and on television he has been seen in The Inbetweeners, The Rotter's Club and In Search of Pete Doherty.
Blake Ritson
has played both Septimus, at Bristol Old Vic, and Augustus, for the
National Theatre
, in
Tom Stoppard
's Arcadia, as well as roles in Happytime Park for
Riverside Studios
and Macbeth and White Chameleon for the
National Theatre
. His film credits include Hilary and
Jackie, The
John Lennon
Story and Dead Man Running. On television his many credits include Mr Elton in Emma, Edmund Bertram in Mansfield Park and Shelley in The Romantics, as well as Giles Vicary in Red Cap and Idek in God on Trial.
Alex Waldmann
has recently been seen on stage as Laertes in Hamlet and Sebastian in Twelfth Night both for the
Donmar Warehouse
. His other theatre work includes Troilus in Troilus and Cressida at the Barbican as well as Angry Young Man at the Trafalgar Studios, Macbeth for
West Yorkshire Playhouse
, Big Love for the
Gate Theatre
and Hobson's Choice for
Chichester
Festival Theatre
.
Phoebe Waller
-Bridge has been seen on stage in 2nd May 1997 at the
Bush Theatre
, Roaring Trade at Soho Theatre, Crazy Love for Paines Plough and Present: Tense at the Trafalgar Studios. On television she plays Katie in Doctors and on film her credits include Lost Hearts and Perfect World.Award-winning stage and screen director
Roger Michell
's recent theatre credits include The Female of the Species at the Vaudeville Theatre, Betrayal and Old Times both for the
Donmar Warehouse
and Honour for the
National Theatre
, where he has also directed productions of Landscape With Weapon, Blue/Orange, The Homecoming, Under Milk Wood and The Coup. He directed My Night with Reg at the Royal Court and subsequently in the West End. For six years he was Resident Director at the
Royal Shakespeare Company
where productions included Restoration, The Constant Couple, Hamlet and The Dead Monkey. His many screen credits include the hugely successful romantic comedy Notting Hill as well as Venus, Enduring Love, The Mother, Changing Lanes, Titanic Town, Persuasion, My Night with Reg and The Buddha of Suburbia, for which he also co-wrote the screenplay. English playwright and novelist
Pat
Rick Hamilton
's Rope was first produced at the Strand Theatre in 1929. In 1948 Rope was directed as a film by
Alfred Hitchcock
starring
James Stewart
, the first of Hitchcock's films to be made in technicolor. In 1983
Alan Rickman
starred in the radio version of Rope which was broadcast on BBC Radio 4. Last year
Pat
Rick Hamilton
's Gaslight was presented by the Old Vic, directed by
Peter Gill
, with a cast including Rosamund Pike and
Kenneth Cranham
. Hamilton's Hangover Square, adapted for the stage by Fidelis Morgan, has recently enjoyed a sell-out run at the Finborough Theatre.
Photo credit: John Haynes

Alex Waldmann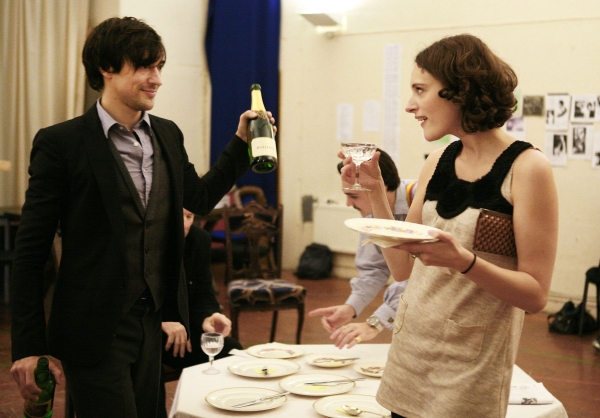 Blake Ritson and Phoebe Waller-Bridge

Blake Ritson