Photo Flash: Inside Rehearsals for GUARDS AT THE TAJ at Bush Theatre
Rehearsal images have been released today for the European premiere of Guards at the Taj, written by Pulitzer Prize finalist Rajiv Joseph and directed by Jamie Lloyd. Danny Ashok (Disgraced, Bush Theatre; Capital, BBC) will play Humayun and Darren Kuppan (East is East, West End/ UK Tour) will play Babur.
Check out photos from rehearsals below!
This darkly comic play runs at the newly revitalised Bush Theatre, following its major £4.3m capital project. Guards at the Taj takes an enduring legend about the Taj Mahal and prompts audiences to explore questions about art, privilege and duty. The play premiered at the Atlantic Theater in New York to great acclaim in 2015 and is the recipient of both the Obie Award for Best New American Play and the Lucille Lortel Award for Outstanding Play.
"If we hadn't done our jobs tonight, we'd be hanging by our necks in the royal courtyard getting our eyes pecked out by the royal crows. So excuse me if I don't wallow in some misbegotten guilt all night. Was it fucked up? Yes, it was. But I don't have to feel terrible about it."
It's 1648. Agra, India. Imperial guards Humayun and Babur keep watch as the final touches are put to the mighty Taj Mahal behind them. The emperor has decreed that no one, except the masons, labourers and slaves who exist within those walls, shall turn to look at the building until it is complete.
Guards at the Taj is written by Rajiv Joseph, directed by Jamie Lloyd and designed by Soutra Gilmour. Lighting design is by Richard Howell with sound design and music composed by George Dennis. Fight direction is by Kate Waters.
Photo credit: Marc Brenner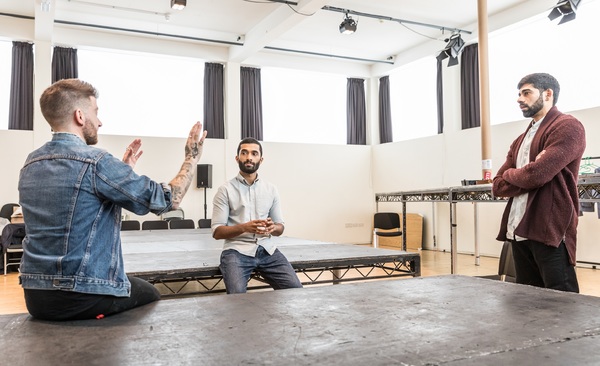 Director
Jamie Lloyd
with
Danny Ashok
and Darren Kuppan
Darren Kuppan and
Danny Ashok
Danny Ashok
and Darren Kuppan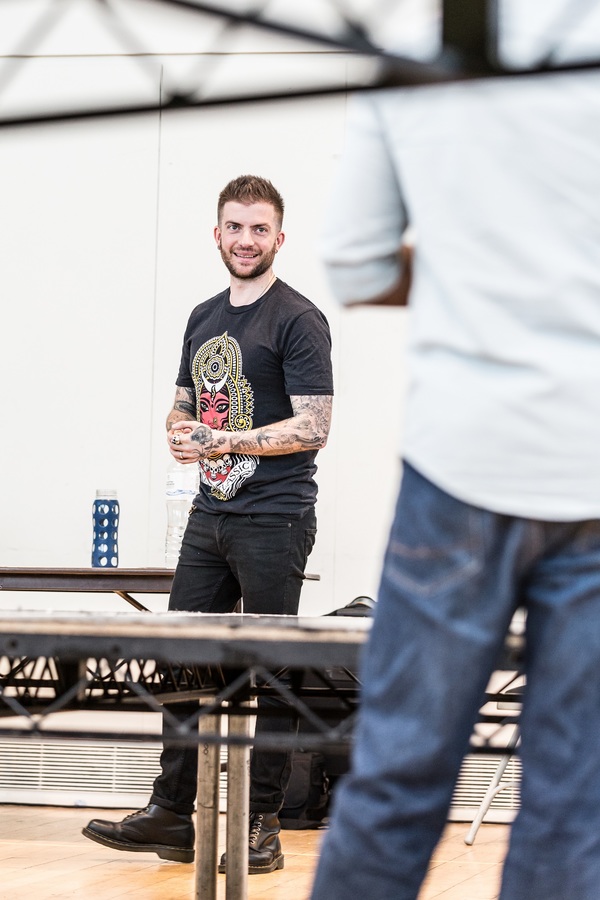 Director
Jamie Lloyd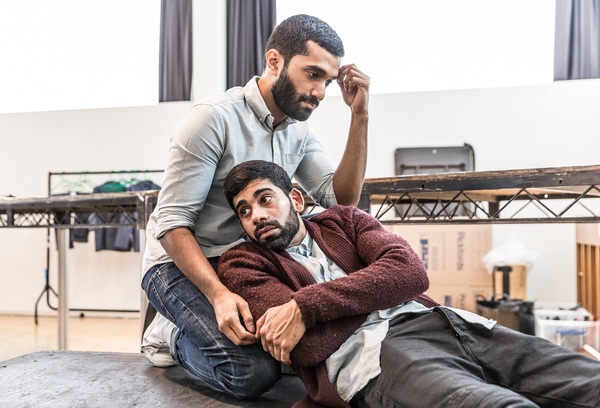 Danny Ashok
and Darren Kuppan
Darren Kuppan and
Danny Ashok
Darren Kuppan and
Danny Ashok