JANE EYRE Returns to the National Theatre's Lyttelton Theatre this Autumn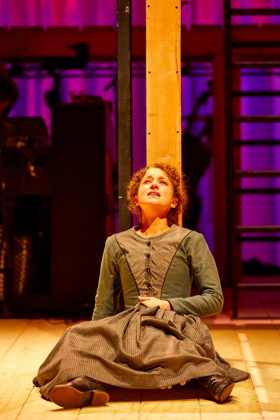 Sally Cookson's adaptation of Charlotte Brontë's masterpiece Jane Eyre returns to the NT's Lyttelton Theatre from 26 September - 21 October 2017 following a critically acclaimed season at the National Theatre and a major UK tour.
2017 marks the 170th anniversary of the first publication of Jane Eyre and Charlotte Brontë's story of the trailblazing Jane is as inspiring as ever.
This bold and dynamic production tells the story of one woman's fight for freedom and fulfilment. From her beginnings as a destitute orphan, Jane Eyre's spirited heroine faces life's obstacles head-on, surviving poverty, injustice and the discovery of bitter betrayal before taking the ultimate decision to follow her heart.
Nadia Clifford plays Jane Eyre with Tim Delap as Rochester. They are joined by Hannah Bristow (Helen Burns/Adele/Diana/Grace Poole/Abbot), Matthew Churcher (Musician), Alex Heane (Musician), Melanie Marshall (Bertha Mason), Paul Mundell (Mr Brocklehurst/Pilot/Mason), David Ridley (Musician), Evelyn Miller (Bessie/Blanche Ingram/St John) and Lynda Rooke (Mrs Reed/Mrs Fairfax). The cast is completed by Ben Cutler, Jenny Johns, Dami Olukoya, Francesca Tomlinson and Phoebe Vigor.
The production was devised by the original company, with set design by Michael Vale, costumes by Katie Sykes, lighting by Aideen Malone, music by Benji Bower, sound by Dominic Bilkey, movement by Dan Canham and dramaturgy by Mike Akers. Jane Eyre is a co-production between the National Theatre and Bristol Old Vic.
Director Sally Cookson, said about her production: 'Adapting a novel for the stage is a challenging prospect - especially when that novel is cited as many people's favourite of all time. It is always daunting when you're working on a story which everyone knows so well, because you want to surprise and maybe challenge people's expectations, without losing any of the things which make them like the story in the first place.'
'I chose this particular title because it's a story that I love and have enjoyed a close relationship with ever since I was intrigued, as a child, by Orson Welles' black and white melodrama with fabulous music by Bernard Herrmann.'
'I didn't actually read the novel until I was in my early twenties and I remember thinking while I read it: 'this is a clarion cry for equal opportunities for women, not a story about a passive female who will do anything for her hunky boss'. I was struck by how modern Jane seemed - her spirit and strong will, her peculiar and brilliant mind striving for personal freedom to be who she is, lashing out against any constraint that prevents her from being herself. She was exactly the sort of person I wanted to be.'
Sally Cookson is an Associate Artist of Bristol Old Vic, where her productions include Treasure Island and Peter Pan; and elsewhere, Boing! (Sadler's Wells), Cinderella (St James Theatre), an adaptation of Jacqueline Wilson's Hetty Feather (West End and UK tour), and Romeo and Juliet (Rose Theatre, Kingston). Sally's production of Peter Pan, devised by the original Company, based on the works of JM Barrie, a co-production with the Bristol Old Vic ran in the NT's Olivier Theatre in 2016. Her production of The Lion,The Witch and The Wardrobe will be performed at West Yorkshire Playhouse this autumn.
Nadia Clifford previously appeared at the National Theatre in Alistair McDowell's sell-out production of Pomona.
This new stage version of Jane Eyre was originally presented in two parts at Bristol Old Vic, and then transferred to the National Theatre, re-imagined as a single performance, playing to sold out houses at the NT's Lyttelton Theatre in 2015.
Photo credit: Brinkhoff/Mogenburg