Guest Blog: Daniel Goldman On CASA Latin American Theatre Festival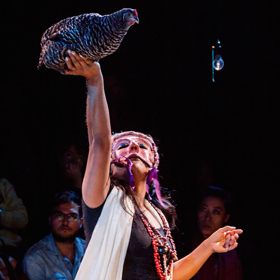 In 2001, I went to spend a year at a drama school in Buenos Aires. I went because I "liked" theatre, because I'd fallen in love with an Argentine writer called Borges, and because I thought that going to drama school in Argentina would be a good way to improve my Spanish. I didn't expect it to be the year that changed my life.
In Argentina, I discovered a theatre that was politically charged, socially engaged, where the theatre-makers had something important to say to their audiences and the audiences were at the theatre to actively engage in debate. Obviously, it wasn't all like that, but a lot of it was.
And I realised I wanted to be and needed to be a theatre-maker. It suddenly felt important. It felt, for want of a better term, the way for me to contribute. To make the world a better place.
As artists and as people, I think we are the sum of our experiences. If our experience of the world is limited, so is our ability to engage with it. If we can experience "otherness", whatever that might be, then we are in a stronger position to make informed decisions.
I am the theatre-maker I am because of the text-based English theatre I saw as a kid and teenager with my mum and gran on Saturday afternoons; the political theatre I encountered in Argentina; because I went to Lecoq to train in physical theatre. But also, the languages I speak; my Jewish cultural heritage; the sports I watch; the books I read; the TV I watch; the food I eat; the places I've travelled.
Of course, I'm hugely privileged to have had those opportunities. I recognise that. But it's also the reason I started CASA Latin American Theatre Festival in 2007.
I wanted to build a bridge between two incredible theatre cultures. I wanted to create a space for Latin American theatre and culture in the UK and for audiences of all ages and backgrounds to be able to come see it and experience it. I wanted to create opportunities for UK artists and Latin American artists to meet, exchange ideas, make work and share practices.
I wanted to support Latin American artists who live here to share their work and develop as artists with their unique set of experiences and stories. I wanted to break down the barriers of language and the idea that theatre is an exclusive art form, and get the UK's Latin American community coming to the theatre.
We're living in a country that voted to close its borders last year, that voted out of fear of the "other", that voted for a return to traditional British values, whatever those might be. Essentially, we voted for limiting our opportunities to experience otherness when it is otherness that makes us grow and be enriched. Just as our tastebuds develop the more different things we eat, so does our ability to think critically when we encounter different ideas and different cultures.
Nothing I've written here is new or particularly original. Experiencing otherness live, however, is. It can only be new and original. Engaging with otherness, meeting the other, hearing the other, touching, hearing, smelling, tasting otherness - that is what experientially makes a difference.
And that's why I'm still doing CASA ten years later and bringing Latin American artists and stories and ideas here to London, because it is live and because it is happening a metre away from you, because you can hear a story you've never heard, in a form you've never seen before, and then, best of all, you can go do a workshop with the artists, or have a chat in the bar, or share a meal or a drink and, even if the experience might seem ephemeral, we all end up little bit richer inside.
CASA Latin American Theatre Festival 2017 runs from 3 September to 29 October at Arcola Theatre and Southwark Playhouse
Photo credit: Alma Curiel, Alex Brenner