EVERYBODY'S TALKING ABOUT JAMIE Transfers to the West End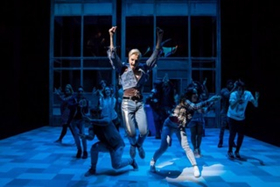 Once upon a time there was a 16-year-old boy who had a secret he wanted to tell...
So, he approached a documentary film maker as you do, and asked if they would help him tell it. The resulting documentary was seen by a theatre director and it inspired him to create a musical. A producing regional theatre backed him. He then bumped into a famous musical theatre star who introduced him to a well-known pop composer who was working with a lyricist and book writer. The theatre put on the production. A major producer saw it and offered them a West End theatre.
So, thanks to Jamie Campbell, Firecracker Films, Michael Ball, Sheffield Theatres and Nica Burns, a new British musical by a new British theatre writing and directing team, Everybody's Talking About Jamie opens at the Apollo Theatre on Wednesday 22 November 2017.
Fairy tales really do come true.
Jamie New is sixteen and lives on a council estate in Sheffield.
Jamie doesn't quite fit in.
Jamie is terrified about the future.
Jamie is going to be a sensation.
Supported by his brillianT Loving mum and surrounded by his friends, Jamie overcomes prejudice, beats the bullies and steps out of the darkness, into the spotlight. This fearless, funny, fabulous brand new musical sensation hits London with catchy new songs by lead singer-songwriter of The Feeling Dan Gillespie Sells and writer Tom MacRae. Sixteen: the edge of possibility. Time to make your dreams come true.
John McCrea will reprise his role of Jamie, alongside the majority of the Sheffield Crucible cast including: Josie Walker, Mina Anwar, Tamsin Carroll and DaniEl Anthony, Luke Baker, Courtney Bowman, James Gillian, Harriet Payne, Shiv Rabheru, Lucie Shorthouse, Kirstie Skivington.
Director Jonathan Butterell, Composer Dan Gillespie Sells and writer and lyricist Tom MacRae said:
"After Everybody's Talking About Jamie was commissioned we spent three hours in a wig room in Sheffield in which we wrote the complete plot and framework for the show before catching the train back to London. The three of us just clicked and we were instantly a team. It has been a new adventure for all of us, this is our first musical and going from zero to West End has felt like a fairy tale.
There is a bit of all three of us that has ended up in Jamie. We knew we needed a very specially talented performer to play him and when John McCrea walked into the room he was perfect. We hope that audiences will see a bit of Jamie in themselves too."
Producer and theatre owner Nica Burns said:
"Everybody seemed to be talking about the show so I went to see the final matinee in Sheffield with no expectations. I came out of the auditorium singing the tunes having laughed, cried, laughed again and dancing with happiness. I found the director, and immediately offered to produce the show in London at one of my theatres. It had to come to the West End. This is an uplifting musical for our times and for everyone."
For bookings and more information visit www.EverybodysTalkingAboutJamie.co.uk.
Photo credit: Johan Persson