EVERYBODY'S TALKING ABOUT JAMIE Live Screening Reaches Number One At UK Cinema Box Office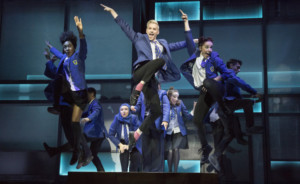 On 5 July, Everybody's Talking About Jamie, the award-winning feel good new musical sensation, was screened live by satellite into over 500 cinemas across the UK and Ireland and was confirmed by ComScore to have reached #No1 at the UK cinema box office that evening.
Due to popular demand encore screenings of Everybody's Talking About Jamie will be taking place in over 100 cinemas across the UK in the next few weeks. Visit jamieincinemas.com for participating cinemas and times.
Nica Burns, producer of Everybody's Talking About Jamie, said "We woke up this morning after a triumphant night to the most extraordinary response right across the country. It's been so exciting sharing the story with everyone, this has been a highlight for the cast and company of Everybody's Talking About Jamie at the Apollo Theatre. For those of you that have not seen it live come and join us."
Christine Costello, CEO of More2Screen said "From the moment we announced this release we've had a fantastic reaction from our cinema partners and their audiences. This shows what an appetite there is BEYOND the West End for award- winning and life-affirming musicals like the wonderful Everybody's talking about Jamie. A huge thankyou to everyone involved for their commitment to bringing this superb production to the big screen.'
Jamie New is sixteen and lives on a council estate in Sheffield. Jamie doesn't quite fit in.
Jamie is terrified about the future.
Jamie is going to be a sensation.
Supported by his brilliant loving mum and surrounded by his friends, Jamie overcomes prejudice, beats the bullies and steps out of the darkness, into the spotlight. This fabulous, funny, feel good brand new musical sensation hits London with catchy new songs by lead singer-songwriter of The Feeling Dan Gillespie Sells and writer Tom MacRae. Sixteen: the edge of possibility. Time to make your dreams come true.