EDINBURGH 2022: The Idiot Circus Q&A
EDINBURGH 2022: The Idiot Circus Q&A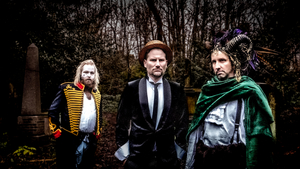 BWW catches up with The Idiot Circus to chat about bringing Death Is Coming to the 2022 Edinburgh Festival Fringe.
Tell us a bit about Death Is Coming.
It's Victorian melodrama for the 21st century- A show of original songs presented by theatrical types some of whom will be wearing hats. Themes of loneliness, revolution, murder, getting lost up a hill and, of course, death are explored.
Nick writes songs that tell little stories about depression or alcoholism or something, that refracted through a lost imagined era, are less bogged down with our current culture and make the songs universal and intriguing... (we said hopefully). Yes. The iDiOT CIRCUS can be pretentious.
It's a macabre, dramatic, witty and wistful way to spend the evening.
Who are The Idiot Circus?
Four upstanding gentlemen, expressing themselves through keyboard, drum, bass, guitar, ukulele and child's glockenspiel; two of which were born in Hemel Hempstead.
Nick was on tour with the RSC in America, when a few of the actors got drunk, bought ukuleles, sat in a hotel room making up stupid songs. The other actors sobered up and moved on in the morning. Nick didn't.
Not too long after, Nick forced his old school friend Matt to pick up the bass, after a 15 years sabbatical, and met a kindred iDiOT in James through what actors do when they're not acting: catering events.
Josh is a session player joining us for the festival, who happens to be awesome and is really the only musician in the band.
Who are your influences?
Philip Larkin, David Bowie, Monty Python, The Tiger Lillies and Dostoyevsky, squeezed through the prism of the straw hat
Who would you recommend comes to see Death is Coming?
People who like theatre and music, and theatrical-music, especially if those people happen to be partial to an existential giggle.
What do you hope audiences take away from the show?
What an amazing evening's entertainment, and my, wasn't the singer handsome.
Photo credit: Melissa Stephens
Sponsored content