EDINBURGH 2022: The Black Blues Brothers Q&A
EDINBURGH 2022: The Black Blues Brothers Q&A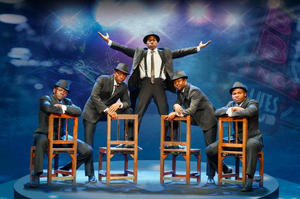 BWW catches up with Alexander Sunny to chat about bringing The Black Blues Brothers to the 2022 Edinburgh Festival Fringe.
Tell us a bit about The Black Blues Brothers.
It's an acrobatic tribute to the cult movie The Blues Brothers. It's full of energy, breath-taking stunts, and great music! You will see five incredible artists from Kenya perform a very peculiar show: not the traditional ethnical acrobatics, but a new theatrical hybrid between contemporary circus and musical comedy. Expect amazing jumps, fire, somersault routines, human pyramids, and so much more.

Where else has the show been performed?
Almost everywhere! We have been in Australia, Austria, Belgium, Czech Republic, France, Germany, Hungary, Luxemburg, Netherlands, Poland, Romania, Slovakia, Spain, Switzerland, United Arab Emirates, United Kingdom and Italy. A world tour with more than 700 dates and more than 300,000 spectators. The Black Blues Brothers are often asked to participate in major events too, and got the honour to perform for Pope Francis, who personally congratulated them after their act. They were guests of Prince Albert at the Rolex Tennis Masters gala dinner in Monte Carlo. And they have been invited to the Royal Variety Performance, where their performance was one of the most appreciated by the audience during a night introduced by Prince Charles who praised these very-talented artists.

Who is the show suitable for?
The show is suitable for everyone. Anyone who wants to have fun will find an hour of spectacular stunts and unforgettable music. It's impossible not to dance! Children will be astonished, and adults will be amazed and listen to the soundtrack of one of the greatest films in history. If you are looking for the typical energy of Africa or if you want to enjoy the daring feats of a modern circus theatre show, The Black Blues Brothers is the show for you!

Having performed at the festival in 2019 do you think you know what to expect from the Fringe?
The Fringe is always an unknown. A beautiful unknown! In 2019, we had a lot of success with audiences and critics alike and I have to say that the show has even gotten better since then, thanks to numerous dates around the world and a cast that makes tricky stunts easy. We are trying to return to Edinburgh with an improved version of the show, both acrobatic and theatrical. We expect to be swept away by the madness of the Fringe, to meet many International Artists... and to entertain the audience! After two difficult years we all deserve it!

What is next for the show after the Fringe?
Immediately after the Fringe we will start a tour of the UK with over 30 cities (you can find the whole calendar at https://www.blackbluesbrothers.live/). Then we will continue the tour in theatre all over Europe and in January we will participate in the Monte Carlo Circus Festival, the most important circus festival in the world!
Sponsored content