EDINBURGH 2018: BWW Q&A- The Worst Little Warehouse In London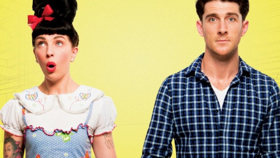 BWW caught up with
Robbie Smith
to chat about bringing The Worst Little Warehouse In London to the 2018 Edinburgh Festival Fringe.
Tell us a bit about The Worst Little Warehouse In London.
Righto! A little over two years ago, Robbie and I decided to pack up our lives here in Melbourne and move everything over to London for a two year adventure. In a nutshell, the cabaret is essentially our first year living in London, but more specifically, our year living inside a converted warehouse in the northern London borough of Harringey and the 10 characters from all corners of the world that we lived with during that time.
It's musical theatre, camp character comedy heaven, particularly for those of us that have share-housed in the past and are all too aware of all of those intrusive housemate scenarios that undoubtedly arise when living with people that you didn't chose to live with who you don't really know that well. And hell, when there's ten of them!
Why make it into a show?
During out year living at Daisy Mill, there would so often be things that would happen in The Warehouse, dramas that would occur or conversations taking place and Robbie and I would look at each other and think 'dear god is this actually happening?. Things that you think are so outrageous, so farcical and yet, here they were, playing out in real time in our shared kitchen area! We had a bank of tales here, ready and raring to go so we made something of them.
If I remember correctly, it was actually the night before we were moving out of The Warehouse (into a lovely and private studio apartment) when Robbie and I grabbed a bottle of wine, some markers and a few sheets of butchers paper and sat down on the floor of our bedroom and started mapping out what all of this could potentially look like. We moved out. And The Worst Little Warehouse started to gain momentum and start taking shape. People can relate to it, and although the show itself is packed full of mayhem and characters, there's a solid grounding of actual 'reality' in it. We've all been there and lived with 'those' people.
How has reception been in the first week of the run?
Really good, we are really happy so far with where we are at. We are absolutely thrilled with our venue and location - it's proving to be a real winner being so close to George Square with all the foot traffic that just naturally exists in that area. Reviews are starting to come in and they have been solid four stars across the board, which gives us the biggest smiles.
People are saying really wonderful things about our product and what we are doing, we just want to keep the momentum going and keep working hard to get those audiences coming hard and fast. We've had exceptional audiences so far, and love hearing the positive feedback that's making it's way back to us via Twitter and all of the social media networks. And we are constantly encouraging people to tell other people about the show if they loved it, we all know how monumental word of mouth is here at the Fringe!
We know first hand how much we yabber on about something if we absolutely love it so it's just reminding people to not be silent about an experience at the Fringe. If it makes you laugh, tell the world. We know we sure as hell are doing that for the shows that we are impressed by.
What are the plans for the show after the festival?
We aren't really sure at this stage but are certainly open to all opportunities. At the moment, all eyes and all energies are on the Fringe season here in Edinburgh and then once that has concluded, we can start looking beyond that. We have been invited up to Mackay in Northern Australia to perform a season of the show later in the year, in addition to a London season also yet to be confirmed. We both really would love to do the show again in London as that is where it was written and conceived and there appears to be interest in Europe post Edinburgh, so we'll just see where the wind carries us.
Adelaide Fringe, Perth Fringe and Melbourne Comedy are also on the cards but Robbie and I are so focused on making the biggest success possible of our time here in Edinburgh and then we can start seeing beyond that with a little more clarity. We'd also love to do some more writing together......
Who would you recommend comes to see it?
If you've ever lived in a share-house, you'll find plenty of common ground to laugh at. If you love musical theatre, you'll get your fair share of show references, toe tapping tunes and camp choreography. If you love the unpredictability of cabaret, it's a legitimate riot because Lala and I not only play ourselves for 55 minutes, we also don a plethora of props and each play over 6 additional roles each. It's a beard swapping, keyboard jumping catastrophical tightrope of tyranny. And finally, if you have been to London or done some world travelling of your own, you'll appreciate the comedic allusions to tourists, the tube, selfie sticks, Instagram, keeping to the right, hostile oversized backpacks, you name it!
There's plenty of musical theatre references in there for the die-hards, but pop-culture also has quite a strong presence within our show and we have deliberately aimed to keep the show vibrant, current and relevant to the on-goings of society, politics and the world around us. And of course, a plethora of relatable, shame-able and completely tangible share housing stories that will make your skin crawl and your belly ache. The whole premise of our show relies on the actor-audience commonality of the p
rogression i
nto adulthood via route of share-housing.
You'd be hard pressed to find someone in this day and age that hasn't lived with people other than their parents, be it during college or between jobs. It's such a universally shared past-time that lends itself to so much hilarity and we honestly believe that almost anyone can relate to our show. We so look forward to seeing you there!
Related Articles