Drag Cast Announced For ACID'S REIGN at VAULT Festival
Performances run Tuesday 14th – Sunday 19th March 2023.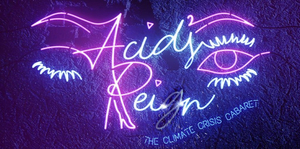 Relish Theatre brings a new drag cabaret play about the climate crisis and its impact on the queer community to the world-famous VAULT Festival. From award-winning writer James McDermott (Eastenders; Time and Tide, Park Theatre), with musical direction from Olivier-nominated Joe Beighton (SIX: The Musical), Acid's Reign will debut at VAULT Festival at their new 125 seat cabaret venue The Flair Ground.
The unique show will be performed by a star cast of drag artists playing Mother Nature, Sea, Land and Air. Repurposing the story of Dickens's, A Christmas Carol and recycling camp pop songs as green anthems, Acid's Reign is a fully sustainable drag-cabaret play exploring the queerness of nature, and how the climate crisis affects minoritised groups.
Award-winning drag queen, actor and activist, Son of a Tutu (Everybody's Talking About Jamie, Permissible Beauty, BBC Stories) will be playing the all-mighty Mother Nature. East London drag icon Scarlett Harlett (RuPaul's Drag Race UK Season 3) will be taking on the role of Sea, and all-star singer and drag king Jamie Fuxx will be portraying Land. Business tycoon Alex Acid will be played by actor Joshua Oakes-Rogers (The Red Book Ritual, The Sermon) and rounding off the cast and bursting onto the stage as Air is Mischa Velasco (University of Chichester Conservatoire).
The climate crisis is a queer crisis; when civilisation collapses, so do civil rights, meaning historically persecuted communities are most at risk from the effects of climate change. As with most global crises, these issues are disproportionately affecting those already facing systemic oppression. Marginalised people are more likely to live in areas at the most risk of climate change and are less likely to be able to access resources or relocate, as well as facing discrimination when turning to public services for help. LGBTQ+ youth are 120% more likely to experience homelessness than their cisgender, heterosexual counterparts. Housing instability, food insecurity and an overall threat to well-being are all factors contributing to poverty - issues which will only be increased under climate change - issues that need addressing.
The play follows LGBTQ+ Business tycoon Alex Acid, who wants to build a gay leisure resort in their rural seaside hometown, but the damage to the local environment will be disastrous. They are ready to tear it down and destroy anything and anyone standing in their way, including Mother Nature herself, but Mother won't sashay away, and Acid's siblings (Sea, Land and Air) are waiting backstage to teach them a long-overdue lesson in environmental responsibility. Will Acid reign? Or will they learn to embrace all that Mother Nature has to offer? With the help of a little drag magic, Acid's Reign forms part of Relish Theatre's Regeneration Season - a trio of new LGBTQIA+ plays.
Writer James McDermott comments, As a queer person living on the North Norfolk coast, in my county I can already see the demonstrable effects of climate change and I believe the climate crisis will hugely impact the LGBTQ+ community: if civilisation collapses, civil rights that keep us safe will collapse. As a queer person, I've often found it hard to love nature when I've grown up in a homophobic society that's told me I'm unnatural for my queer nature. Then when walking in Norfolk during the lockdown, I saw the queerness and campness of the natural world: it's fluid, colourful, loud, beautiful, and endangered. I saw that the world is a queer body that needs preserving. I wanted to write Acid's Reign to show audiences the queerness of nature, and the naturalness of queerness and to galvanise LGBTQ+ people to see why the fight against climate change is also our fight. I want to present this story as a drag cabaret to make a song and dance about climate change and to share these messages with a queer audience through queer art forms.