CinemaLive to release Northern Ballet's VICTORIA and DRACULA in Cinemas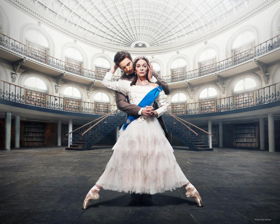 CinemaLive, leading producers and distributors of Event Cinema, are partnering with Northern Ballet to release two of their full-length productions into cinemas across the UK and Ireland in 2019. The brand-new production of Victoria will be screened for one night only on Tuesday 25 June and Draculawill be broadcast live via satellite into cinemas for Halloween on Thursday 31 October. This is the first collaboration between CinemaLive and Northern Ballet, the UK's leading storytelling ballet company.
Victoria will be choreographed and directed by the internationally acclaimed Cathy Marston who was responsible for the recent creation of Northern Ballet's Jane Eyre. This regal new ballet coincides with the 200th anniversary of the birth of Queen Victoria and tells the astounding life story of the iconic monarch through the eyes of her youngest child and lifelong companion Beatrice.
Bram Stoker's legendary vampire lives on in David Nixon OBE's Dracula. Played out through Northern Ballet's unique blend of sensuous dancing, gripping theatre and Gothic sets, this is ballet with a dramatic bite. The live broadcast will offer event cinema audiences an atmospheric and exciting alternative this Halloween.
John Travers, Head of Distribution for CinemaLive said: 'For over 10 years now, CinemaLive have been providing audiences world-wide with access to incredible events through their local cinema. We are delighted to be working in partnership with Northern Ballet to distribute these two exciting productions to cinemas in 2019. Their innovative approach to story-telling looks beyond traditional ballet titles and we are proud to bring this unique and inventive content to the big screen. We look forward to seeing both Victoria and Dracula connect with cinema audiences across the UK and Ireland this year.'
David Nixon OBE, Artistic Director of Northern Ballet, said: 'As the widest touring ballet company in the UK, Northern Ballet goes further to provide world-class ballet on the doorsteps of people throughout the UK. However, it is not possible to reach everybody with our live tour and so I am delighted that we will be offering Victoria and Dracula to cinema audiences throughout the country to enable even more people to access our productions.
We pride ourselves on being innovative storytellers, pushing the boundaries of what stories can be told through dance and these two ballets are excellent demonstrations of that. In the hands of one of the most exciting choreographers of today, Cathy Marston's Victoria takes the life of one of our most iconic monarchs and presents her story in a way never seen before. Whilst Dracula sees Bram Stoker's legendary vampire brought to the stage in a ballet full of sensuality and darkness; perfect viewing for Halloween.
We hope that through these cinema screenings, not only will ballet fans have more opportunities to see us perform but that others who may have never seen a ballet before will give it a try and discover a new passion for our art form.'
For more information, ticketing and a list of all participating cinemas in the UK and Ireland please visit www.cinemalive.com
Related Articles View More UK / West End

Stories

Shows
More Hot Stories For You