Casting Announced For THE SECRET GARDEN, Barn Theatre, Cirencester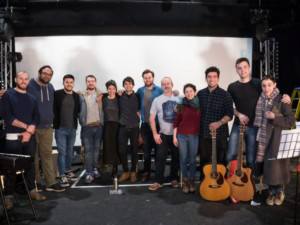 Casting has been announced for the Barn Theatre Cirencester's inaugural professional production of The Secret Garden, which will run from March 16 to April 15. The cast will include: David Haydn (Archibald Craven), Jaimie Pruden (Lily Craven), Minal Patel (Neville Craven), Celeste De Veazey (Colin Craven), Daniella Piper (Mary), Jenny O'Leary (Martha), Alex James Ellison (Dickon), Sue Appleby (Musical Director, Ensemble), Steffan Rizzi (Ensemble), Jamie Ross (Ensemble), Celia Cruwys Finnigan (Ensemble), Ben Boskovic (Ensemble).
The Secret Garden is a Tony Award-winning musical based on the 1911 book by Frances Hodgson Burnett with Book and Lyrics by Pulitzer prize winning playwright, Marsha Norman ('Night Mother, The Color Purple, The Bridges Of Madison County) and a score by Tony Award nominee Lucy Simon. The musical originally premiered on Broadway in 1991, going on to win 3 Tony Awards. Dominic Shaw, who has previously worked on several West End Shows including Beautiful - The Carole King Musical, Dirty Rotten Scoundrels, Legally Blonde and currently Kinky Boots, will direct the musical for The Barn Theatre
The musical tells the story of 10 year old Mary Lennox, an English girl who has lived in India since birth, and is orphaned and sent back to England to live with her remaining relatives in a manor house in Yorkshire. There Mary discovers a house in mourning and a mysterious, neglected garden. With the help of the friends she makes at Misselthwaite, Mary helps restore not only the garden but the family themselves who are rejuvenated by her presence and heal their grief through love and hope.
Director Dominic Shaw says that in his new interpretation of The Secret Garden he has "completely reimagined the piece and made it more accessible for a contemporary audience. The musical explores themes of love, family and rejuvenation - all themes which draw parallels and seem fitting for the opening of a brand new theatre."
The production marks the culmination of three years of planning, rebuilding and technical development for the Cirencester-based, 200-seat venue, which has artistic director Iwan Lewis at its helm. The Barn Theatre has received tremendous industry support in the run-up to its opening, with high profile ambassadors including actors James Dreyfus, Matthew Kelly, Heida Reed, Daisy May Cooper and Broadway director Jerry Mitchell lending their support to the project's ambitious aims.
Legendary Broadway Director Jerry Mitchell commented: "I couldn't be more excited about The Barn Theatre and its plans. Having worked with both Iwan and Dom on various productions, it's great to see them now forging their own path as young leaders in the industry. It's a very positive thing to see a new generation of artists come through. To watch the energy with which they are approaching the opening of the new theatre and the first production is fantastic."
"The Secret Garden":
Barn Theatre - 5 Beeches Road, Cirencester GL7 1BN
16 March - 15 April
Tickets: £14 - £28
Box Office: barntheatre.org.uk / 01285 648255
Previews: 16th & 17th March (7:30pm)
Opening week performances: 19th March 6:30pm (press night), 21st March 7:30pm, 22nd March 2:30pm & 7:30pm, 23rd March 7:30pm, 24th March 7:30pm, 25th March 12:30pm & 5:30pm
Standard week performances: Tuesday 7:30pm, Wednesday 7:30pm, Thursday 2:30pm & 7:30pm, Friday 7:30pm, Saturday 7:30pm, Sunday 12:30pm & 5:30pm
Twitter @BTheatreCiren
Facebook @BTheatreCiren
Instagram @BTheatreCiren
The Barn Theatre The Barn Theatre Project is a registered charity. No: 1174253