Review: WAITRESS, Birmingham Hippodrome
An excellent tour cast ensures the Broadway and West End smash-hit is as delicious as ever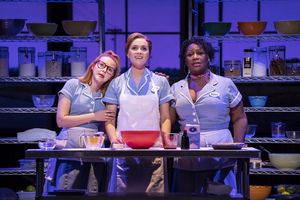 If there's such a thing as the perfect recipe for a musical, then Waitress has surely found it. Like each of Jenna's delicious freshly-baked pies, the show achieves the ideal balance of sweet and sour. By turns hilariously funny, heart-wrenchingly sad and achingly sweet, Waitress knows how to take the audience on a journey through their emotions and leave them truly satisfied.
Based on the 2007 movie by Adrienne Shelly, Waitress began on Broadway in 2016, and came to the West End in 2019, before embarking on a UK tour. With a smart, snappy book by Jessie Nelson and a score full of witty pop songs and soaring ballads by Sara Bareilles, it's no surprise that the show is known for its avid fanbase, who have taken Waitress' flawed but lovable characters to heart.
The waitress of the title is Jenna (Chelsea Halfpenny), a server at Joe's Pie Diner who discovers she is pregnant by her abusive husband, Earl (Tamlyn Henderson). Feeling trapped, she embarks on an affair with the new gynaecologist in town, while plotting to enter a baking competition to win enough money to leave Earl. Unfortunately, the path to love and award-winning pies does not run smoothly.
Halfpenny has big shoes to fill as Jenna, with the role having previously been played by actresses such as Jessie Mueller, Katharine McPhee, Lucie Jones and Bareilles herself. Halfpenny is note-perfect and brings a charm that is all her own to the role, perfectly portraying Jenna's wistful dreams of a better future, her fear of her husband, and her joy in discovering love again. She has great comic timing, and her passionate rendition of "She Used To Be Mine", possibly one of the best eleven o'clock numbers in recent history, brings down the house.
Halfpenny is supported by a cast of great actors. Matt Jay Willis as Jenna's love interest, the nervous Dr Pomatter, brings light-hearted fun to the sex scenes and real tenderness to the gentle duet "You Matter To Me", with his soft, resonant vocals. His chemistry with Halfpenny particularly shines in the Act 1 closing song "Bad Idea", where the duo grow closer and closer in the doctor's office, their voices contrasting beautifully as the orchestra works towards an impressive crescendo.
Willis provides a perfect foil for Henderson, who is chillingly believable as Earl, the lazy, childish husband whose violence is always simmering just below the surface. Meanwhile, Michael Starke gives an endearing turn as the often-inappropriate Joe, and delivers a sweet, understated rendition of the country-style ballad "Take It From An Old Man". George Crawford throws himself into the role of the energetic and eccentric Ogie, the love interest of one of Jenna's fellow waitresses.
It's in Jenna's relationships with those other waitresses, the dreamy, excitable Dawn (Evelyn Hoskins) and the matter-of-fact Becky (Wendy Mae Brown), that the heart of the show can really be found. The three women support each other unconditionally, and the power of female friendship shines through in every scene that the three have together. It's particularly present in "A Soft Place to Land", a heartfelt song about believing in your dreams. The three women harmonise sublimely, and together with the graceful orchestral backing, they create an almost magical, lullaby-like moment. Hoskins and Brown also shine in their individual songs, with Hoskins delivering an adorably quirky version of the catchy "When He Sees Me", and Brown giving a powerful, full-bodied vocal on the rousing Act 2 opener "I Didn't Plan It".
Everything about Waitress is charming, from the use of an on-stage band, to Scott Pask's sets, which take us seamlessly from the all-American diner, to the doctor's office, to the rickety home of Jenna and Earl. The direction from Diane Paulus can't be faulted, and the moments where Jenna imagines her new pie recipes, aided by the perfectly-choreographed ensemble members swooping in with the necessary ingredients, highlight how smooth this production is.
Waitress deals with some tough themes, and gives them the serious consideration that they deserve, but it also serves up a healthy portion of fun. Ultimately hopeful and uplifting, Waitress celebrates inner strength, chosen family and the potential for change. It's the sort of show that will make you want to return for a second, and even third helping, and you'll discover something new every time.
Waitress at Birmingham Hippodrome until 21 May, then touring
Photo credit: Johan Persson