BWW Review: THE IMPORTANCE OF BEING EARNEST, Vaudeville Theatre

Classic Spring's year-long season ends with Wilde gone wild: a free love riot that yanks the queer subtext into text, with everyone from masters and servants to, er, the long-lost brothers sharing snogs and cigarettes. The famous passive aggressive tea party turns into a food fight, and even Lady Bracknell is at the sherry.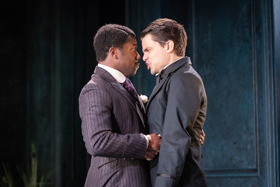 It makes for a joyfully farcical romp, but Michael Fentiman's frenzied direction is also in danger of upstaging one of theatre's all-time great comedies - a piece of such exquisite construction that it's frustrating to have flawless lines lost to people shoving bread in one another's mouths.
By beginning on such a giddy high, the production messes with the rhythms of the play, denying its natural crescendo. It actually regains power by reining in the jollity and giving the climax the space and weight that its revelations deserve. Elsewhere, it's hard to take any obstacle seriously when every social norm has been brashly upended.
More effective is the cast's ability to pull new details out of this well-known play; beyond the oft-quoted aphorisms, there are wonderfully quirky character notes, and the production is at its best when Fentiman gives his actors room to explore them.
Fehinti Balogun sometimes makes heavy work of Algernon's fast-paced nonsense patter, but supplies a stylish calm in the face of adversity - almost soothed by ensuing drama. It's a very Wildean paradox, and a nice contrast to Jacob Fortune-Lloyd's Jack, all puffed-up, hypocritical rage and desperate scrambling to stay ahead of his unravelling lies.
As Gwendolyn, Pippa Nixon slightly overplays the sexual "vibrations" her character experiences when hearing the name Earnest - though this fits the directorial tone - but is excellent when communicating fury beneath buttoned-up social convention. In these moments, one can glimpse Lady Bracknell, bringing to life the immortal line "All women become like their mothers. That is their tragedy. No man does, and that is his."
Stella Gonet brings a delightful blinkered quality to Miss Prism, so thrilled to be reunited with her lost bag that she misses the larger significance, while Jeremy Swift's Chasuble is amusingly eager to please his (social superior) hosts, jumping from mourning to celebration when Earnest rises from the dead, and cheerily explaining how his adaptable sermon can be used for all occasions.
Sophie Thompson's Lady Bracknell is an elaborate comic construction: bristling, spiky hat feathers, cane gesticulations, suspicious squints and a voice that swoops violently through the octaves. She releases "A handbag?" in one furious breath, a retch of disappointment. It's enormous fun, drawing instant applause, but adds to the production's flippant quality; she's less a serious threat, more a grand player in this daft game.
The standout turn comes from Fiona Button as the sheltered but bossy Cecily - both grounding her as a believable stroppy teen, bored to tears in rural isolation, and one in the grip of a startlingly developed romantic delusion. It's a warm, intelligent and thoroughly engaging performance.
Madeleine Girling's design follows the general trend: big and bold. Town is represented by plush red velvet, a large piano and homoerotic art, country by a ginormous garden - with costumes to match. It further hems in Fentiman's rather choppy blocking.
There's certainly opportunities for a radical take on Wilde, but this feels an odd form and venue to attempt it; we're still talking period costumes and proscenium arch. Instead, it winds up feeling as though the production doesn't trust audiences to understand the metaphor of double lives, and so must colourfully annotate the text.
Still hugely enjoyable, teeming as it is with unbeatable lines, romantic fizz and committed performances, but both Wildean wit - and pathos - would be better served with a subtler framing.
The Importance of Being Earnest at Vaudeville Theatre until 20 October
Read our interview with Jeremy Swift
Photo credit: Marc Brenner