BWW Review: THE HOES, Hampstead Theatre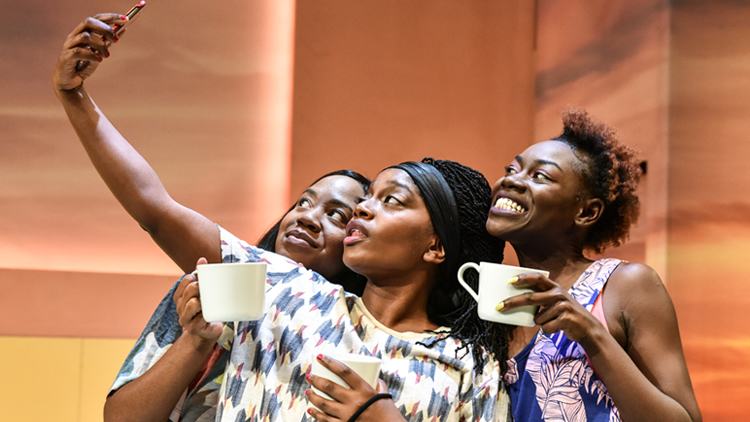 Hampstead Theatre hosts Ifeyinwa Frederick's debut play, directed by Lakesha Arie-Angelo. The Hoes is a joyous celebration of millennial womanhood and friendship that's unafraid to show the darker side of growing up.
Bim (Marième Diouf), Alex (Aretha Ayeh), and J (Nicola Maisie Taylor) are best friends and have known each other since they were in secondary school. Now that they're older, life is catching up and a holiday in Ibiza becomes the chance to talk about their fears and hopes.
Frederick's script owns a defined, defiant bluntness that holds its own in a spectrum that goes from sex (a lot of it) to addressing suicide. She gives the audience an intimate ride into the minds of three young women who are trying to find themselves. One of them struggles with her inner demons, another one with what her family thinks of her, the remaining one with her drive.
They tackle intimacy and what comes with it with freshness and candour, covering relationships, flings and one-night stands like any sex-positive friends in real life would. This verisimilitude that lingers throughout the play is what gives it a beating heart. The characters are far from stereotypes, and there's not a hint of the mythical "millennial snowflake" in sight.
These are intelligent women who have to get on with their lives and who want to have the best time in Ibiza with each other. Ayeh, Diouf and Taylor share a sparking chemistry; they bounce off each other's remarks and give multi-faceted and complete performances. Arie-Angelo directs their frankness and outspokenness delicately, focusing the scene largely on a bed.
Anna Reid's set design is as bright as the women it holds: pastels and neons are set against the hues of a sunset, accurately giving the piece the holiday vibe it needs to convey. What makes the show a milestone, besides the exceptional writing, is the invigorating composition of the cast and creative team.
The Hoes is a universal piece of theatre that touches highly important matter in the lives of young women. Frederick's debut as a playwright is momentous and couldn't come at a better time.
The Hoes runs at Hampstead Theatre until 1 December.
Photo credit: Tristram Kenton
Related Articles View More UK / West End

Stories

Shows