BWW Review: THE CAPTIVE QUEEN, Sam Wanamaker Playhouse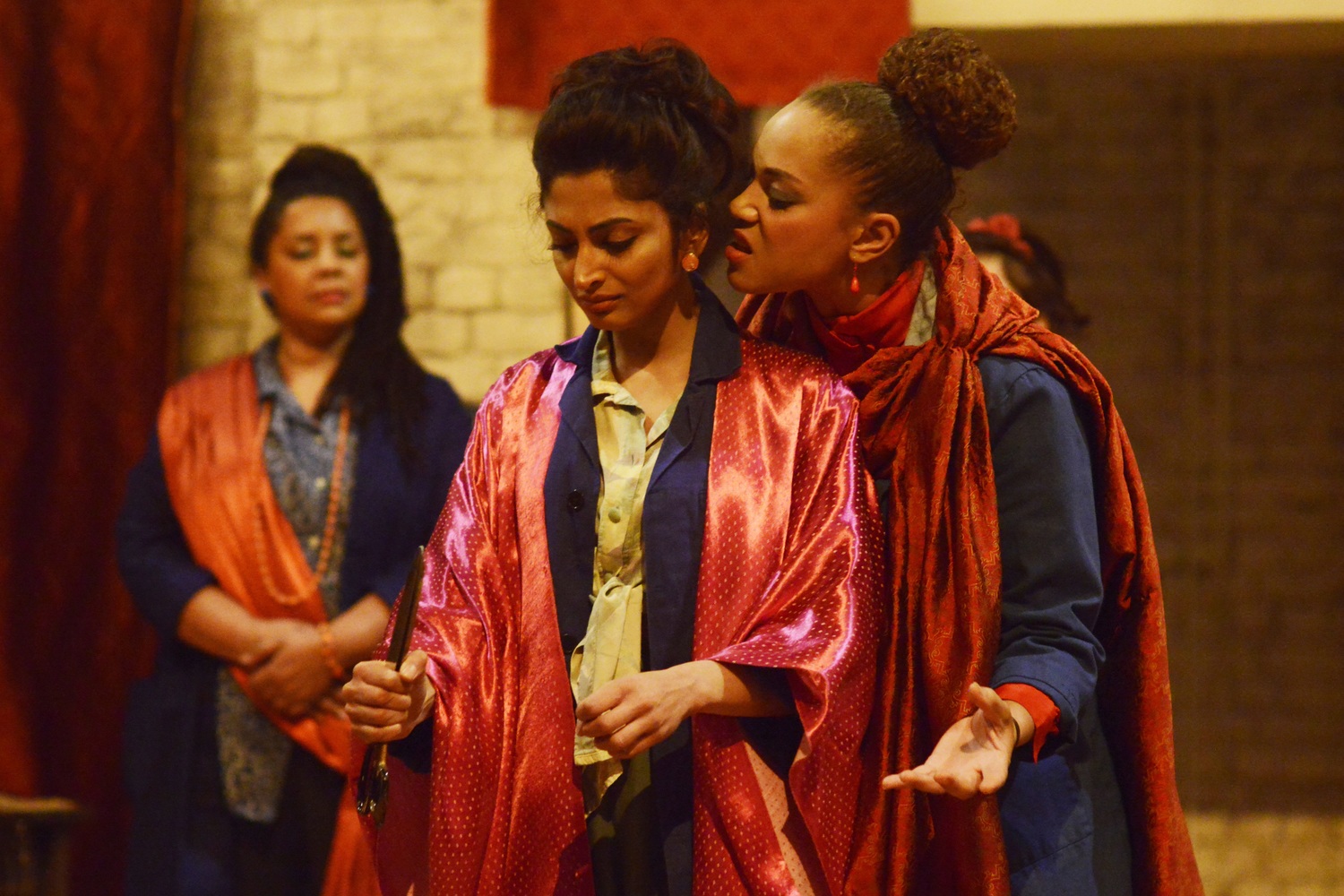 A retitled production of John Dryden's 1675 play Aureng-zebe, The Captive Queen continues the Globe's winter season and acts as a swansong for Northern Broadsides' Barrie Rutter. The artistic director takes the role of the Emperor and also directs for the company for the final time. A rarely performed play, this project has been in the works for some time and is something of a labour of love for Rutter and his company.
Indamora is the Emperor's prisoner, but during the course of her captivity he has become entranced by her beauty and fallen in love with her - much to the fury of his wife. Arimant has also fallen for the prisoner, declaring his feelings in the foolish hope she can requite them. Indamora, however, is in love with the Emperor's oldest son, Aurangzeb, though is parted from him through conflict and the Emperor's jealous power. When Morat, the Emperor and Empress' son, returns to the citadel he too falls in love with Indamora - and then the struggle for power and a place in her affections really takes off.
As a tribute to the industrial landscape of the north, Rutter has transposed this production from India to a factory - though as the product here is dyed silk, the look of India very much remains. His initial idea was to construct a large loom in the auditorium, which would have been a more recognisable fit with the northern setting, but its presence would have restricted the views even further so that plan had to be abandoned. It is a shame that this idea couldn't be used, as it might have interweaved the concept with the play slightly better - as it is, it still feels like it is set in India.
Many of the cast eschew the use of a northern accent of any kind, so there isn't even that to try and hold it in place. There doesn't seem to be any point in changing the setting; Rutter may not have wanted to explore the original context of the play, but in so doing he has failed to make any point of his own. In his programme notes he suggests that the play is actually full of comedy now, however very few laughs are prompted and on only a couple of occasions is the entire audience united in mirth.
The play might actually have worked better in the outdoor Globe Theatre: there is much more space, for one thing, and the dark wooden design of the auditorium is a much better fit for the concept. I can't imagine there would have been an issue with including some sort of loom in that space, and it might have inspired more of a reimagining of the play rather than just a cut-down, word-heavy production.
It is very easy to see why this play isn't performed regularly - it is, unfortunately, rather dull and none of the characters are particularly likeable. For example, Aurangzeb is supposed to be the 'hero' but he is mostly a combination of jealous and pathetic (neither characteristic warms you to him). Understandably the writing of the central female character, Indamora, isn't especially progressive, but there has been no attempt to make her at all relatable in terms of the way she's portrayed; a missed opportunity there.
The play is written in rhyming couplets (part of its appeal to Rutter) but most of the cast struggle with this structure, resulting in a lot of monotone delivery, completely lacking in any emotion - this makes the evening all the more tedious and hard to follow. There are a couple of shining lights, however, in Angela Griffin (the Empress, Nourmahal) and Dharmesh Patel (Morat). Both find a natural rhythm that suits them as well as the verse structure, allowing them to put in memorable and engaging performances.
Niraj Chag's compositions are wonderfully evocative, and real celebrations of India. Occasionally odd moments are chosen for musical accompaniment, distracting from the text by playing in the background and also bookending some couplets as a character exits the stage in what feels like quite an old-fashioned way, though this can be forgiven as it is a treat to hear such accomplished musicianship. A vivid picture is painted by Jessica Worrall's design, covering the stage in colourful cloth and providing a straightforward colour association - such as purple for the Emperor, dark red for Morat, and green for Aurangzeb. The production has style, but no real substance.
It's an inauspicious end to Rutter's 26-year tenure, and a disappointing dip in what has so far been a top quality winter season at Shakespeare's Globe.
The Captive Queen is at the Sam Wanamaker Playhouse until 4 March
Picture credit: Nobby Clark
Related Articles View More UK / West End

Stories

Shows