BWW Review: ROTTERDAM, Rose Theatre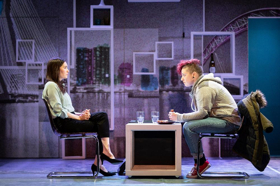 John Brittain's nuanced and tender play Rotterdam has had a whirlwind of success since it debuted in 2015 at the tiny Theatre503. It moved to the Trafalgar Studios, won an Olivier award, then moved to an off-Broadway slot before returning to the West End in 2017. It is now embarking on an extensive country-wide tour, kicking off at Kingston's Rose Theatre.
We meet Alice as she is struggling over an email to her parents. She is gay and has lived with a woman for years, but has never got round to telling them. Just as she is about to click on the send button, her partner Fiona drops a bombshell of her own; she has never felt that she was living in the right body and wants to transition to become a man. Fiona wants to start the process immediately and live as Adrian.
What follows is a poignant and well-observed story as both Alice and Adrian struggle to live with this new reality. The production retains Donnacadh O'Briain's original and vibrant direction, but features a new cast with transgender and non-binary actors.
In an effective four-hander, Beth Cullinane is excellent as uptight Alice. She shows great vulnerability alongside her often haughty attitude, as she watches the woman she loves gradually vanishing. There is a subtle shift in her personality as she gains self-assurance and confidence as the story develops; it is a nuanced, funny and very believable performance.
Cullinane has good chemistry with Lucy Jane Parkinson, who plays Fiona/Adrian. There is great kindness and vulnerability in their relationship, with Parkinson showing a deep rawness in the pain and determination at the situation and decision to transition. The scene where Alice helps Adrian to position his new chest binder is particularly bittersweet and tender. Parkinson demonstrates a distinct difference as a sometimes too quiet Fiona and then as an angry and brusque Adrian.
Adrian's older and straight brother Josh is performed by Elijah W Harris. There is certainly scope for further development of the character, but Harris is sensitive and adorably awkward, balancing his own feelings to Adrian's news with empathy for his sibling's situation.
There is a palpable sense of love between the brothers, particularly as Josh supports Adrian in an emotional scene after Alice walks out. The only unconvincing element of the relationship is that Adrian talks with a broad Yorkshire brogue, whereas Josh's accent remains very much southern.
Ellie Morris adds energetic and comic relief as Leilani, Alice's outrageous colleague. She adds greatly to Alice's confusion by showing obvious interest in her. Morris throws herself into the role, especially with some fabulously uninhibited dancing.
Donnacadh O'Briain's original direction is vigorous and insightful. Setting the play in Rotterdam allows for a return of the banging soundtrack of very loud and brash Europop. The production also uses Ellan Parry's original design; the clever conversion of the space from flat to café to club remains effective, but the small box the set is contained in is a little lost in the vast space of the Rose.
This is a play that eloquently puts transgender people at the centre of the story, but it never feels like Brittain is pushing any kind of agenda. Rotterdam is essentially a romantic comedy; an exploration of tangled relationships and attempts to find true identity, which just happens to focus on transgender and gay characters.
Despite its exploration of these deeply complex and difficult matters, Rotterdam never seeks to become an 'issue' play; it is simply a funny and thought-provoking production with a huge heart.
Rotterdam is at the Rose Theatre until 6 April, then touring
Photo Credit: Helen Maybanks
Related Articles View More UK / West End

Stories

Shows