BWW Review: PRIVATES ON PARADE, Union Theatre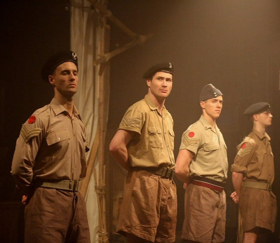 We're in Singapore on the Malay Peninsula just after World War Two with a concert party sent out to entertain British troops stationed overseas by a country exhausted by conflict but keen to keep the supplies of rubber and other raw materials flowing and the Communists out. For all the genuine threat posed by terrorists and insurgents, there's a pervasive ennui suffusing the jungle, as much the product of the humidity and boredom as the distance from home. With the rationing and bombed out cities in Blighty making a trip back almost as unwelcome as a stay out East, the lads. as lads will, make their own fun and find their own ways to release tension: psychological, social and sexual.
Peter Nichols's play with songs (by Denis King) is based on his own experience in a largely forgotten war (one in which my father served during his 1950's national service) and there are times when it's clever and witty - and times when it's not.
Simon Green is splendid as the flamboyantly Cowardesque leader of the troupe, all wisecracks and polari, with a strong line in what would now be called tribute act songs to music hall and cabaret greats. He gets fine support from the ensemble, in which Callum Coates impresses as borderline psychotic Major Flack (a character straight out of Catch 22) and Martha Pothen (on her professional debut) nails the emptiness caused by the hand dealt to her mixed race showgirl tart-with-a-heart, Sylvia Morgan.
The problem is that it all feels so terribly dated. The casual racism and misogyny might offend some 21st century sensibilities (though not mine - it happened after all), but with such broad camp characters, the almost heroic sidelining of the non-British servants and locals from the narrative (oriental cunning, don't you know) and the superficial examination of how relationships form and split so far from home, the script feels underpowered, lacking in perspective and comic and dramatic potential. Nobody is expecting a Mike Leigh style searing condemnation of British imperialism, but it's all a bit too unapologetically It Ain't Half Hot Mum for 2017.
In consequence, while the production has plenty of highs - especially the pastiche songs - and is a pleasant enough diversion as the cold nights draw in, it does represent something of a rare misstep in the Union Theatre's excellent record in reviving musicals and converting them into relevant, boutique shows for today's audiences. Perhaps the privates should have stayed in the barracks.
Privates on Parade continues until 17 December at the Union Theatre.
Photo by @headshottoby.
Gary Naylor is chief reviewer for westend.broadwayworld.com and feels privileged to see so much of London's theatre. He writes about cricket at for 99.94 (nestaquin.wordpress.com) (read more about this author...)