BWW Review: HEARTBREAK HOUSE, Union Theatre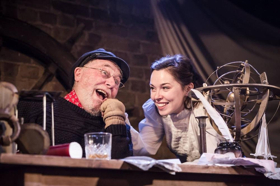 Ellie, a rather knowing ingenue (there's a lot of that kind of contradiction in this show, so bear with me), pitches up in the eccentric household of Captain Shotover, a sailor who is at home on a ship and, consequently, has created one on land. He's a "live and let live" old buffer with a gimlet eye, who happens to invent weaponry with a view to destroying the human race. He also likes to stockpile dynamite for a hobby.
Eventually Ellie's host, Hesione, arrives to welcome her guest and reveal her plan to step between Ellie and her betrothed, the gruff, ageing, Northern industrialist, Mangan whose money Ellie would like to acquire. Hesione's goal appears to become more straightforward when Ellie confesses to falling for a soldier on the train down, a man brimming with tales of derring-do and socialist idealism - but, hang on, it's Hesione's own husband!
Meanwhile storm clouds gather overseas, as this microcosm of England's ancien regime stumbles and falters towards an uncertain future in which nobody seems entirely at ease, even as they are paralysed by their shallow apolitical apathy.
There's more than a whiff of Chekhov (and deliberately so) about George Bernard Shaw's Heartbreak House, revived as the first of Phil Willmott's three production spring residency, but, unlike the best work of the Russian genius, this play is rather clunky and forced, the issues arriving like London buses, either all at once or not at all. There's a few Wildean aphorisms, especially in the lighter first half, and a few jabs against capitalism's myriad hypocrisies hit home in the darker second half, but as a drama, it feels unsatisfactory.
Who are these people and, if they care about nothing, why should we care about them? While men and women can hold contradictory views, that almost everyone slips and slides from liberal to reactionary, from loving spouse to flighty libertine, from airy romantic to hardheaded cynic, proves rather wearing on us poor saps in the audience just trying to keep up.
Where Chekhov's collapsing society is characterised by a slow harmony that drifts almost without you noticing, Shaw's is full of clanging cymbals - perhaps rightly for this most confrontational of times.
For all the problems with the play's dramatic structure, there's plenty of fine work on show. Justin Williams and Jonny Rust's set pulls off the not inconsiderable trick of looking like both a country house and a ship while Penn O'Gara's costumes are a delight to behold. This theatre has never pleased the eye more.
The acting - though toppling into caricature as the script insists - is uniformly excellent, with James Horne blowharding as the Captain to great effect and Helen Anker coquettishly knowing as Hesione (with a splendid touch of Kenneth Williams' faux outrage when required). Ben Porter has tremendous scene-stealing fun with Mazzini Dunn, Ellie's father, to whom there is more than meets the eye.
A hundred of so years on from its first performance, this play clearly resonates over the years, as the country piles up the political dynamite of Brexit and Trumpian populism, while both old and new Establishments struggle to find a response in a world still too comfortable to provoke an opposition effective enough to gain the power it needs. It's a shame that all that clever stuff is wrapped up in a play that just isn't that good to watch.
Photo Scott Rylander
Related Articles View More UK / West End

Stories

Shows