BWW Review: GRIEF IS THE THING WITH FEATHERS, Barbican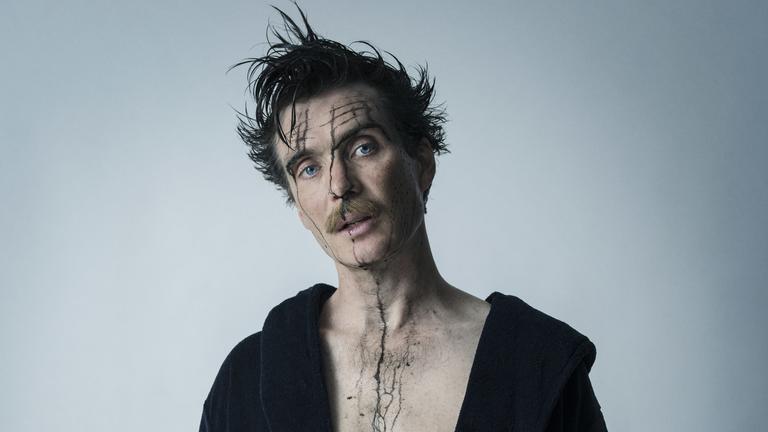 Enda Walsh and Cillian Murphy team up again after a streak of collaborations started with Disco Pigs that saw them working together on award-winning and career-defining productions throughout the years. Now, they bring Grief is the Thing with Feathers to the Barbican after it first premiered in Galway last year.
Adapted by Walsh from Max Porter's 2015 novel of the same name, it sees two young boys and their dad crushed by their, respectively, mother and wife's sudden death. They are visited by Crow, a mystifying and ambiguous entity who promises to stay until their grief has run its course.
This reincarnation of the project is electric and highly impactful, from its effective designs to Murphy's sizzling and fascinatingly heartbreaking performance.
It rightfully might as well be "The Cillian Murphy Show", as the actor delivers a long monologue switching between the inept dad - haunted by his dead wife's memories, with a nearly obsessive interest in Ted Hughes's poetry - and Crow. The latter transforms him into a hopping figure - the hood of his dark and fluffy robe drawn over his eyes and his arms pinned behind his back - while he is virtually muted as the depressed father.
His characters change as time passes - Crow from a destructive force to aid, and Dad learns to care for himself and his children, accepting grief but not letting it destroy them as a unit. The kids (David Evans, Leo Hart, Taighen O'Callaghan and Adam Pemberton at different performances) gradually rise from the background and, from acting out small acts of survival, learn to live in their new, mother-less world.
The vast stage designed by Jamie Vartan engulfs them with Will Duke's projections. This multimedia nature of the piece is at the core of Walsh's experimentation as he manages to convey suffocation and deep sadness through impeccably vivid visuals and an engrossing soundscape curated by Helen Atkinson.
Walsh plays with the void of the staging by pushing the props (and characters) to the sides at the beginning, just as the parent's death has done to the rest of their being. He places them in a permanent night, casting sharp shadows on the wall which increment the projected work in an eerie atmosphere that turns from nightmare to real life in the matter of seconds.
The director presents a sensory experience that tugs at the depths of human existence with a tale of overwhelming love severed by the unimaginable. Murphy is earnest in his melancholic and depressive state, the effects of his character's mental health showing directly with his kids' mismatched clothes and lack of proper food in the house.
As a whole, Grief is the Thing with Feathers introduces a story that honestly and simply tells the complexities of being forced to deal with sudden loss, exposing the rage attached to the process and revealing the stages of acceptance. Murphy's undeniable star power certainly comes second place to his mesmerising skills in this razor-sharp production.
Grief is the Thing with Feathers runs at Barbican Theatre until 13 April.