BWW Review: CHEATING DEATH, Cockpit Theatre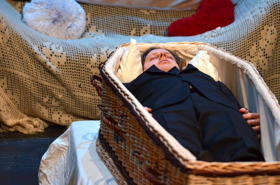 It's a cruel thing to say (and often an excruciating thing to witness) but, every so often, it's good to be reminded of the sheer difficulty of putting on a show. I'm afraid Cheating Death makes that job look very difficult indeed.
A man lies, pale and still, in an open casket. A woman bursts into the room and hides an envelope, has a peek at the corpse and rushes out. Another woman breezes in and soon adjusts to the corpse in the coffin who... sits up and starts chatting. She leaves to make a cup of tea and the corpse, keen to find out what's happened, now pretends to be dead in order to overhear his girlfriend and new lover (just arrived) who are keen to get the flat and dance on his grave. He, of course, sits up again, rather less pleased than when he lay down.
It's not the worst set up in the world, but comedy, especially farce, is very difficult to write - loose ends have to be tied back together, people doing crazy things have to stay in character, the plot must stay anchored as the the jokes spiral away.
Unfortunately Max Nowaz's script gets few of these basics right. We never find out why or how John ended up pronounced dead; we never find out if there's a connection between that strange state of affairs and the mysterious envelope so desired by Russian gangsters; we never find out how John's life can simply start up again having been announced as dead to all his friends and family with undertakers and (presumably) a coroner involved.
If those building blocks of the plot are absent, the wild comic moments just float in the air, untethered to reality, with us in the audience staring blankly trying to make some sense of it.
Regrettably, there are a few more problems too. Comedies need to be rehearsed and rehearsed and rehearsed and this show was not - indeed there were times when it felt like we were watching a run through. Director, Sophie Wilson, is early in her career, but she must mark the passage of time more explicitly - characters seem to wear the same clothes day after day, Scene changes have to executed more quickly - the energy just ebbs away in prolonged darkness.
For all that, there's some good work on show from an inexperienced cast. Wannabe housekeeper, Nicola Mae Begley, has a bit of Mrs Doyle's busyness and obsession with making tea (though that running gag does become laboured) and she ad libbed the best line all night to huge appreciation in the house. Frankie Hyde-Peace shows some excellent comic timing as the moll / femme fatale Katy, and her accent is pretty good throughout.
Alex Pitcher and Lucy Beresford do what they can as John and his scheming girlfriend Karen, but both have to lurch from "daggers drawn" to "bygones be bygones" seemingly at random. Jake Botterill is the most convincing character of all, his Russian gangster full of menace, if entirely unexplained.
At two hours including the interval, the show is far too long, inevitably dissolving into a meandering, confusing and incoherent mess. But the characters (and the actors who play them) have plenty of comic potential - just not with this script.
Cheating Death continues at the Cockpit Theatre until 10 March.
Photo Sophie Wilson
Related Articles View More UK / West End

Stories

Shows
Gary Naylor is chief reviewer for westend.broadwayworld.com and feels privileged to see so much of London's theatre. He writes about cricket at for 99.94 (nestaquin.wordpress.com) (read more...)