BWW Interview: Olivia Jacobs Talks WILDE CREATURES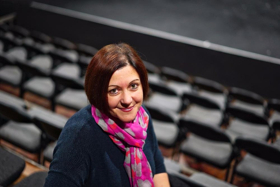 Olivia Jacobs is the co-founder and Artistic Director of Tall Stories, a registered charity internationally recognised for their high-quality family theatre. Olivia has directed shows in the West End, on Broadway, and at the Sydney Opera House, including multiple tours of The Gruffalo.
This year, the company celebrates its 20th anniversary and presents new show Wilde Creatures, which combines several of Oscar Wilde's fairy stories, as part of Dominic Dromgoole's year-long Oscar Wilde celebration at the Vaudeville Theatre.
Did you attend theatre growing up?
I was taken to the theatre from a very young age. My parents took me to see the Scottish Play when I was only three. I don't think they expected that I'd understand it and I don't think I did. But I was hooked by the spectacle of being told a story in pictures and I've loved that ever since. I love being told a great story really vividly and beautifully.
When did you realise you wanted to be a director?
When I was at college - I went to the Central School of Speech and Drama and trained as an actor. While I was there, I think I became frustrated at not being able to make an impact necessarily on the overall picture. I found I was in shows thinking, "Oh, I think we should do this". So I swapped my course and moved onto a director's course. I think it was invaluable to have the training as an actor as well, so you get a sense of how it feels to be performing on the stage, even if that's not what I do now.
Can you tell me a bit about how you met Toby Mitchell and decided to start Tall Stories?
It was very random. Toby and I met in the box office of Soho Theatre in the days when it was based at the Cockpit Theatre in Lisson Grove. He'd been working as an assistant director on Kindertransport with Abigail Morris, who was then the director of the Soho Theatre. I was programming a festival for Soho Theatre and we just came across each other in the box office and got talking.
It's all gone from there really; we became friends and shared a similar passion for good storytelling. We took two shows to the Edinburgh Fringe Festival and we had a reviewer who said we were a company to watch. And initially, we'd only gone to do the shows. We hadn't had any long-term thoughts about founding a company together.
But the shows were reviewed well and people were talking about us so we thought, "Well, why not carry on". It took us many years before the company became a full-time career for us; initially, we both had other jobs.
What drew you to family theatre? Was there a particular gap you wanted to fill?
Initially, I think Toby and I were both looking to tell stories that we loved - we never set out to be a family theatre company. The first stories we told were not aimed at children at all. One was called Alice and Mr. Dodgson, which looked at the real relationship between Alice Liddell and Lewis Carrol; it wasn't really a children's show. We also looked at The Happy Prince and Other Stories and some of Oscar Wilde's fairy stories, which are very sad and very beautiful and very haunting.
We found our audience coming out saying "Oh how lovely to see shows for families that aren't condescending to children". They weren't really for children, but we were pleased they felt that way. Toby and I went to see some other companies that were producing work for families. Back then, 20 years ago, there wasn't much of it and a lot of it wasn't very good. I think we found that there is a gap for companies telling cross-generational family work. And that's what we want to do: tell great stories for everybody.
I hope we've been a little bit responsible for the growth in that sort of field. There's so much more work now than there used to be in that family, cross-generational work, and that's the case in literature and film, not just theatre: things like Pixar and Harry Potter and Matilda, all those films, books, theatre works.
I hope in terms of theatre we were at least a little bit responsible for that. I feel like if you look at the Edinburgh Fringe programme, 20 years ago there was one or two pages of stuff that would be suitable for children, for families. Now it's a massive chunk of the programme, which is great because it means families have more choice, more options, and hopefully better quality work to go to.
What have you learned since first doing The Gruffalo in terms of what does and doesn't work for young audiences?
We've never really set out to make shows that are very different to grown-up shows. We just make sure that our subject matter and our wording is not unsuitable, and I think there's quite a difference. We never try to be patronising or condescending to our audience.
Children are a massively hard audience to please. I think sometimes people think it's an easy option. I can't count the number of times people have said to me, "Oh no, that's just for children". But if a child is not enjoying themselves, they'll say so. Not just with their voice, but with their feet. They just literally will stand up and say, "I'm bored". Whereas grown-ups are much more polite. We sit there until the interval and then we don't come back.
I think producing work for a family audience is not necessarily much different to producing work in general. The only things I would say is that we take pains to listen to our audience and to connect directly with them. All of our shows involve direct address to the audience.
For me, that's what theatre is about. On film, you have a wall between your performers and your audience. In theatre, you have the ability to talk directly to your audience and respond to them as they respond to you. The liveness of theatre is something that I love, so we avoid fourth wall drama and we always try to connect with our audience directly. We don't pretend they're not there.
Are there some preconceptions about theatre for young audiences you would like to correct?
In times gone by, I think theatre for children was considered the poor relation of theatre. Times have changed now - family theatre has gotten a better reputation and there's been some amazing cross-generational work in the West End, on tour, and in school venues all over the country.
I think there is sometimes a snobbery of being the poor relation, but that's changing. If we don't produce good work for family audiences, that's our next generation of theatregoers. We have to engage children and they've got so many options these days, especially with the advancing changes in technology every day and their attention spans getting shorter.
Theatre is one of those places where you can have a family communal experience that lasts more than 20 seconds and everybody can join together. It might be the last bastion of that. It's important that we keep alive theatre for a young audience to share with their families.
Should more directors do work suitable for young audiences regularly?
It would be great to see all the venues in the country producing and including work for family audiences all year round. Suddenly at Christmas time there's tons of shows for family audiences and we've got so much to choose from. But if you just picked a weekend in May, you might be hard pressed to find something in your region, in your local area.
I would like to see more work for families and more high-quality work being programmed by venues throughout the country. But a lot of venues are doing good work now and becoming much more family friendly, not just in their programme, but also in their environment - making sure their toilet facilities, their bars, their catering have provisions for children and are places where children are welcome. That has to be a good thing.
You guys have five shows running or in the works right now. How do you balance that?
We have Emily Brown in rehearsals, which is going off to a tour in Australia. The Snow Dragon has been on a small-scale UK tour and is going off to Birmingham for Christmas. The Gruffalo is just about to head to the Lowry in Manchester for Christmas. The Gruffalo's Child is in the West End, and Wilde Creatures, which is our new show, opens on 15 December.
We do have other shows touring around the world. The Israeli production of The Gruffalo is opening 23 December. We also have a production of The Gruffalo at the Sydney Opera House opening next week with an Australian cast. It's been a full-on Christmas.
We balance it with a really brilliant team in our office. We're very small, very busy, and very close team. I'm very proud to work with the people that I work with and quite privileged as well. We're very lucky to have such a great team who think one step ahead of everything. I'll have an idea and they've already done it. It used to be me and Toby who did everything, so it's fabulous that now we're in a very lucky position.
What are the challenges of growing a company here and abroad?
I think it comes down to people and to communication: clarity, clear lines of communication and clear understanding of what you're doing. We're very careful to maintain the quality of our shows wherever they tour. It's massively important to us that just because a show is not in the same country we're in, it hasn't deteriorated in quality. Our co-producers are chosen very carefully. We work with associate directors in each territory that we go to.
For example, Tara Notcutt, who directs our Gruffalo in South Africa, came here to the UK and we worked together for a while, and I went out to Cape Town and worked with her in their last week of rehearsals. The show's very different in South Africa - there's different cultural references. The actors perform it differently and with much more local relevance, but it's just as glorious and they're a great cast.
Again, I feel very proud to have been part of that, and that will tour in English and also in Xhosa, so it will be able to go into townships as well as touring in venues. It will be able to reach a very wide audience in that way.
What made you choose to do Wilde Creatures?
We were approached to do this production by Nimax [Theatres], as they were working with Dominic Dromgoole on his Oscar Wilde season with Classic Spring. Nimax are very keen to make sure that high-quality family work is in their venues in town, so they were keen for us to join this season of Oscar Wilde work and be the company behind the family offering.
We were thrilled because The Happy Prince and Other Stories is one of the stories that we told in our very first year. So, we get to come back to it and revisit it 20 years later in a different context and in a very different way. It's a very different show to the one that we made all those years ago. It's a real privilege to revisit these brilliant stories.
When you say Oscar Wilde, people think of The Importance of Being Earnest and all his major plays, and nobody is as aware as they should be of these fabulous fairy stories. They're so beautiful. I hope that through Wilde Creatures, we might be able to encourage people to go back and read them.
We tell three full stories within the show, but also draw inspiration from a couple of other stories. If you know them, you'll spot it right away. And if you don't know, hopefully it'll make you want to go and read them. The show is four actor-musicians, so all music is live. It's a devised show, as all of our productions are company devised.
How has your approach to the stories changed since your first piece?
This time around, we've taken as our starting point the end of The Happy Prince when they pull down the statue. The town council all look at the statue and they say they'll replace it and the man says, "We'll replace it with a statue of me". The town council all say, "Oh of me!". When Oscar Wilde leaves them, he says they're still arguing.
That's the start of our show with the question of who should be on the pedestal. In a world where we're pulling down statues and looking again at whether we want to have people up on a pedestal, it feels like a relevant question to be asking. There's a very different vibe to this show than our original telling of the story.
Where does your inspiration come from?
I think because all of our shows are company devised, the inspiration comes from everybody in the room. The thing that was so lovely about Wilde Creatures is that everybody - our designers, our composer, our choreographer - we were all in the room together making choices at every given turn.
So it might be that our composer had an idea about some text in our story or our designer had a sudden brainwave that we could change something slightly. It's not limited to the area that you're supposed to be working in. My job is primarily as a facilitator to pull everything together, so I try to draw out ideas from everyone in the room and see which ones land the best. It's all in the creating and the pulling together of your team.
Very luckily, on all our pieces this year, we've got really fabulous teams. You can't go far wrong if you've got fabulous people in the room who are dedicated to making it the best it can be. I'm very lucky to have that with Wilde Creatures. My co-director, Toby, and I just work together to pull together all of the best ideas in the room and make what we hope is a really lovely show.
Why should people come see the show?
I think Oscar Wilde's fairy stories have been much neglected and they offer a real alternative this Christmas from your traditional panto or your big merry children's theatre show.
These fairy stories are like a little slice of the world, and where you might be able to read a book or go to school and learn factual things, they give you a little bit of heart and soul.
There's something beautiful in these stories, and hopefully we tell them beautifully enough for our audience to go home with a fabulous feeling of having enjoyed the stories, but also with a little something to think about as well. I think it's quite a special show and a very unusual production.
The Gruffalo's Child is in the West End for the Christmas season. Is it the same production or is there anything new?
Yes, it's been touring for a while, but last year we revamped the show. We continue to revamp all our shows. We continually assess what they need, what might need to change, which bits we're unhappy with. We revamped Gruffalo's Child in terms of the structure, the costumes, and the set very recently.
This is its first ever outing into the West End, so we're hoping it'll draw a new audience. It's been popular thus far and tickets are selling very well, which we're thrilled about. It's a strong cast and we're proud of it.
We just today had an integrated signed performance. We're very keen to ensure that we include lots of different performances - audio-described and signed and open access performances. We've been working to bring our fabulous signer, Jeni Draper, who has been working in rehearsals, to be integrated into the show and that just happened this morning. I'm pleased to do that in the West End as well.
It's not the traditional show that you would see with a signer, where the signer is stage left in a spotlight. She becomes part of the show and part of all the scenes; she's integrated. She's an amazing signer and an amazing performer. There's something lovely about the signer being part of the show, instead of an added at-the-side bonus.
What are some highlights of the past 20 years?
What a question. Creating every new show; I love working on a new show. The people that I have met and worked with. Being able to ring my parents and say we'd been booked to perform on Broadway definitely was a highlight. I mean, there's so many. Touring to go to Sydney Opera House.
And this new show, creating a show that's going into the West End. A brand new show that's not reliant on the title and doesn't have an existing brand. It's a risk; we don't know if people will want to come and see it or if they'll want to rely on something that they know or if they'll be happy to go because they know Tall Stories. This is an exciting time for us to be opening a new show in the West End.
What would you like to achieve in the next 20 years?
We've got so many show ideas and company ideas. Our next production may be for a slightly older age range. Certainly, Gruffalo's Child is for 3+ years, whereas Wilde Creatures is 5+, not for a three-year-old. Maybe the next one a little older still. It doesn't mean we plan to leave the world of family theatre, it just means that we're going to do what we always have and create great theatre for all ages. But there might be a little bit more of a mix-up of the ages we're performing to.
We want to continue to develop all our integrated and signed performances and make sure our productions are open access, as well as just trying to take our work to a wider audience. I certainly would like to develop the program of work we've been doing this year with a show called Future Perfect, which we toured into primary schools free of charge.
We invited schools to apply for a performance based on the number of children that were on free school meals. So we knew they might not be the typical theatre-going audience and it meant that we were able to take the show to a school who might not be able to book something like that under normal circumstances. It was massively oversubscribed, so we're hoping to keep doing it over the next few years and interest some audiences who may not normally have access to theatre.
A slow and steady growth - we don't want to try to grow the company hugely quickly. I think we want to keep developing our work, telling great stories, and telling them really well.
Any advice for aspiring directors or those who want to work in non-profit theatre?
Follow your dreams. Write to people; go and see work. Badger the people you want to work with. Keep going; be determined. I think there's no set way to become a director or to become an actor other than doing what you do and doing it as well as you can and with as much determination as possible.
Wilde Creatures is at the Vaudeville Theatre 15-31 December
The Gruffalo's Child is at the Lyric Theatre until 7 January, 2018
Watch a trailer for Wilde Creatures below!
Photo Credit: Tall Stories
Featured This Week on Stage Door
Shoutouts, Classes, and More from Your Favorite Broadway Stars
Related Articles