BWW Interview: Lucas Rush Talks ROCK OF AGES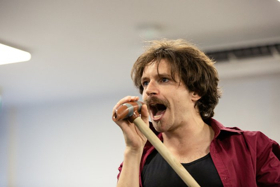 Lucas Rush's past work includes American Idiot, We Will Rock You, Grease and Les Miserables. He's currently playing Lonny in the UK tour of Eighties-tastic musical Rock of Ages, alongside a cast that includes Danielle Hope, Jodie Steele, Strictly's Kevin Clifton, and Antony Costa.
What was your first experience of musicals?
When I was seven, my auntie Carrie bought me the tape cassette of Joseph with Jason Donovan and Linzi Hateley. I wanted to be Linzi Hateley.
Did you act lots through school?
Yup, I was lucky to be at a school that allowed me to. I did some RSC, some telly, and Les Mis as Gavroche when it was back at the Palace Theatre.
When did you realise you wanted to pursue it professionally?
I stepped on stage at the Hackney Empire and knew that's what I wanted to do forever.
Where did you train?
Italia Conti.
What was your first professional acting job?
Peter Pan at the Hackney Empire with Brian Blessed.
You've done some huge shows like We Will Rock You, American Idiot, Les Mis - with very dedicated fanbases! What is that experience like?
I'm a big fan of fans! They often get called "crazy fans" (although most of them would say they ARE crazy themselves), but they've just found something that makes them happy. Football fans dress up as their favourite players, buy season tickets and talk about football all the time - there's no difference.
It's so lovely to work on a show with a big fanbase - it reminds you how lucky you are.
Tell us a bit about the story of Rock of Ages
As far as I know, it's about a small town girl, living in a lonely world, who took a midnight train going anywhere...!
Have you seen any other productions of Rock of Ages, or the film?
Yes, I've seen the film, as my friend Julianne [Hough] plays Sherrie in it, and she was great!
Tell us about your character Lonny
He's a cross between Snarf from Thundercats, Ace Ventura and Jack Black. Big heart - just perhaps a little messed up in the head. I think the whole show is just one big trip straight from Lonny's head.
What themes or story elements do you think contemporary audiences will most relate to?
I guess that dreams can change - and that's OK. And Eighties rock music! I mean, EVERYONE loves Eighties rock music.
What are the major challenges about performing this kind of music?
It's high! Those guys, gals and everything in between REALLY knew how to belt.
Do you have a favourite number or moment in the show?
I love Regina [played by Rhiannon Chesterman] doing "We're Not Gonna Take It", because I can imagine Green Day singing it, but also "Hit Me With Your Best Shot"...ooh, and "Shadows of the Night". And everything I sing obviously.
And in real life, what's your personal favourite song to rock out to?
Green Day's "The Grouch" from their Nimrod album.
What are the three things you can't live without when you're on tour?
Food, water, oxygen.
Do you have any future dream roles?
Hmm, I'd love to create a new crazy role from scratch. I enjoy putting my own spin on a character, but I'd love to experience being original spinner - and then watch others re-spin.
Any advice for aspiring performers?
It hurts! When it sucks, it REALLY sucks. You get told no 50 times before you get told yes - but you can get used to it. If you want to do it, don't let anyone tell you that you can't. I've had plenty of people tell me over the years that I should do something else, but it's just fuel for my fire. When it's good, it's amazing.
Finally, why should people come see Rock of Ages?
It's bloody good fun and full of some epic tunes!
Find full tour dates and venues for Rock of Ages
Photo credit: Richard Davenport
Related Articles View More UK / West End

Stories

Shows
Marianka Swain is the UK Editor-in-chief of BroadwayWorld. A London-based theatre critic and arts journalist, she also contributes to several other outlets, including the Ham (read more...)