BWW Interview: Jonny Labey Talks STRICTLY BALLROOM THE MUSICAL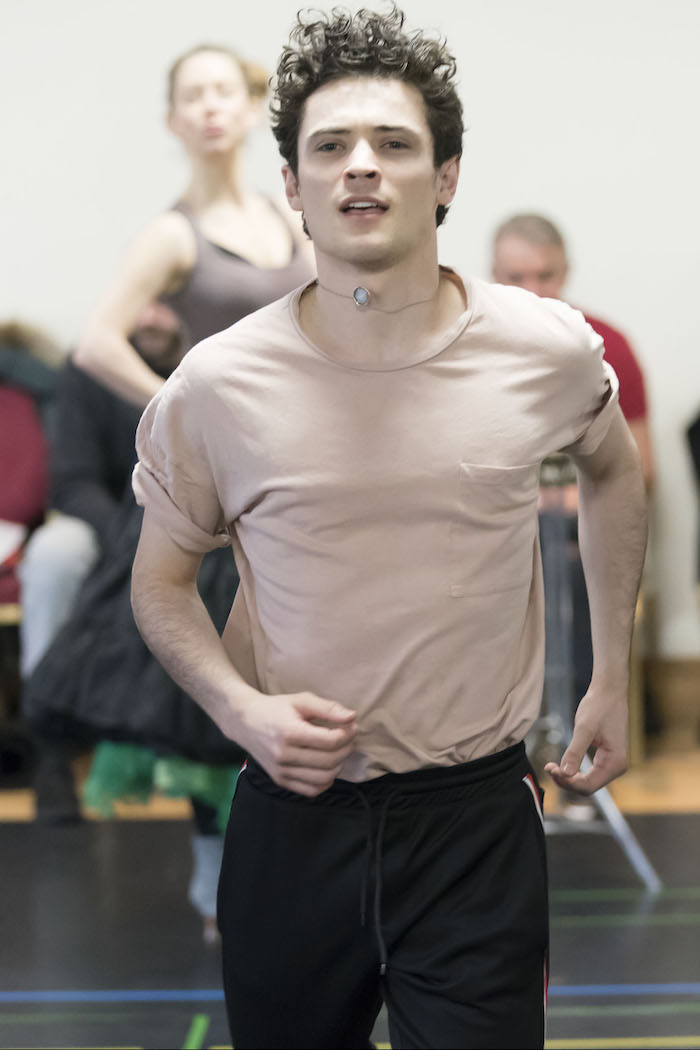 Jonny Labey's past work ranges from EastEnders and winning TV show Dance Dance Dance to White Christmas and In the Heights on stage. He's now starring as rebellious Scott in Strictly Ballroom The Musical, which begins previews at Piccadilly Theatre on 29 March.
How have you found the rehearsal process?
It's been really full on. The show's been completely reworked and redesigned from its previous production - so many things have changed. Will Young's character Wally Strand has been added, and our characters don't sing anymore, so we've really been focussing on the dancing, the acting, the relationships. It's been incredible.
I can't believe we start tech on Saturday - it's flown by! The show is also just hilarious, so it's been a real pleasure. We've been doing some runs this week, and it's looking great.
Will you keep tinkering during previews?
Yes, I think so. We're getting the whole structure together, but little things might change depending on audience feedback. Our director Drew [McOnie] wants to make a show that fits into the West End specifically and really works for those audiences for a long time. So we've got space in our preview schedule to come into the theatre and work - whether it's adding or removing numbers, or changing a wig or costume.
Does remaking the show give you more ownership?
Definitely, that's the beauty of doing a new musical - you're putting your own flavour and style in. Drew is fantastic with that. He really listens and gets to know you as a performer, as a dancer, and then he plays to your strengths.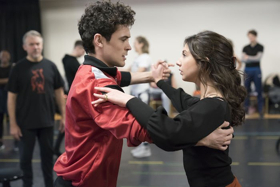 That sounds perfect for the message of the show
Exactly, it's all about being who you are! Scott is really ingrained with my own character and my style of dance. He has these breakout moments where he dances his own steps, and we've worked on finding the best way of me expressing that.
I've got some ballet training, but me doing fouetté turns isn't the best version! So we've got elements from my tap background, Drew's played on my hip hop training and the work we did together on In the Heights, plus incorporating elements of flamenco and those rhythms. The main focus is the characters and their journey - not "Oh, I can do this so let's stick it in".
Is it tricky doing "bad" dancing in the earlier scenes?
Yes, we've mapped out this progression, for Zizi [Strallen] as Fran especially but Scott too - the dancing has to make sense with that. So in one instance, we had full-out passion and realised it was too much for the stage they're at. We had to dial it back.
Do you feel particular pressure given Scott is a champion?
It is a bit strange for me, not having done much ballroom, to play someone who's the best in the field - all while doing an Australian accent! But we've both got a really interesting journey of dance, and Zizi is just brilliant - we get on so well, we listen and support each other, and we make sure our connection happens at the right time, in the right way.
What's it been like working with flamenco master Fernando Mira?
Me and Fernando get on like a house on fire! He's the classic good old Aussie. Actually, he's like the whole story rolled into one: Spanish family, did flamenco from three years old, but also with the Aussie accent and that 'real man' attitude. We're hoping to go to Spain together at some point and go to the flamenco bars.
He obviously knows the show inside out, because he's played Rico since the beginning, and what he does dance wise is very unique - it's been an honour learning from him. He's so traditional and authentic.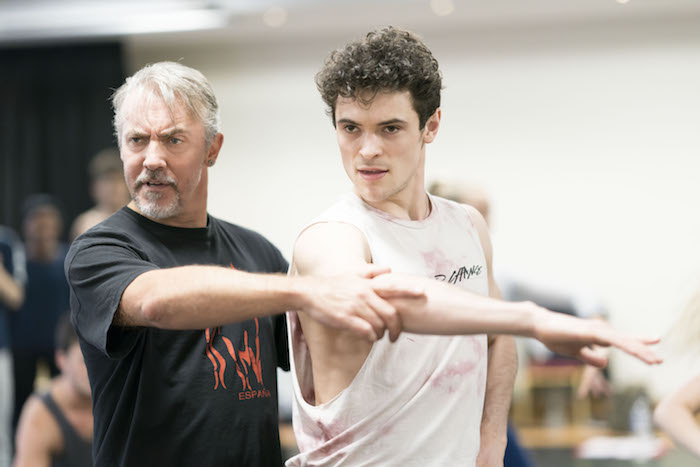 And he makes it look easy, which I'm sure it's not!
It's really, really difficult. Especially me coming from a tap background - all the technique is completely backward.
How have you found learning ballroom?
We've had lessons with Dale Bennett, who's fantastic. In our show, it isn't really a display of classic ballroom technique, because even when they are doing it "properly", it's exaggerated for comic effect - since we're showing how rigid the ballroom world is and why Scott wants to break out. So that's actually got a funny element to it, and then what me and Zizi do is more expressive and heartfelt.
It was massively useful to do those classes and understand the structure of the dance - keeping your elbows up, the feel of the hold. But throughout the show, it's all about movement telling a story, and the story here is overthrowing Barry Fife and the federation, and escaping the world that tells you not to be yourself.
Has watching Dale or your other teachers helped you portray Scott teaching Fran?
It's really interesting watching Dale, because ballroom dancers aren't half-arsed - they don't really mark it. You're told to hold that frame from the beginning until it becomes instinctual, and if you don't, you lose the push and pull of the steps - you can't communicate with your partner.
But watching Dale teach people, there were definitely some little differences, like how you might hold the pupil by the elbow instead of round the back, or nod your head to guide them.
It's also been fun getting to know Dale, because he's this amazing ballroom dancer when he's on the floor, but then outside of that he's a bit of a lad and we'll talk about football. Scott's a cool guy too - he's David Bowie or James Dean artistic cool. And all these guys, like Barry, they might be obsessed with flamenco and crazy costumes, but that's just everyday to them and they take it seriously. Scott's a rebel, but he's also a champion, so he has to have that stature and technique, as well as the creativity.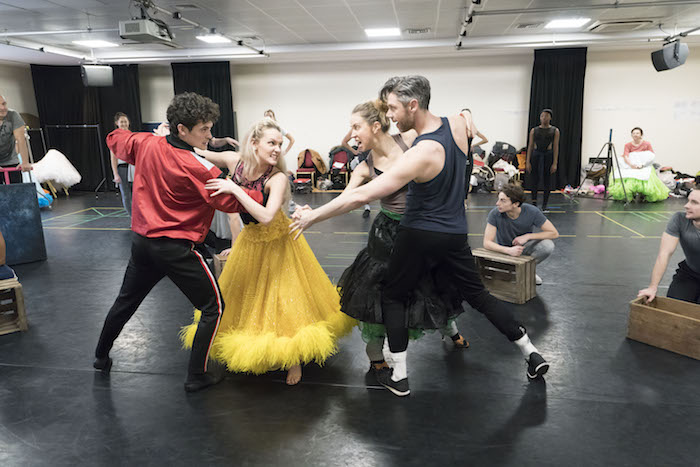 Speaking of costumes, how are you coping with the sequins?
Costumes wise, I've got a pretty easy show actually. It's the girls and the rest of the guys who have all the big flamboyant stuff - Scott's more in his vest and trousers. And then of course the iconic paso doble gold jacket, which I haven't worn yet. I've been fitted for it, so that'll be an exciting moment.
We're so fortunate with this show - we've got Catherine Martin, four-time Oscar-winning costume designer, and Baz Luhrmann's wife, doing this incredible work. And our musical supervisor David Caddick, who did Phantom, Evita, Cats, everything. Obviously Drew, who's won an Olivier Award. Those pennies drop now and again!
I've had a moment in rehearsal, just going "This is such an exciting show". I've been so lucky to do brilliant new shows with Drew - In the Heights and now this - that have so much energy and punch, and such incredible, committed teams.
You really appreciate the work everyone puts in behind the scenes on every element. Like Fiona Dunn, who's gone through every element of the script with us, finding the voice, the meaning of each scene, the journey, really paying attention to that side of things - so that it's a proper musical play.
Does it make a big difference having Will Young singing instead?
It definitely makes sense, because the characters aren't breaking out of themselves to sing. They dance and interact as real people. And the whole message for Scott is that he doesn't find his full voice until much later in the show - before that he's searching, the federation knocks him down, people are lying to him. For him to sing his emotions would give the audience too much information early on.
But it's a brave creative decision, because they had a load of original tracks to use in the show, and Drew, with his knowledge of theatre, made a big call - knowing it would end up wasting valuable storytelling time, even if it's a great song.
Has it hit home yet that you're about to debut in the West End?
We go into the theatre this Saturday - that's very exciting! It's my first main part in a West End show, the first time I've been in a rehearsal room with the entire team working away and knowing you're the head of that. I keep having to catch myself.
How do you think audiences will respond?
The great thing about Strictly Ballroom is it's very relevant to today - with political oppression or with social media, all these things that might stop you being true to yourself. There's so many messages and characters that people will see themselves in, maybe feeling they're not the most popular person or they don't know who they are - they just have people telling them what to do.
And then it's such a fun show as well with brilliant numbers and a big, big heart, so I hope it'll be a great night out and a really inspiring one too.
Strictly Ballroom The Musical is currently booking at Piccadilly Theatre 29 March-21 July
Photo credit: Johan Persson