Click Here for More Articles on Podcasts
AMELIE Director Michael Fentiman Visits THE BROADWAY GINGER PODCAST
The West End director made a guest appearance on the podcast to discuss his Grammy-nominated work on the album and more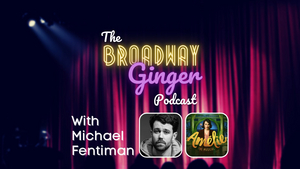 Director Michael Fentiman stopped by THE BROADWAY GINGER PODCAST for a conversation about how he revitalized Amelie from its original Broadway version for a UK premiere. In a "mad" whirlwind three months of collaboration with songwriters Daniel Messe and Nathan Tysen, Fentiman made significant changes to the musical to open a new Amelie at the Watermill Theatre, leading to Olivier nominations and even a Grammy-nominated album.
With Amelie now in its second month at the Criterion Theatre in the UK and a new cast album widely available since last summer, the quirky musical is establishing itself as a fan-favorite.
THE BROADWAY GINGER PODCAST host Sally Fuller concluded her third season by sitting down with Fentiman for an in-depth episode of the musical theatre podcast. Listen to a preview of the episode entitled "#37: When the Booth Goes Bright - Interview with Michael Fentiman" below and stream it on all podcast streaming platforms.
The BGP team has also just announced the launch of their Patreon account. Interested fans now have the opportunity to subscribe and access bonus episodes, including reviews, musical theatre recommendations, and more. Visit Patreon.com/thebwayginger to support the team and listen to the first bonus episode, a review of a local INTO THE WOODS production.
With the adopted slogan, "There are no rules, just musicals," THE BROADWAY GINGER PODCAST is a humorous lovenote to Broadway for theatre nerds by theatre nerds. Aimed at celebrating and maintaining a cultural appreciation for musical theatre and its history, this season features musical theatre interviews by host Sally Henry Fuller. Join her every Monday for conversations with performers, dressers, and more who are making it on Broadway and beyond!
Visit TheBroadwayGinger.com for more information.