Photo Flash: First Look at Imagination Stage's RUMPELSTILTSKIN
"This is a story that's old as old, of how a girl turned straw into gold," and one that the audiences at Imagination Stage are sure to know! Directed by Janet Stanford and written by Mike Kenny, Rumpelstiltskin is a unique interpretation of a fairytale in which the characters discover their true place in the world, complete with witty poetry, exquisite movement, and original music performed live by a fiddle player. Scroll down for some photos from the production!
Rumpelstiltskin is a popular Grimm Brothers' fairytale about a poor miller who wants nothing more than for his daughter never to work a day in her life. However, he brags that she can do anything, including spinning straw into gold. A greedy king commands her to make gold for his coffers, but unable to perform this magical feat, the Miller's Daughter enlists the help of a rotten riddling fairy named Rumpelstiltskin. The naughty imp assists the helpless girl after he makes her promise to give him her first-born child. But with a bit of lucky help from a friend, the young girl manages to out-trick the trickster.
Matthew Pauli will play the title role of Rumpelstiltskin. He is an actor, clown, and puppeteer, and he most recently worked as the puppet designer on Imagination Stage's production of Lulu and the Brontosaurus. Matthew is a graduate of Georgetown University, as well as the Ringling Bros. and Barnum and Bailey Clown College. He also holds an MFA from Shakespeare Theatre Academy for Classical Acting at George Washington University. Katherine Renee Turner will play the Miller's Daughter. Katherine is new to Imagination Stage and was recently seen in The Laramie Project at Ford's Theatre. She is a native Washingtonian and a graduate of Ithaca College.
Ricardo Frederick
Evans will play the Miller. Ricardo is also a native Washingtonian and has been seen at Imagination Stage in Dr. Dolittle, Perseus Bayou, Disney's Mulan, and many more. He is a graduate and faculty member of the National Conservatory of Dramatic Arts. Jason Glass will play the King and is also new to Imagination Stage. Jason graduated from the University of Florida in theatre performance and has been seen locally at Forum Theatre, The
Studio Theatre
2nd Stage, Discovery Theatre, and others. Kathryn Kelley will play Mess and the
Queen Mother
. She has previously performed at Imagination Stage in The Borrowers and Miss Nelson is Missing. Kathryn performed for many years at Round House Theatre and has also been seen at many other local theatres. Anthony Hyatt will be the fiddle player, performing live for each performance. Anthony is not only a musician, but a keynote speaker and teaching artist, as well as the founder and principal of Moving Beauty, an organization that inspires groups of seniors in music and dance. Janet Stanford (Director) is the Artistic Director at Imagination Stage. She has helped transition Imagination Stage from a community-based arts organization to a nationally significant regional Theatre for Young Audiences theatre and arts education program. Janet has established a record for ongoing funding from the National Endowment for the Arts, the Theatre Communications Group, and The Shubert Foundation, among others. She has commissioned U.S. and international playwrights including
Kevin Kling
, Karen Zacarias, Joan Cushing, David S. Craig, and Charles Way, whose plays and musicals have gone on to be produced at other theatres in the U.S. and as far away as China. She is delighted that the summer 2012 production of The Lion, The Witch & The Wardrobe (which she wrote and directed) received two
Helen Hayes
Awards. The remainder of the creative team for Rumpelstiltskin includes Set Designer Daniel Pinha, Lighting Designer Rob Denton, Costume Designer Katie Touart,
Sound Des
igner Christopher Baine, and Movement Specialist Gwen Grastorf. Best for ages 5-10, Rumpelstiltskin runs in Imagination Stage's Annette M. and Theodore N. Lerner Family Theatre February 5-March 16, 2014. Tickets start at $10, and may be purchased online at
www.imaginationstage.org
, at the Imagination Stage box office, or via phone at 301-280-1660. Group rates are available. Founded in 1979, Imagination Stage is a 501(c)(3) organization that's mission is to inspire creativity through theatre and arts education programs that nurture, challenge, and empower young people of all abilities. It offers year-round professional theatre for young audiences and classes in creative drama/acting, musical theatre, dance, and filmmaking for ages 1-18.
Photo Credit: Margot Schulman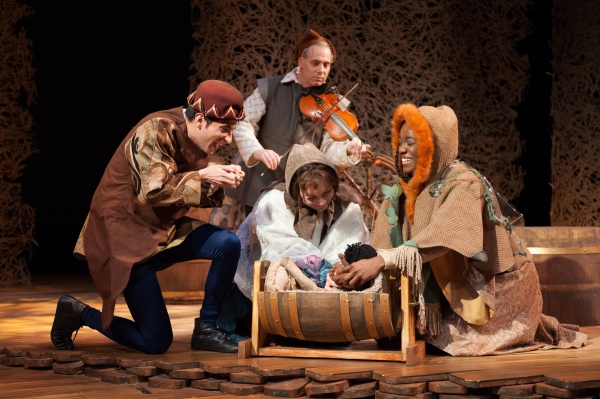 Jason Glass (King), Anthony Hyatt (Fiddler), Kathryn Kelly (Mess), and Katherine Turner (Miller's Daughter)

Katherine Turner (Miller's Daughter)

Matthew Pauli (Rumpelstiltskin) and Katherine Turner (Miller's Daughter)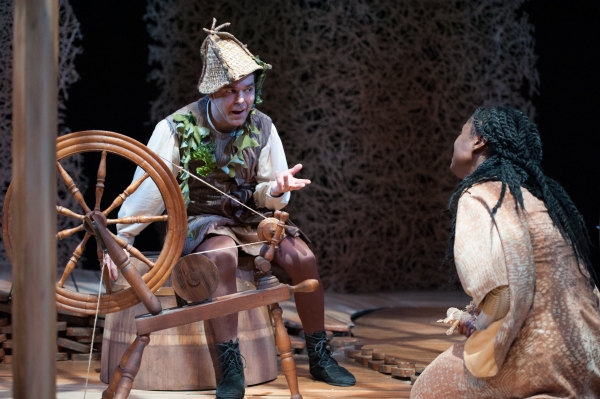 Matthew Pauli (Rumpelstiltskin) and Katherine Turner (Miller's Daughter)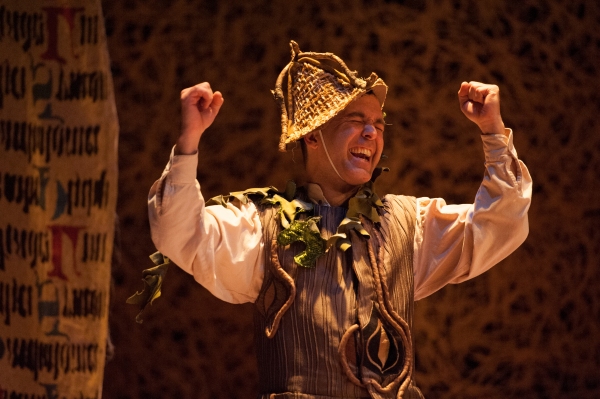 Matthew Pauli (Rumpelstiltskin)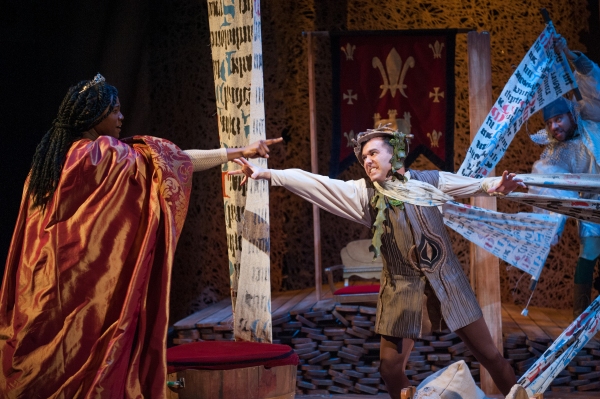 Katherine Turner (Miller's Daughter) and Matthew Pauli (Rumpelstiltskin)