Photo Flash: First Look at DOGFIGHT, Opening Tonight at The Keegan Theatre
DOGFIGHT, the Justin Paul & Benj Pasek musical that tells a tender but brutal story of young people meeting in a situation that is destined for heartbreak, began at The Keegan Theatre on August 22, opens tonight, August 25, and runs through September 19, 2015. Christina A. Coakley & Michael Innocenti direct the production, with a libretto by Peter Duchan, musical direction by Jake Null and choreography by Kurt Boehm. BroadwayWorld has a first look at the cast onstage below!
The play is set on Nov. 21, 1963. On the eve of their deployment to a growing conflict in Southeast Asia, three young Marines set out for one final boys' night of debauchery, partying, and maybe a little trouble. But when Corporal Eddie Birdlace (Tiziano D'Affuso) meets Rose (Isabelle Smelkinson), an awkward and idealistic waitress he enlists to win a cruel bet with his fellow recruits, she rewrites the rules of the game and teaches him the power of compassion. DOGFIGHT is based on the Warner Brothers film starring River Phoenix and Lili Taylor. The musical is the winner of the 2011 Richard Rodgers Studio Production Award, administered by the American Academy of Arts and Letters.
DOGFIGHT also features Harrison Smith, David Landstrom, Dani Stoller, Chad Wheeler, Chani Wereley, Matt Hirsh, Ian Anthony Coleman, Ricky Drummond, Eben K. Logan, Susan Marie Rhea, Sarah Anne Sillers, and Christian Montgomery.
DOGFIGHT's production team includes scenic designer Matthew Keenan, light designer Colin Dieck, Sound Designer Dan Deiter, costume designer Jesse Shipley, properties and set dressing by Carol Floretta Baker, and hair and makeup design by Craig Miller.
Photo Credit: Traci J. Brooks Studios

The cast of DOGFIGHT

Tiziano D'Affuso

Tiziano D'Affuso (foreground) with the cast of DOGFIGHT

Isabelle Smelkinson and Dani Stoller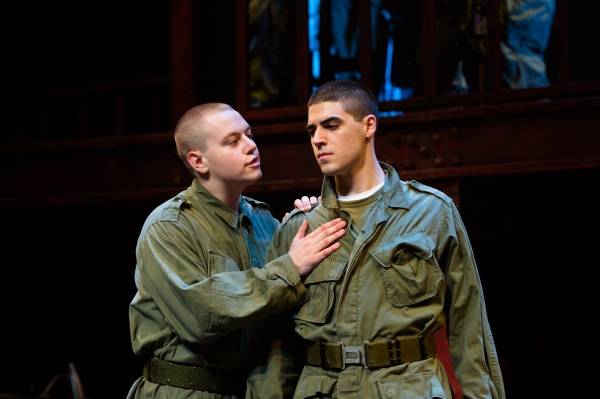 Harrison Smith and Tiziano D'Affuso

Harrison Smith, David Landstrom, and Tiziano D'Affuso

Isabelle Smelkinson and Tiziano D'Affuso