Guthrie Cast to Return for NATIVE GARDENS at Arena Stage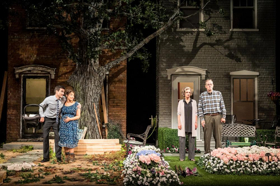 Good fences make good neighbors...right? Neighborly rivalry escalates into an all-out border dispute in Karen Zacarías' newest hot-button comedy Native Gardens, which makes its D.C. debut at Arena Stage at the Mead Center for American Theater. Blake Robison directs this hilarious new play about the clash of class and culture that pushes well-meaning neighbors over the edge.
Native Gardens is a co-production with Guthrie Theater and runs September 15-October 22, 2017 in the Kreeger Theater.
Reprising their roles from the celebrated Guthrie Theater run and making their Arena Stage debuts are Jacqueline Correa (Rosencrantz and Guildenstern Are Dead national tour) as Tania Del Valle, Dan Domingues (The Public's Wild Goose Dreams) as Pablo Del Valle, Steve Hendrickson (Folger Theatre's Cyrano de Bergerac) as Frank Butley and Sally Wingert (Broadway's La Bête) as Virginia Butley. Joining the company for the D.C. run are Guadalupe Campos, Oscar Ceville, Javier del Pilar and Christopher Rios as supplemental extras.
"I love Karen. As a playwright and a person, she is fabulous, talented and creative," says Artistic Director Molly Smith. "I love how she can illuminate our modern lives with humor and sensitivity. She is a terrific comic writer and oh my, do we need more writers of comedy in the theater. Arena likes to partner with theaters around the country and it's great to be working with Joe Haj and Guthrie Theater again. Add to that former Washingtonian Blake Robison, coming back from his new gig in Cincinnati, and it's just a great group of artists."
Named one of the most produced playwrights in the country by American Theatre magazine in 2016, Zacarías is an inaugural resident playwright at Arena Stage, where her previous credits include Destiny of Desire, The Book Club Play and Legacy of Light. Native Gardens received its world premiere in Cincinnati in 2016 (directed by Robison), and by 2018 will have received productions at nine different theaters across the country.
"There is something both primal and absurd at the root of feuds. And comedy is disarming; it can shed light on our personal foibles and allows us to examine 'thorny' subjects without getting defensive," shares Zacarías. "I've always wanted to set a comedy in our own unique backyard of Washington, D.C., and I hope the discussion goes all over the map-from mosquitos, mulch and gardening to immigration, class and privilege. I would love the audience to discuss the idea of what an American is in this day and age; what they would do if they were in this situation; and finally, to share their stories about arguments with their neighbors. Because there are some crazy neighbor stories out there. Fact is always stranger than fiction. And being able to laugh at ourselves is vital, and hopeful, especially in D.C."
"Karen is one of the few playwrights who knows how to write really great comedy-in the spirit of the good old-fashioned comedies," adds Robison. "There's a heightened nature of the interactions between the characters, but there's also a great deal of truth in it. We have the privilege of finding where those meet and tackling issues we're all grappling with today in a big-hearted, relatable way. I hope this play makes everybody look at their own experiences in dealing with their neighbors, or with people who are a little different from them, and that it allows them, just like the characters in the play, to respect those differences but also find the commonalities."
The creative team for Native Gardens includes Scenic Designer Joseph Tilford, Costume Designer Kara Harmon, Lighting Designer Xavier Pierce, Sound Designer Scott W. Edwards, Dramaturg Jo Holcomb and Vocal Coach Anita Maynard-Losh.
Good fences make good neighbors...right? From the outrageous mind of playwright Karen Zacarías (Destiny of Desire) comes this hot new comedy about the clash of class and culture that pushes well-meaning neighbors over the edge. Tania, a very pregnant Ph.D. candidate, and Pablo, her rising attorney husband, move next door to Virginia and Frank, a deep-rooted D.C. couple with an impeccably trimmed backyard. But when a questionable fence line puts a prize-worthy garden in jeopardy, neighborly rivalry escalates into an all-out border dispute, challenging everyone's notions of race, privilege and where to draw the line on good taste.
Post-Show Conversations:
Connect with our shows beyond the performance at a post-show conversation with artists and staff-September 27, October 2 and October 11 following the noon performance; October 10 following the 7:30 p.m. performance; and October 12 following the 8:00 p.m. performance.
Tickets for Native Gardens are $40-90, subject to change and based on availability, plus applicable fees. For information on savings programs such as pay-your-age tickets, student discounts, Southwest Nights and hero's discounts, visit arenastage.org/shows-tickets/single-tickets/savings-programs.
Tickets may be purchased online at arenastage.org, by phone at 202-488-3300 or at the Sales Office at 1101 Sixth St., SW, D.C.
ABOUT THE ARTISTS:
Karen Zacarías (Playwright) was recently hailed by American Theatre magazine as one of the most produced playwrights in the U.S.A. Her Arena Stage world premieres include Legacy of Light, The Book Club Play and Destiny of Desire. Other plays include Mariela in the Desert, The Sins of Sor Juana, adaptations of Just Like Us, How the Garcia Girls Lost Their Accent, Into the Beautiful North, Oliverio: A Brazilian Twist, Ella Enchanted: The Musical and others. She collaborated on the libretto for Sleepy Hollow and Hemingway: The Sun Also Rises for the Washington Ballet and has written 10 TYA musicals with composer Deborah Wicks La Puma. Karen is one of the inaugural resident playwrights at Arena Stage, a core founder of the Latino Theatre Commons and founder of Young Playwrights' Theater.
Blake Robison (Director) is Artistic Director of Cincinnati Playhouse, one of the largest regional theaters in the Midwest, where he directed the world premiere of Native Gardens last season. He is thrilled to continue his collaboration with Karen Zacarías, having produced the world premiere of her hit comedy The Book Club Play and directed her adaptation of Julia Alvarez's How the Garcia Girls Lost Their Accents at Round House Theatre, where he served as producing artistic director from 2005-2012. Other credits include productions at Guthrie Theater, Milwaukee Repertory, Utah Shakespeare Festival, Repertory Theatre of St. Louis, Folger Theatre, PlayMakers Repertory Company and Vermont Stage. As an adaptor, he created successful stage productions of Jay Parini's The Last Station and Alice McDermott's Charming Billy.
Jacqueline Correa (Tania Del Valle) makes her Arena Stage debut. Regional theater credits include Confluence (Guthrie Theater); The Women of Padilla (Two River Theater); Macbeth (Arkansas Repertory); Hamlet and the national tour of Rosencrantz and Guildenstern Are Dead (The Acting Company); Macbeth (Pennsylvania Shakespeare Festival); and On the Verge and Sonia Flew (Contemporary American Theater Festival). Film credits include The Dog Days. Jacqueline received her M.F.A. from the Professional Theater Training Program at University of Delaware.
Dan Domingues (Pablo Del Valle) makes his Arena Stage debut. Off-Broadway credits include The Undertaking (BAM/Next Wave); Locusts Have No King (INTAR Theatre); Wild Goose Dreams, Fidelis, The Great Immensity (The Public); The Jammer and The Cherry Orchard (Atlantic Theater Company); and To the Bone (Cherry Lane). Regional theater credits include Guthrie Theater, Goodman, NY Stage & Film, Hangar Theatre, Passage Theatre, Long Wharf, Kansas City Repertory, Studio Theatre, Portland Stage Company, Florida Stage, Pioneer Theater, George Street Playhouse and Repertory Theatre of St. Louis. Film credits include Run All Night, In Stereo, Future '38 and Suffer the Little Children and TV credits include West 40s, The Blacklist, Law and Order and Royal Pains. Dan received his M.F.A. from the American Repertory Theater Institute for Advanced Theater Training at Harvard University.
Steve Hendrickson (Frank Butley) makes his Arena Stage debut. Regional theater credits include Cyrano de Bergerac (Folger Theatre); South Pacific, Harvey, The Falls, Antony and Cleopatra and Lysistrata (Guthrie Theater); 1776 (American Conservatory Theater); Murderers (Cincinnati Playhouse in the Park); A Christmas Carol (Syracuse Stage); Hay Fever (Pittsburgh Public Theater); The Matchmaker, Both Your Houses (Asolo Repertory); An Enemy of the People (Barrington Stage); Mercy of a Storm, Blackbird, Crime and Punishment, An Iliad (Chester Theatre); Romeo and Juliet (Chicago Shakespeare Theater); Compleat Female Stage Beauty (Old Globe); and Much Ado About Nothing, Waiting for Godot, A Doll's House (PlayMakers Repertory). Awards include 2013 Berkshire Eagle Best Actor Award, 2009 Ivey Award for Best Production and 2005 Ivey Award for Best Performance in Cyrano de Bergerac. He is the founder of Audio-Visceral Productions www.audio-visceral.com.
Sally Wingert (Virginia Butley) makes her Arena Stage debut. She performed in La Bête on Broadway and the West End. Regional theater credits include over 90 productions with Guthrie Theater; Tartuffe (McCarter Theatre/Yale Repertory); Paradise Lost (American Repertory Theater); Six Degrees of Separation, Sweeney Todd, Master Class and Cabaret (Theater Latté Da); Hir (Mixed Blood Theatre); The Tale of the Allergist's Wife, Rose, Woman Before a Glass (Minnesota Jewish Theatre); Sylvia and Entertaining Mr. Sloane (Jungle Theater); The Beauty Queen of Leenane (Theatre Pro Rata); Doubt and Vasa Lisa (Ten Thousand Things); Henry V (Chicago Shakespeare Theater); Theatre Wit; and Artistry, among others. Film credits include Brennan Vance's The Missing Sun, North Country, Factotum, Grandfather's Birthday (with Robert Prosky), Fargo, With or Without You, The Straight Story and Last Seen.
Arena Stage at the Mead Center for American Theater, under the leadership of Artistic Director Molly Smith and Executive Director Edgar Dobie, is a national center dedicated to American voices and artists. Arena Stage produces plays of all that is passionate, profound, deep and dangerous in the American spirit, and presents diverse and ground-breaking work from some of the best artists around the country. Arena Stage is committed to commissioning and developing new plays and impacts the lives of over 10,000 students annually through its work in community engagement. Now in its seventh decade, Arena Stage serves a diverse annual audience of more than 300,000. Visit arenastage.org for more.
Pictured: Dan Domingues as Pablo Del Valle, Jacqueline Correa as Tania Del Valle, Sally Wingert as Virginia Butley and Steve Hendrickson as Frank Butley in Native Gardens. Photo by Dan Norman/Guthrie Theater.
Related Articles View More Washington, DC

Stories

Shows
More Hot Stories For You