BWW Review: Washington Concert Opera Serves Up a Seductive SAPHO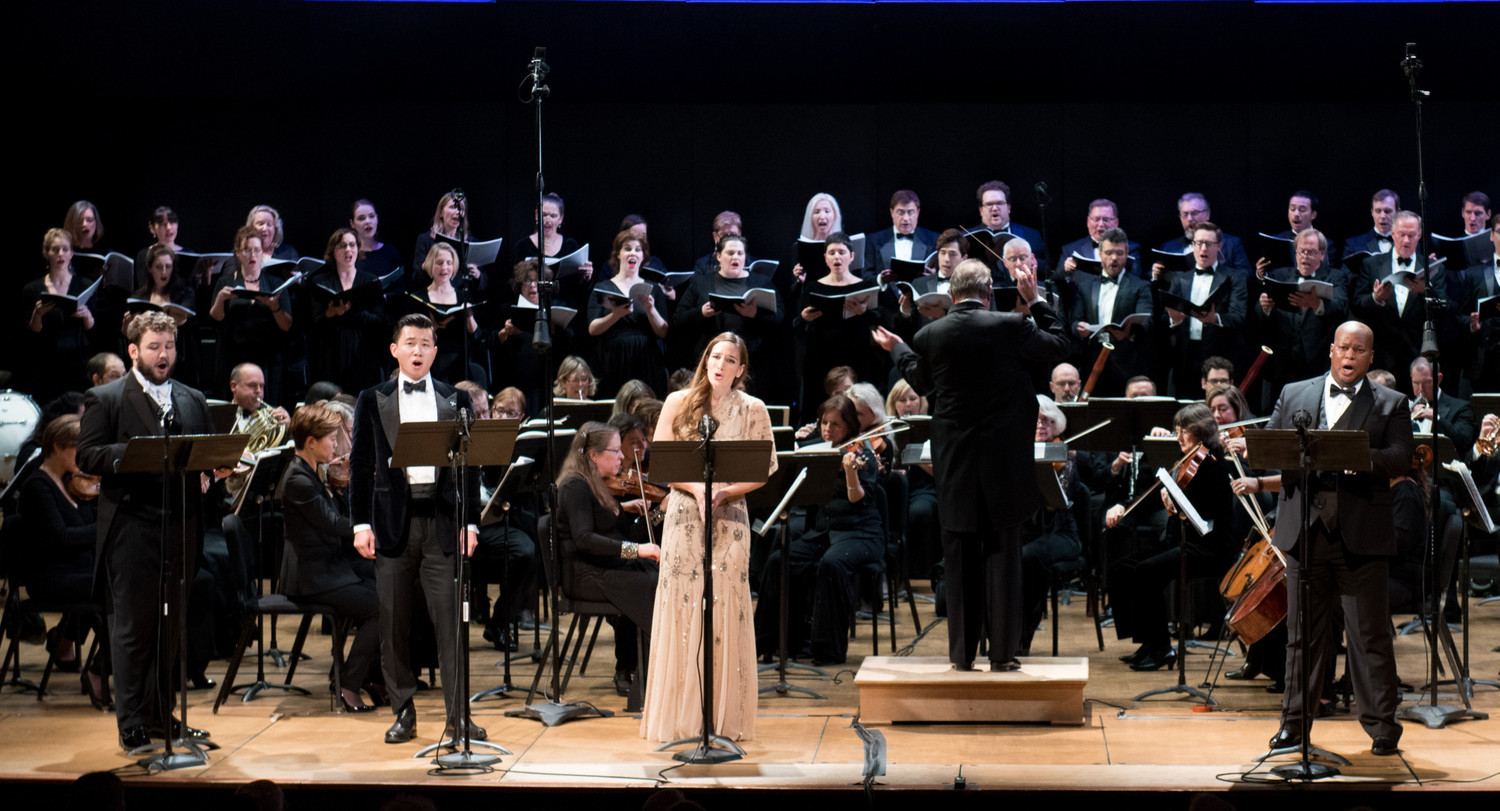 If you have ever attended an opera and thought "all of these sets and costumes are so incredibly distracting" then Washington Concert Opera would be right up your alley. Stripping away the grandiose of an opera production, WCO presents their works in their most raw form: with just an orchestra, a chorus, and principles who sing their hearts out. This minimalist style isn't likely to convert opera skeptics, but it is a great way to deepen one's appreciation for the art form. Their most recent presentation of Charles Gounod's first opera, Sapho, benefits from some strong lead performances. It's just a shame that the libretto isn't better.
Sapho is a Grecian-set French opera following the romance of poet Sapho (an astounding Kate Lindsey) and Phaon (Addison Marlor) during the Olympic Games. While Phaon is in love with Sapho, he is torn between the talented poet and his former flame, the wily courtesan Glycére (Amina Edris), whose jealousy toward Sapho is clear from her first moments onstage. Sapho wins her poetry portion of the Games with relative ease and her talents affirm Phaon's love. The plot then devolves into a slightly random murder conspiracy where Phaon plans to assassinate the leader of their island of Lesbos. Using this information, Glycére forces Sapho to renounce Phaon and push him into exile "for his safety" which enables the courtesan to run off with the man. Like most operas, the tale ends with Sapho's death as she hurls herself into the sea-unable to live without her lover.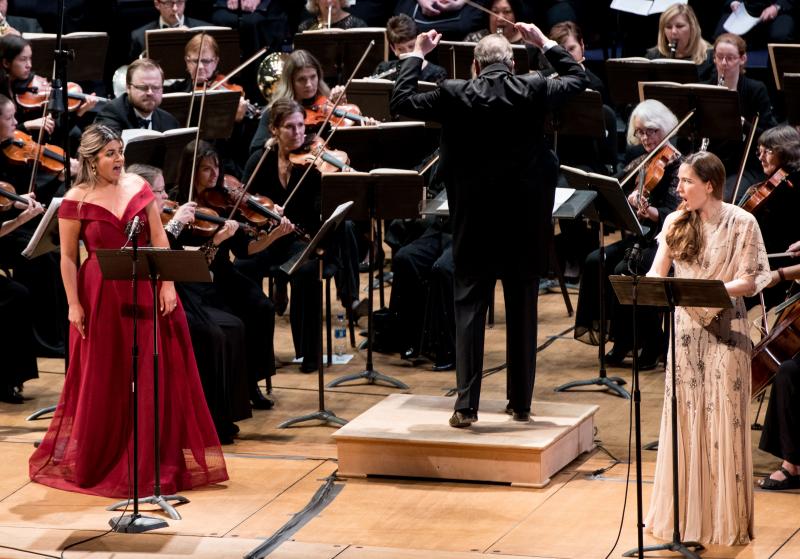 Honestly, the plot isn't particularly important-especially in the concert style. Sure, you could read the supertitles (translated by Antony Walker) intently during the show but you'd still have to connect some dots that are unclear thanks to a lack of a set. It's better just to sit back and let the music wash over you. And when this opera gets it right, it really gets it right.
The effectiveness of this production is in large part due to the talented principle performers. As Phaon, Addison Marlor does a serviceable job-providing nice musicality to his arias. There's something missing from this performance, however, particularly when he is paired with his female counterparts. Mr. Marlor is still a young performer, which is evident by some more shuffling onstage where his cast mates end up planting themselves firmly. Nevertheless, he sings beautifully. When it comes to the men, however, baritone Brian Yu steals the show as Sapho's poetic rival, Alcée. Mr. Yu's numbers are constantly thrilling and his execution of them is nearly flawless.
Even with solid performances, the men of this cast have nothing on the two female principles. Mr. Gounod's score relishes in the extravagance of Sapho and Glycére's numbers-making it a shame that they are fewer and farther between than one would like. Ms. Edris is a perfect foil for Sapho, exuding sexuality and cunning with every note she sings and every precise movement she makes. It helps that she has some of the most natural posturing throughout the night, giving her an ease to everything she does. Even with a pitch-perfect performance, the evening is all about the title character, embodied gloriously by Kate Lindsey. Particularly during her two act-ending arias, Ms. Lindsey makes all aware that the stage is hers to own and the energy shifts drastically whenever she enters the stage. Her crisp tone and smart musicality make her an artist worth seeing as many times as possible to soak up as much of her talent as one can.
While there is no set, more care could have been taken in creating a uniform look for the evening. Most specifically, I would have appreciated the medium for which music was brought on stage being made consistent. Half of the performers had hard copies of the score on their music stands while others brought tablets containing their music onstage. It's a small detail, but one that could have sharpened up the presentation just a little more. That being said, the overall look for the performers is nice-with all of their fashion choices properly complimenting their singing personas and fitting their character's personalities. I was a particular fan of Ms. Lindsey's finale dress, an intricate black number that suited the mood of her dramatic final number.
WCO's Artistic Director, Antony Walker, serves wonderfully as conductor for the evening. It helps, during a concert format, to have a compelling and interesting conductor leading the orchestra. Mr. Walker is just that. His movements never detract from the vocals, but he leads the musicians with such verve and passion that he is himself a point of entertainment during the evening.
There's a reason why Sapho isn't widely performed in the United States-the actual plot is a bit of a mess and the female performances aren't written as juicily as they could be. That being said, Washington Concert Opera has elevated this work expertly and makes a great case for their future programming. WCO's concerts are one-night-only affairs and, if Sapho is an example of how they can handle even a subpar work, they are certainly not one to miss.
Washington Concert Opera's Sapho played a one-night-only engagement at George Washington University's Lisner Auditorium on November 18. For information and tickets for their spring presentation fo Rossini's Zelmira, click here. For general information about WCO, click here.
---
Sam Abney is a Washington, D.C. based arts professional. A native of Arizona, he has happily made D.C. his new home. Sam is a graduate from George Mason University with a degree in Communication and currently works for Arena Stage as a member of their Development team. He is a life-long lover of theater and is excited about sharing his passion with as many people as possible.
To stay up-to-date on reviews from Sam, click here and subscribe to alerts.
Related Articles View More Washington, DC

Stories

Shows