Review: SOVEREIGNTY Reigns at Arena Stage - Cherokee Nation History Takes Center Stage in Compelling New Play
Native Americans have faced oppression, greed, deception, and even violence as the hands of encroaching white men for as long as explorers have sought to move across the land we now call the United States. As I type this review of the powerful and compelling new play SOVEREIGNTY, this headline came across my Twitter feed: "Navajo lawmaker harassed by Arizona Trump supporters accusing him of being here 'illegally'." On January 25, 2018, armed, flag-waving, white protesters outside of the Arizona Capitol yelled epithets at brown-skinned individuals coming and going from the building. Rep. Eric Descheenie was asked if he was in the U.S. illegally. The lawmaker told the AZ Capitol Times about the incident, "I'm indigenous to these lands. My ancestors fought and died on these lands," as a Navajo. "I just told them, 'Don't ask me that question.'"
Last March, the Native Nations Rise march took place to protest the Dakota Access pipeline which was in contention over its impact on clean water and areas sacred to the Standing Rock Sioux tribe.
Even as the headlines reflect the continued persecution of Native Americans and their tribal lands, playwright Mary Kathryn Nagle has taken her own family history as inspiration for a gripping and illuminating drama focusing on another of segment of Native Americans: the Cherokee nation.
A compelling blend of obscure history and a story seemingly ripped from the headlines, SOVEREIGNTY is a fitting entry in this year's Women's Voices in the Theatre Festival. Playwright Mary Kathryn Nagle has crafted a powerful rumination on Native American affairs and one woman's connection to her past and her own plight in the time of the "Me too" movement.
Unless you are a student of American history familiar with the tribulations of the Cherokee Nation, you might not be aware of the finer details of their struggle in the early 1800s to hold on to their land and fight for not only their identity but their inherent sovereignty. Four men figure prominently in the high stakes negotiations and squabbles: Major Ridge, his son John Ridge, and John Ross - three members of the Cherokee nation - and President Andrew Jackson. Nagle is a descendant of the Ridge men and a citizen of the Cherokee Nation, and one of the few native playwrights whose work if being produced in the United States.
It is fitting that Arena Stage's artistic director Molly Smith - long a champion of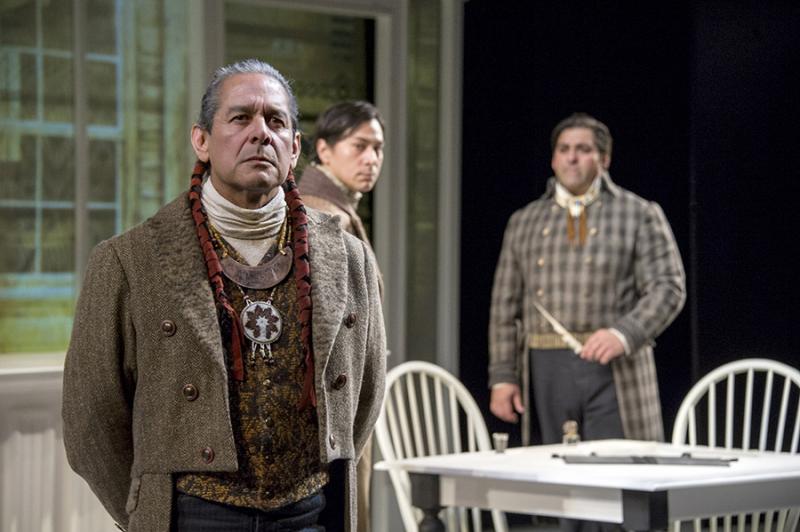 women writers - has helmed SOVEREIGNTY for its premiere in Washington, DC. This production, backed by simple yet effective design work from Smith's collaborative team, contains a careful blend of factual events and speculative fiction that deserves wide audiences and is certain to spur conversation and debate, as rightly it should.
Ken McDonald's scenic design takes inspiration from Cherokee culture, presenting an open, flexible stage - awash in black and white, symmetrical patterns - which transform with judicious projections and lighting by Mark Holthusen and Robert Wierzel, respectively. The set design allows Smith's staging to flow cinematically and seamlessly from scene to scene, even as the story traverses the distant past and near future.
In the 1830s, Andrew Jackson - played with Southern menace by Joseph Carlson - plays fast and loose with treaties and promises to Cherokee representatives Major Ridge, his son John, and future chief John Ross, who wish to preserve their lands. We see the inner politics of the Cherokee nation and the split in the strategies the native protectors used to attempt to keep their people safe. As Major Ridge, Andrew Roa brings gentle authority to his scenes, in contrast to the fiery and determined performance by Kalani Queypo as John Ridge. Roa and Queypo share the historic scenes also with the compelling Jake Waid as John Ross, another Cherokee icon. Nagle's script not only depicts struggles the Ridges and Ross had with President Jackson, but among themselves. Ross wanted to protect the Cherokee Nation's sovereignty at all costs, whereas Major Ridge and son chose to sign the treaty that would eventually not be honored and lead to the Trail of Tears - forced migration of thousands of Native Americans.
Flipping to a not too distant future, Nagle's play centers on Sarah Polson, perfectly embodied by Kyla Garcia. Garcia winningly portrays the ambitious and intelligent Polson with nuance and skill. Polson interviews for a position with the Cherokee Nation's attorney general's office, represented by Jim Ross. Ross - also played by Waid - a descendant of Chief Ross ends up hiring Polson, whose great-great-grandfather was John Ridge, setting up old tensions that will be faced later in the story. More immediately, Ross and Polson hope to change the current law that protects non-native individuals (a.k.a. white men) from being prosecuted for crimes committed on tribal lands.
Another figure enters Sarah's life: Ben, an SVU cop who becomes smitten with the Cherokee. Their subtle and steady romance is idyllic, at first. Ben - a dual role for Carlson - is a white man with issues that bubble to the surface and have a huge impact on Sarah's life and work. It would be too much to reveal the gamut Ben puts Sarah through, but it does take her to the Supreme Court for a climactic scene that connects to the storied history of the Cherokee Nation.
The ensemble cast also features Jake Hart as both a Cherokee friend of the Ridges and Sarah's brother. As a variety of figures, Michael Glenn and Dorea Schmidt lend able support. Veteran DC actor Todd Scofield dons a rack's worth of costumes in the past and present billed as "White Chorus Man," representing both ugly Americans (such as the ones mentioned from today's headlines) and prominent figures like Justice John Marshall who ruled in favor of the Cherokee Nation to hold on to their native lands.
The characters from the past and our own speculative future blend together in a compelling tapestry I hope to see again, to fully appreciate the journey Sarah Polson takes to preserve her own sovereignty and the legacy her proud ancestors. Nagle's play is not only an important voice as a female playwright, her identity as a citizen of the Cherokee Nation sets her apart even more and one who should be embraced far beyond the Women's Voices Theatre Festival.
---
~ Follow Jeff Walker on Twitter - @jeffwalker66
SOVEREIGNTY
Directed by Molly Smith
Part of the Women's Voices Theatre Festival
Running time: Two hours, one intermission.
Kreeger Theater, Arena Stage
Arena Stage AT THE MEAD CENTER FOR AMERICAN THEATER - 1101 Sixth Street, SW, Washington, DC 20024
January 12 - February 18, 2018 - Box Office: 202-488-3300 or click here: Sovereignty at Arena Stage
Photo Credit: C. Stanley Photography
---