Click Here for More Articles on REGIONAL - WASHINGTON, DC
BWW Review: NIGHT SEASONS Embraces the Charmingly Quotidian at Quotidian Theatre Company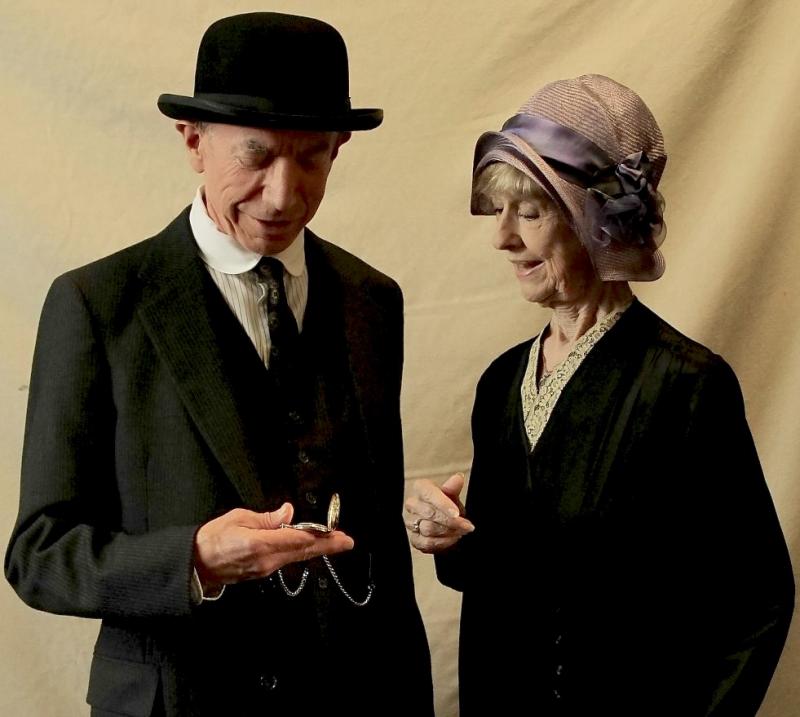 Horton Foote's NIGHT SEASONS, directed by Jack Sbarbori at the Quotidian Theatre Company, examines the nature of a life defined by money and greed, and the notion that perhaps living is the greatest punishment of all. Foote, best known for his 1962 screenplay for To Kill a Mockingbird, delivers a quiet critique of capitalist culture and asks us to consider what "home" means. NIGHT SEASONS places us in Harrison Texas, 1963 on Josie Weems' (Jane Squier Bruns) 93rd birthday, though the play deals in flashbacks and the setting easily slips back and forth through 1923-1963 and the years in between. Josie Weems (Jane Squier Bruns) is the manipulative glue that holds the rambling Weems family together by subtly managing finances and allowing and prohibiting marriages at her discretion.
The first act is fairly exposition heavy and, as overheard by one theatregoer, could be helped by a family tree in the program. Once relationships fall into place it is easier to focus on the persuasive performances of the cast and contributions of the creative team. Jane Squier Bruns tackles the matriarch of the Weems family with ease and quiet confidence. Even from the sixth row, her eyes capture the melancholy nature of outliving both husband and daughter. Foote's judicious use of flashbacks is the play's primary conceit, lending NIGHT SEASONS its haunting nature. Josie muses on the deaths of her husband, daughter, and others as the dead speak (and sometimes sing) while we careen through time and space. Lighting designer Don Slater beautifully illuminates a large screen center stage when Rosa (Jennifer Osborn), Josie's niece, and others sing unaccompanied at a string of funerals.
Director Jack Sbarbori, doubling here as set designer, presents a provocative mise en scenè: thirteen chairs and one couch sprawl across the small stage and vintage postcards, mostly of swallows, line the walls. There are endless places to sit, and no forward motion for Foote's characters. Josie's daughter Laura Lee Weems (Carolyn Kashner) is almost permanently seated next to the phone, passively on hold for the entirety of her existence. The space begins as a block of hotel rooms, later turns into an apartment, but never morphs into the house that Laura Lee so desires. Building a house is somehow the antidote to a purposeless life, as though a concrete foundation can replace drive, ambition, and true human connection, but the plans never come to fruition.
John Decker as Lewis Weems, Josie's husband, delivers a standout performance. Though the play occasionally suffers from slips in the Texan accent, Decker's slow drawl seems to come easily. He maneuvers one of the few sweet familial moments with daughter Laura Lee (Carolyn Kashner) with quiet confidence. Caroyln Kashner finds beauty in stillness in her portrayal of Laura Lee Weems, and finds big emotion naturally the few times its called for. David Dubov as Thurman Weems, Josie's oldest son, captures the inconspicuous wickedness of waiting for those around you to die so that you may succeed. He and wife Delia (Laura Russell) are delightfully dysfunctional. We all know that one miserable couple who erects monuments to their mutual displeasure with each other, but ends the night in the same bed for the sake of counting their mutual coffers.
The show is not without its problems. Quiet moments are sometimes too quiet to hear and the disparity in accent work detracts from a cohesive experience. But all things considered, Quotidian Theatre Company is a charming theatre, filled with a warm, receptive audience eager to laugh, gasp, and occasionally comment aloud. They are a company on a mission to find beauty and poetry in the everyday.
NIGHT SEASONS plays July 14th through August 13 at Quotidian Theatre Company. To purchase tickets call 301-816-1023 or visit www.quotidiantheatre.org/ticket
Running Time: 2 hours with 10 minute intermission
Pictured: (left to right) John Decker and Jane Squier Bruns. Photo by Steve LaRocque.