Click Here for More Articles on REGIONAL - WASHINGTON, DC
BWW Review: HANDS ON A HARDBODY is a Cult Classic at Keegan Theatre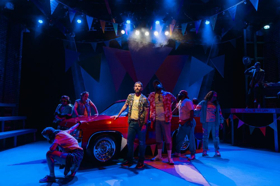 What is the American dream? Some would say two kids, a house with a white picket fence, and a dog. In the musical Hands on a Hardbody, with book by Doug Wright and music by Trey Anastasio and Amanda Green paired with lyrics by Green, the American Dream is a "hardbody" or a little red pickup truck at the center of an intense contest put on by Floyd King Nissan in a Longview, Texas. The rules of the contest are tight. The 10 contestants must keep at least one of their hands on the truck at all times. The last one standing gets the "hardbody." Hardbody only debuted on Broadway for about a month in 2013. While short-lived on Broadway, Keegan Theatre's regional premiere of Hands on a Hardbody, directed by Elena Velasco and Mark A. Rhea, proves this musical is on its way to becoming a cult classic.
The essential cult classic musical formula is made of memorable characters and plenty of catchy tunes. Keegan Theatre's production features a very talented cast who can not only carry those tunes but also bring humor and humility to their characters. Each contestant faces their own hardships and struggles. The cast is helmed by a solid core cast featuring Patrick M. Doneghy as JD, Beatrice Owens as Kelli, John Loughney as Benny, Danie Rodriguez as Greg, Duane Richards II as Chris, Willie Garner as Ronald, Caroline Dubberly as Heather, Andres Alejandro Ponce as Jesús, Shayla Lowe as Norma, and Valerie Adams Rigsbee as Janis. Although they aren't onstage as often as the contestants, the performances of Gary DuBreuil as Don, Janis' husband, and Katie McManus as Virginia, JD's wife, are notable especially during scenes and songs in which they interact with their spouses played by Valerie Adam Rigsbee and Patrick M. Doneghy respectively. The cast strikes a great balance between handling the seriousness and humor of Doug Wright's book.
The music, directed by Jake Null, of Hands on a Hardbody calls back to the roots of the American songbook. Musical numbers are hypnotic to watch and pulse with influences of country, gospel music, blues, and a bit of an almost rockabilly edge. And yes, for those Phish fans, there are glimpses of the band's influence especially with songs such as "If I Had This Truck" and "Human Drama Kind of Thing." Musical highlights include "If I Had This Truck," "My Problem Right There," "Joy of the Lord," "Stronger," "Born in Laredo," "It's A Fix," "Used to Be", and "God Answered My Prayers." While all the singers in Hands on a Hardbody nail the melodies and harmonies, Shalya Lowe's memorizing range and high energy on songs, such as "Joy of the Lord," bring the gospel to a whole different level. While many of the songs within the musical are light-hearted and fun, there are songs which touch on serious themes involving veterans, immigration, and gentrification. The songs, "Stronger", featuring beautiful vocals by Duane Richards II, and "God Answered My Prayers," featuring vocals by John Loughney, touch on veterans struggling with returning home from war. The song, "Born in Laredo," featuring the vocals of Andres Alejandro Ponce, touches on prejudices against immigrants. During the song, "Used to Be," with vocals led by Patrick M. Doneghy and John Loughney, Benny and JD remember how Longview used to be before gentrification and big-box retailer took down small businesses.
One major challenge for a production like this with a very specific setting is making use of the space. Keegan Theatre's production design team meets this challenge especially with the set designed by Matthew J. Keegan and properties/set dressing by Cindy Landrum Jacobs. The space is limited, but Keegan's design makes the best use by the space by putting the truck in the center bordered by bleachers and the Nissan office space. The rest of the set incorporates the familiar triangles which often are strung together and hung around car dealerships. The major set focus is the "hardbody" itself. At first glance, the truck seems real. It is very easy to forget that the truck isn't real as it is designed with great detail including working headlights and gleaming silver rims. During numerous scene changes and musical numbers, the truck is pivoted by the actors. The choreography by Elena Velasco compliments each song well especially during the songs, "Hunt with The Big Dogs" and "Born in Laredo." The projections designed by Richie Montgomery, add powerful imagery to the songs, "Used to Be" and "Born in Laredo."
Keegan Theatre's Hands on a Hardbody is a contest worth watching.
Running Time: 2 hours and 30 minutes including one intermission
Photo caption and credit: The cast of Keegan Theatre's Hands on a Hardbody. Photo by Cameron Whitman.
HANDS ON A HARDBODY runs at Keegan Theatre - 1742 Church St NW in Washington, DC - through April 6, 2019. For tickets, purchase them online.