Click Here for More Articles on REGIONAL - WASHINGTON, DC
BWW Review: DON'T LET THE PIGEON DRIVE THE BUS (THE MUSICAL!) at Kennedy Center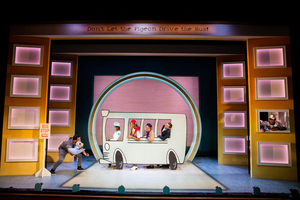 The giggles and guffaws zoom along at top speed, even as the bus breaks down in this genuinely riotous adaptation of Mo Willems' 2003 Caldecott-awarded picture book, Don't Let the Pigeon Drive the Bus!
Perched at the Kennedy Center's Family Theater through January 5 -- and dates are selling out fast -- Don't Let the Pigeon Drive the Bus! (The Musical!) is a world premiere, adapted by Willems and collaborator, Mr. Warburton, a.k.a. animation producer Tom Warburton of Codename: Kids Next Door and The 7D. The musical, part of a two-year Willems residency at the Kennedy Center, expands on the book's narrative and includes a witty, jazzy score by Deborah Wicks La Puma.
The six-member cast features terrific Washington-based actors, who shine under Jerry Whiddon's sharp direction, mining every smidgeon of pigeon drollery. You really haven't lived until you've seen and heard actress and Erika Rose imitating the vroom-sputter-cough-vroom-cough of a stalled bus engine trying to turn over. Nor have you experienced glee until you've witnessed Christopher Michael Richardson (he played the title role in Imagination Stage's You're a Good Man, Charlie Brown last year), play The Pigeon. Richardson operates a hand puppet that strongly resembles Willems' drawings and employs his entire self to play the role to the hilt. In priceless melodramatic tones in dialogue and song, Richardson bemoans the lack of adventure in his Pigeon life.
Everything about Daniel Conway's bright geometric set nods to Willems' spare illustrations, yet brightens them to frame the silliness onstage. First, The Pigeon tries to get a Hot Dog Vendor (Evan Casey) to give him one of those delicious savory treats. When that fails, the bird focuses on the bus, as he longs for the thrill, singing, "I never get to do anything I want!" He tries to cajole The Bus Driver (Felicia Curry) who refuses his request. Curry sings with boundless enthusiasm about why, as an "officially official bus driver," she loves driving a bus and boasts that her bus, like all public transportation, must always be on time. Her newest passengers arrive -- a Little Old Lady (Tracy Lynn Olivera) who scatters bird seed, a Business Man (Casey again) eager to get to his job and a Teenager (Hasani Allen) off to see a movie. All the human characters and the pigeon fully understand one another in this universe, by the way.
Then the unthinkable happens: The bus engine sputters out and the cast breaks into the very funny "Panic, Panic at the Bus Stop" choreographed in high wit by Jessica Hartman. The Bus Driver must leave for a while so The Pigeon has time to plot and ponder how he might get in there and drive the bus. Disaster is averted, or course, but not before The Pigeon, frustrated, wonders, "Can birds have an existential crisis?" Eventually, he learns how many other exciting, useful and heroic things he can do, as The Bus Driver sings "That moment of doubt is just a kind of searching...you have to look for the road that feeds your heart."
That's a lyric with some real-life wisdom for the very young, delivered in a tasty hour-long concoction of silliness.
Recommended for children 5 and older.
Running Time: 60 minutes with no intermission.
Don't Let the Pigeon Drive the Bus! (The Musical!) runs through Jan. 5, 2020
at the Kennedy Center's Family Theater. A world premiere adaptation of the picture book by Mo Willems, adapted by Willems and Mr. Warburton. Directed by Jerry Whiddon. Music by Deborah Wicks La Puma, puppets designed and fabricated by Carole D'Agostino based on Willems's characters, scenic design by Daniel Conway, costumes by Jeannette Christensen, sound design by Justin Schmitz, lighting design by Sarah Tundermann, choreography by Jessica Hartman.
Related Articles