Click Here for More Articles on DC - Theatre Life
BWW Interview: Theatre Life with Euan Morton
Today's subject Euan Morton has been seen in the DC area in a variety of plays and musicals. You might remember him portrayal of Anatoly in Chess at Signature Theatre or his Helen Hayes Award winning performance as Leo Frank in Parade at Ford's Theatre or Launce in The Two Gentlemen of Verona at Shakespeare Theatre Company. You might also remember his tour de force performance in the national tour of Hedwig and the Angry Inch at Kennedy Center.
On May 12th Euan Morton will be living his theatre life onstage at Round House Theatre in Bethesda, MD as the headliner for their annual Broadway in Bethesda Gala.
Mr. Morton is probably best known for his portrayal of Boy George in Taboo on Broadway and in London. His performance garnered him a Theatre World Award and nominations for Best Actor in a Musical for both the Drama Desk and Tony Awards.
Other NY theatre credits include Howard Katz at Roundabout Theatre Company and Brundibar at New Victory Theatre. You can currently see him portraying King George in the Broadway production of Hamilton.
Regional credits include Baskerville: A Sherlock Holmes Mystery at Old Globe Theatre, The Who's Tommy at Bay Street Theatre and Heart of Robin Hood in both Winnipeg and Toronto.
Round House Theatre puts out some wonderful theatre every season. Euan Morton is one dynamic performer. It's a perfect combination. Please consider attending Broadway in Bethesda and supporting one of the area's best theatre companies. "Come on in From the Outside" and enjoy!
Growing up, were any of your family members in the arts field?
No, though my mother did sing a little when she was younger. Not professionally.
At what age did you know you wanted to become a performer?
I was probably 10 years old. I knew I was destined for the theatre after a performance of Frosty the Snowman at primary school! I was throwing rolled up newspapers at a stuffed snowman and that was it, I knew it was forever.
Where did you receive your training?
I attended Mountview Conservatoire for the Performing Arts in London.
Can you please give us an idea of what we might hear at Round House Theatre's Broadway in Bethesda Gala on May 12th?
It'll be a musical theatre heavy set, with some of the songs I've performed in DC over the years.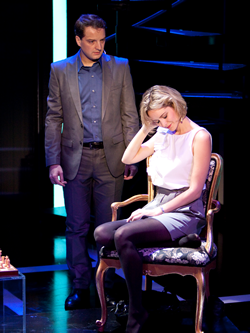 You've worked in the DC area a few times. What is it about our theatre community that you enjoy the most?
The audiences are so supportive and they are a joy to perform for. The standard of theatre in DC is second to none, so I'm honored to be welcomed here.
You recently completed a national tour of Hedwig and the Angry Inch. Do you enjoy touring and if yes what were some of your favorite cities that you played?
Touring is hard work, moving from hotel to hotel, and I don't much like flying either. Once I was on the east coast and could pick up my car, then I drove the last third of the tour and was much more comfortable. Every city brought a new delight and it's hard to pick a favorite, but our two shows in Atlanta (at the Fox) were amazing. What a crowd!
You are currently playing King George in Hamilton on Broadway. Can you please tell us about the process of being put into a show that is already running for a while?
This is the first time I've ever done that, and it certainly is an interesting experience. There are moments that, as an actor you must hit, parts of the character that must shine, but there was some room to find myself in the role and I'm very grateful for that.
Your son Ian Armitage is currently making a name for himself on CBS as the lead in Young Sheldon. Previous to this, he was and still is a sensation as a pint size reviewer on the internet. Did you encourage him to get into show business or was it totally his decision?
Oh Iain has complete control over this part of his life! If he ever wanted to do something else, I would totally support him. But for as long as he is happy, then we are too.
You've played Shakespeare here in DC and elsewhere. What is the one role of his that you have not played yet that you most want to get a crack at?
Iago in Othello. There I've put it out in the universe.
Special thanks to Round House Theatre's Associate Director of Marketing and Communications Sarah Pressler Randall for her assistance in coordinating this interview.
Theatre Life logo designed by Kevin Laughon.