BWW Interview: Broadway's Kevin Covert Directs SPRING AWAKENING at Shenandoah Conservatory
Spring Awakening, a play by Frank Wedekind, premiered at the Deutsches Theater in 1906. The drama explored 19th-century teens experimenting with young love, sexuality, and loss. Due to the 'controversial nature' of the piece, it was banned in several countries. Stephen Sater and Duncan Sheik's rock musical adaptation of Wedekind's play premiered on Broadway in 2006 at the Eugene O'Neill Theatre. The original production went on to win eight Tony Awards, four Drama Desk Awards, and a Grammy.
Shenandoah Conservatory in Winchester, Virginia will be mounting the award-winning musical this September, directed by Broadway veteran and new musical theatre program coordinator Kevin Covert with Music Direction by Rick Edinger. I was lucky enough to sit down with Kevin, hear about his experience at Shenandoah so far and learn about his process working on the rock musical with current theatre students.
Christopher Castanho: So this is your first year at Shenandoah, how are you enjoying it?
Kevin Covert: I'm loving it so far. It's a lot of work, which I knew it would be, but I am loving the classes. I get excited when I get to teach class because I'm already seeing growth from everyone. And I'm loving Spring Awakening, everyone's very collaborative. So far so good.
CC: You're a seasoned Broadway performer, being in the original productions of MEMPHIS, SPAMALOT, and the revival of HOW TO SUCCEED, what made you want to start directing?
KC: I've always kind of loved it. I spent most of my career as an actor and then through mutual friends I met Christopher Gattelli and we started talking one day about choreography that we loved. Strangely we started talking about Spring Awakening and Bill T. Jones, and then I started working with him [Gattelli] on shows. I worked with him on the revival of South Pacific at Lincoln Center and then on the world premiere of "Emmet Otter's Jug Band Christmas" which is based on a Jim Henson's Muppet Christmas special that I loved growing up as a child. I just loved the way he [Gattelli] worked, his methods, so I started reaching out regionally and at Universities. I found that I really loved it. As an artist, I love doing so many things: I love performing as I did it for a long time, I love directing and choreographing, I love teaching and watching students get better. As a director and choreographer, I love the process: the beginning, the designs, the casting process, watching the actors grow into this finished product. It's an interesting feeling of pride that you can't describe when you see it all come together.
CC: You mentioned Christopher Gattelli as a mentor, did you learn more from experience in the business, or did you have formal directing training?
KC: I took a directing class in college, but haven't had any formal directing training. I learned a lot from listening to directors along the way, especially Mike Nichols who was the director for Spamalot. During tech I would sit in the house with him in Chicago, asking questions. He was sweet, always saying "Kevin, my boy" and would answer my questions. Watching Mike is where it first clicked with me and being associated with Chris' [Gattelli] work, I started thinking not just as a performer, but as a director. I would listen to directors like Christopher Ashley in Memphis, Rob Ashford for How To Succeed, all these people would open my ears more to not just the performance side of it. You just jump in feet first with your first job and pray that everyone is willing to answer questions. [Laughs]
CC: What made you want to direct Spring Awakening at Shenandoah Conservatory?
KC: When I was interviewing for the job here, in all of the literature that Shenandoah provides it really drives home the fact that it's the only university in the country with specific training in pop/rock vocal style singing. I was looking for a show that covered that genre and that also I like, and I really love Spring Awakening. It was actually introduced to me by my good friend Sutton Foster, who was one of the investors for it on Broadway. She was like "You have to go see this show, you have to go see this show!" So I like the show, it covered the pop/rock genre, has a lot of characters: which I think is important, and I wanted something that I felt wouldn't be too much of a stretch for the students' age range. It sort of checked off all of the boxes, not to mention being a brilliant Tony-winning musical.
CC: So you mentioned seeing the original production because Sutton begged you to go see it--
KC: Right. [Laughs] Not begged, just encouraged.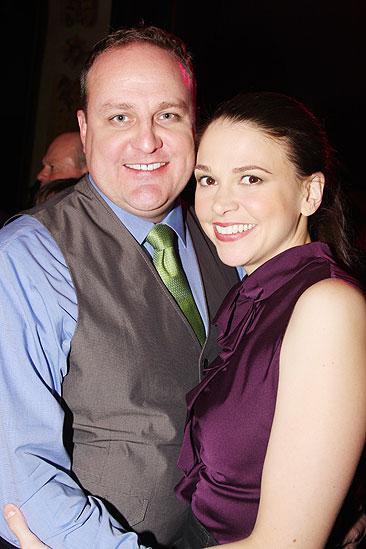 CC: What is something that you have loved in other productions of the show?
KC: I haven't seen a lot of productions of it. I only saw the original Broadway cast, and then I did a concert version of it, which was mostly with books in hand, but they did do some choreography. They really got it right on Broadway, especially going back to Bill T. Jones, the world of the movement: exploring your body, exploring emotion. So I tried to honor that spirit while making it my own. For me, I'm big on transitions: I like things to go from one thing to the next. I don't like blackouts unless they're called for a specific reason. Mainly the work that stuck out to me was Bill T. Jones' amazing movement, so I tried to pay homage to that in this production.
CC: What's been your favorite part about doing this show with students at Shenandoah?
KC: We put it up very quickly, they learn the music and I staged it and choreographed it very fast. Then going back after that, starting at the top, and picking through it: talking about what it's about, what are we trying to say, that's the part I love the most. Really filling in the pie. The students are so willing to explore, trust me, and take chances. The result is that we have two and a half weeks left, and we're doing run throughs. It's nice to have the luxury that everyone's been taking it so seriously and have been so focused, that now we have that advantage of spending a couple weeks fine tuning and not getting trapped in some of the things that the show can cause like teen angst. We have been finding many lighter moments in the show, which there are surprisingly are a lot of. So it's really nice to go back and explore.
CC: Why should people come see this production of Spring Awakening at Shenandoah Conservatory?
KC: It's a beautifully written musical that discusses a lot of subjects people don't like to talk about. It can open someone's eyes and spark conversations that need to be had. The social issues of the show are absolutely one reason why people should come. Secondly, I really think that the students have proven why Shenandoah is the pop/rock Conservatory, it really suits their strengths and they've worked really hard. In all aspects it's beautiful. The orchestra sounds amazing from what I've heard in the rehearsal. Rick Edinger, the music director is a genius. Besides the social importance of the show, it's a great rock musical that Shenandoah should be and hopefully will be more known for doing.
---
Spring Awakening runs from September 30th-October 2nd at the Ohrstrom-Bryant Theatre on the campus of Shenandoah University in Winchester, VA. Tickets start at $20 and are available to purchase on their website or by calling the Shenandoah Conservatory Box Office at (540) 665-4569. The show runs approximately two and a half hours and contains mature language, themes, and sexual content that some audiences may find disturbing or offensive. Follow #SUPurpleSummer for pictures and information regarding Shenandoah's production.