How to Succeed in Business Without Really Trying - 2011 - Broadway Tickets, News, Info & More
Following the advice of a book entitled "How to Succeed in Business" a young window-cleaner, J. Pierrepont Finch, begins a meteoric rise from the mail-room to Vice President of Advertising at the World-Wide Wicket Company. Finch's unorthodox and morally-questionable business practices jeopardize not only his career but also his romance with secretary Rosemary Pilkington. With a beloved score by Frank Loesser, How to Succeed in Business Without Really Trying is packed with hit standards such as "I Believe in You," "Happy to Keep His Dinner Warm," "The Company Way," "Been a Long Day," "Rosemary," and "Brotherhood of Man."
Video preview
Photo preview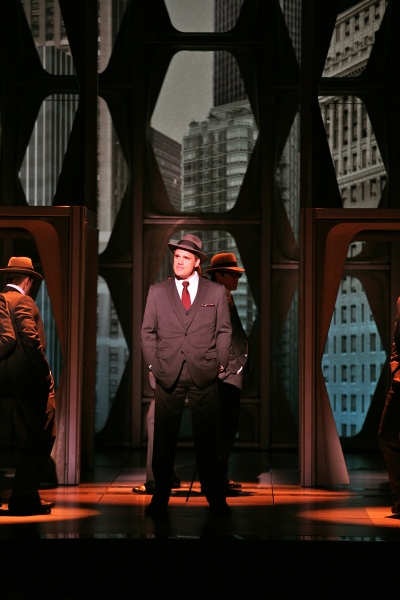 Schedule
Running Time:
2 hours and 45 minutes, with one intermission
Featured Reviews For How to Succeed in Business Without Really Trying
How to Succeed in Business Without Really Trying - nytheatre.com
Individually, the entire cast is quite strong, but what they collectively lack is chemistry (yeah, chemistry…oops, wrong Loesser show). The beguiling Rose Hemingway imbues Rosemary with a self-assured sexuality and has a very pretty voice, though she and Radcliffe lack that crucial spark. Radcliffe connects slightly more with Larroquette, who is delicious as Biggley and tremendous in his scenes with the superb Tammy Blanchard as his vamp of a paramour, Hedy LaRue. Blanchard's Hedy is not a dumb bimbo, she's a cunning Jersey girl, a smarter version of Snooki. Mary Faber has some very nice moments as the sex-starved secretary Smitty, Christopher J. Hanke pushes too hard for laughs in the genuinely comic role of villain Bud Frump, and Rob Bartlett, Michael Park and Ellen Harvey excel in their roles.
How Daniel Radcliffe Succeeds on Broadway - New York Magazine
What Radcliffe and Ashford pull off in this surprisingly succulent production is a fairly exhilarating demonstration of how a well-run musical, like a well-run company, adapts itself to the peculiar talents of its personnel, and not the other way around. With Ashford's flair, Radcliffe's dogged discipline and great good humor, and a deep bench of performing talent, How to Succeed-written as a poke at at the gray-flannel innards of a mid-century business behemoth-moves with the fleet feet and bright-eyed buoyancy of a startup. Its satiric DNA may be rooted in the Sterling Cooper era, but the energy here is present-tense, urgent and undeniable.
How to Succeed in Business Without Really Trying Broadway Cast