South Pacific - 2008 - Broadway
Although well known for its extraordinary score -- the songs include Some Enchanted Evening, Younger Than Springtime, Bali Ha'i, There Is Nothin' Like A Dame, and A Wonderful Guy -- South Pacific is also a deeply felt drama. Its portrayal of Americans stationed in an alien culture in wartime is as relevant today as when it first thrilled audiences in 1949.
Now in its first Broadway revival, South Pacific won seven 2008 Tonys and has been playing to sold-out houses since the first preview in March 2008. Three time Tony nominee Kelli O'Hara and acclaimed bass-baritone David Pittsinger lead the marvelous cast of 40 directed by Tony winner Bartlett Sher.
Video preview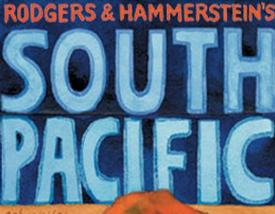 Schedule
Running Time: 3 three hours, with one intermission
Featured Reviews For South Pacific
When Musicals Matured: Three Revivals Recall Another Age - Village Voice
Lincoln Center Theater's revival of South Pacific, directed by Bartlett Sher, plumps for the work's seriousness, approaching it with quiet realism—almost cautiously, as if its romance might prove too fragile for our cynical time. But South Pacific has solidly built-in defenses against breakage, including the self-mocking lyrics in which Nellie ridicules her own romanticism. An additional pinch of that showbiz self-mockery wouldn't have hurt Sher's production, which at times seems too sedate.
South Pacific - nytheatre.com
Lincoln Center Theater's revival of South Pacific is the high point of the spring season—exactly the passionate and bittersweet musical romance that I hoped it would be. Its story of American nurses, marines, and seabees becoming irrevocably changed by their time on an island in the South Pacific during World War II is deeply involving; the people we meet on this island—creations of James Michener by way of librettists Joshua Logan and Oscar Hammerstein II—are intensely human and we come to care about them very much. The craft of its story-telling—Logan and Hammerstein's book, Hammerstein's lyrics, and Richard Rodgers's score—is extraordinary. With director Bartlett Sher at the helm, South Pacific has been lovingly and beautifully realized on the stage of the Vivian Beaumont Theatre, with Ted Sperling's 30-piece orchestra invaluably performing Robert Russell Bennett's original lush orchestrations.
South Pacific Broadway Cast