South Pacific - 2008 - Broadway
Although well known for its extraordinary score -- the songs include Some Enchanted Evening, Younger Than Springtime, Bali Ha'i, There Is Nothin' Like A Dame, and A Wonderful Guy -- South Pacific is also a deeply felt drama. Its portrayal of Americans stationed in an alien culture in wartime is as relevant today as when it first thrilled audiences in 1949.
Now in its first Broadway revival, South Pacific won seven 2008 Tonys and has been playing to sold-out houses since the first preview in March 2008. Three time Tony nominee Kelli O'Hara and acclaimed bass-baritone David Pittsinger lead the marvelous cast of 40 directed by Tony winner Bartlett Sher.
Video preview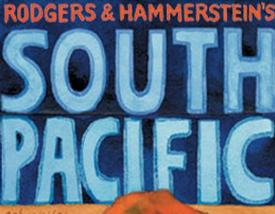 Schedule
Running Time: 3 three hours, with one intermission
Featured Reviews For South Pacific
Optimist Awash in the Tropics - New York Times
Above all, though, what impresses about this "South Pacific" is how deeply, fallibly and poignantly human every character seems. Nearly 60 years ago Brooks Atkinson, writing in The New York Times, described the show as "a tenderly beautiful idyll of genuine people inexplicably tossed together in a strange corner of the world." I think a lot of us had forgotten that's what "South Pacific" is really about. In making the past feel unconditionally present, this production restores a glorious gallery of genuine people who were only waiting to be resurrected.
A Thing Called Hope - The New Yorker
But the show's defining impact was not financial; it was subliminal. At the zenith of America's postwar power—with abundance and intolerance at loggerheads within the nation—the ravishing score reminded America of its best self, and gave the fraught fifties a mantra of promise. "If you don't have a dream, / How you gonna have a dream come true?" it asked. Under the elegant, astute direction of Bartlett Sher, Lincoln Center's revival—the first on Broadway since the show's début—is a majestic spectacle. Conjured by Michael Yeargan's superb sets and Donald Holder's evocative lighting, the romantic and rollicking nineteen-forties world comes to life. But there is nothing retro about the show's debate. Now, as then, the nation is stuck on issues of race, war, and, as the musical puts it, a "thing called hope."
South Pacific Broadway Cast