Memphis: A New Musical - 2009 - Broadway
From the rockin' dance halls of Memphis, Tennessee comes this hot and bothered new Broadway musical with heart, soul and energy to burn. Set in the turbulent south in the 1950s, it is the story of Huey Calhoun, a white radio DJ whose love of good music transcends race lines and airwaves. Get ready to experience all the exuberance and the emotion... the beauty and the controversy... of a wondrous, defining time in our history. You're tuning in to Memphis, so turn up that dial!
MEMPHIS features a brand new score with music by Bon Jovi's founding member/keyboardist David Bryan and lyrics by Bryan and Joe DiPietro (I Love You, You're Perfect, Now Change), who also pens the musical's book. Bryan and DiPietro also collaborated on the current award-winning off-Broadway hit, The Toxic Avenger. MEMPHIS is based on a concept by the late George W. George (producer of the Tony nominated Bedroom Farce and the film My Dinner With Andre), with direction by Tony nominee Christopher Ashley (Xanadu) and choreography by Sergio Trujillo (Jersey Boys).
Video preview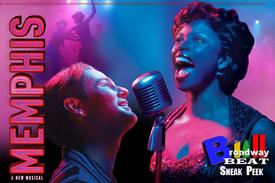 Photo preview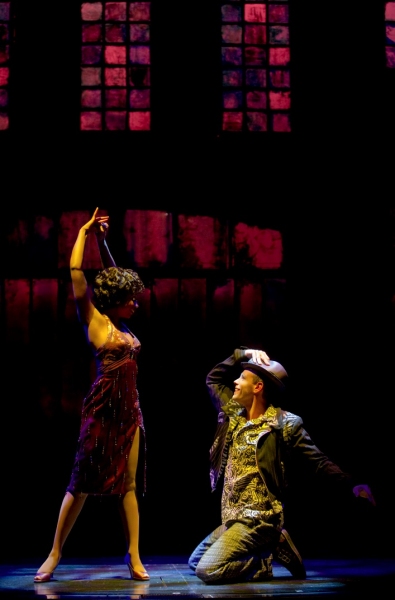 Schedule
Running Time: 2 hours and 30 minutes, with one intermission
Featured Reviews For Memphis: A New Musical
'Memphis' isn't the right place for these talented actors - USA Today
Part of the problem is that the leads seem incompatible for reasons having nothing to do with skin color. It's tough to see how Montego Glover's elegant Felicia could be attracted to Chad Kimball's buffoonish Huey, who suggests a cross between an aging stand-up comic and a parody of George W. Bush in his frat-boy heyday. Glover gives Felicia an endearing sweetness and sings powerfully. But like her castmates, she's saddled with music and lyrics (the latter co-written by Bryan and DiPietro) that at best play like retreads of old R&B hits. Bryan, a founding member of Bon Jovi, also invests some songs with power-ballad melodrama.
'Memphis' the soul of rock and roll - Newsday
The remarkably rich and raucous character-driven songs, by Bon Jovi cofounder David Bryan, lovingly capture the insinuating, earthy authenticity of rhythm and blues, gospel and early rock and roll without sounding derivative. The moody and inventive production has been put together with down-and-dirty elegance by director Christopher Ashley, choreographer Sergio Trujillo, set designer David Gallo and costume designer Paul Tazewell, who let the musical and dramatic and pop-up scenic discoveries peel off one another at a pace breathless and disciplined, original and authentic. When a singer lets loose - and, eventually, they all do - the vocal pyrotechnics come from deep within the storytelling.
Memphis: A New Musical Broadway Cast