Northern Stage Cultivates New Musical And Plays In Fifth Annual NEW WORKS NOW Festival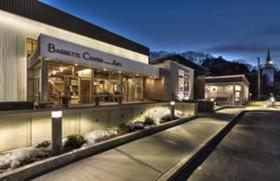 Northern Stage is pleased to announce its fifth annual New Works Now, a showcase and celebration of new plays to be presented January 19-21 at the Barrette Center for the Arts. Inaugurated in 2014, New Works Now presents rehearsed staged readings of plays new to the American theater. New Works Now 5.0 will include three staged readings, each featuring a post-show conversation with the playwrights, actors, and directors. A fourth off-site 10-minute play will be presented twice at two different area businesses during the festival weekend.
Northern Stage Associate Director Amanda Rafuse states, "We launched New Works Now five years ago with three small plays and an audience of about 30 people. Since then, we have produced four New Works Now-incubated world premiere plays and had a thrillingly successful Off-Broadway transfer. Our festival attracts over 600 people and continues to nurture incredible audience and artist discussions. NWN 5.0 features a diverse offering of plays - from the intimate play about coming of age and overcoming challenges crafted by a young Dartmouth female athlete, to an electric large-cast rock musical created by an emerging musical theater team, to the exploration of an intergenerational relationship among three women. The weekend is capped with a hilarious 10-minute play about performing a 10-minute play. We hope everyone will join us for the entire festival." Readings are as follows:
It's Fine, I'm Fine by Stephanie Everett, Friday, January 19, 7:30 PM
It's Fine, I'm Fine is a brave, vulnerable, and timely one-woman show that provides a window into the tumult of modern-day adolescence, made increasingly difficult by the unseen repercussions of concussions. Playwright and actor Stephanie Everett is a junior at Dartmouth College, and this piece is her culminating project in the Dartmouth/Northern Stage Experiential Learning Term.
The Coup, a rock musical by Rebekah Greer Melocik, Jacob Yandura & Victor Lesniewski, Saturday, January 20, 7:30 PM
The Coup is a lush rock fable about the disconnects in our political system, features live music and the largest cast seen at New Works Now. This musical is written by the same team who brought The Last Queen of Canaan to Northern Stage's inaugural New Works Now festival in 2014. Award-winning lyricist Rebekah Greer Melocik was named on Playbill's "Up and Coming Women in Theatre" list. Actors Van Hughes (Broadway: American Idiot, Spring Awakening, Hairspray), Susan Haefner (Broadway: State Fair, Thoroughly Modern Millie, 42nd Street) and Ciara Renée (Broadway: Pippin, Big Fish) join the company for this reading.
Jane Burgoyne by Robert Moulthrop, Sunday, January 21, 2:00 PM
Jane Burgoyne is a moving exploration of the intergenerational relationship between three women: Jane Burgoyne, her daughter Katherine, and granddaughter Allison. Stephen Brown-Fried (Northern Stage: Macbeth) directs.
Admission is free, but seats are reserved. Contact the box office to secure your reservation at 802.296.7000 orboxoffice@northernstage.org.
Accompanying the staged readings is the third annual Thirsty Theater, an off-site pop-up theater experience in White River Junction. This year, the world premiere of the 10-minute play The Dual by Jack Neary (Northern Stage: Trick or Treat) will be performed by Emmy winner Gordon Clapp and Northern Stage favorite Susan Haefner. No tickets are required for this event, which is scheduled for the following times:
The Filling Station: Friday, January 19, 9:00 PM (arrival to the Filling Station at 8:45 PM recommended)
Thyme Restaurant: Saturday, January 20 at 6:30 PM (dinner reservations via Thyme for 6 PM or earlier recommended)
History of New Works Now:
Previous years' festivals produced four plays that have been brought to the main stage for world premieres at Northern Stage and beyond. Joe Sutton's Orwell in America played on Northern Stage's main stage in March of 2015 followed by an Off-Broadway run at 59E59 Theaters in New York City, where it garnered acclaim in the New York Times from theater critic Ken Jaworoski: "As the title character, Mr. Horton delivers perhaps the finest performance I've seen Off Broadway this year." Mad Love by Marisa Smith premiered at Northern Stage in January 2016, followed by a run at New Jersey Repertory Company in the fall of 2016. Jack Neary's
Trick or Treat was work shopped in New Works Now in 2016, followed by a world premiere production at Northern Stage in January of 2017. Bob Steven's Only Yesterday was very well received at New Works Now in 2016 and continued to be cultivated through workshops and readings at Northern Stage throughout 2017. This intimate play about John Lennon and Paul McCartney will enjoy its world premiere at Northern Stage January 31- February 18, 2018.
The Pussycat Foundation, Mike and Barbara Gerling, The Joyful Living Fund of the Vermont Community Foundation, The Norwich Inn, The Quechee Inn at Marshland Farm, Residence Inn by Marriott, Hampton Inn in White River Junction, Holiday Inn Express & Suites White River Junction, and the entire Northern Stage family of donors support New Works Now 5.0.
Northern Stage is a regional non-profit LORT-D professional theater company with a mission to change lives, one story at a time. Located in White River Junction, VT, Northern Stage actively involves its audiences with ambitious productions and expansive educational programs in its new home, the Barrette Center for the Arts. Founded in 1997, the company has offered more than 120 high-quality professional productions of new works, classics, and musicals. The company is now in its 21st season and annual attendance is over 30,000.