Award-Winning Vancouver Singer Raises Awareness And Funds For Charity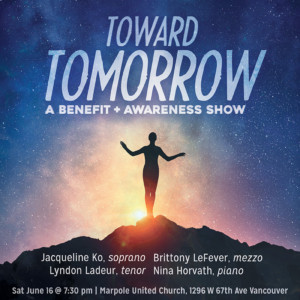 This June, an award-winning soprano will sing to support chronic neuro-immune disease awareness. On Saturday, June 16th, Vancouver singer and producer Jacqueline Ko will present the gala benefit concert Toward Tomorrow at Marpole United Church. The show will raise awareness and funds for Myalgic Encephalomyelitis (ME) - sometimes referred to as Chronic Fatigue Syndrome - and Fibromyalgia (FM), with proceeds supporting the ME/FM Society of BC.
Ko has suffered from ME since age six, so the cause is close to her heart. "ME can change your life forever - it definitely did for me," Ko says. She wants to raise awareness for the disease, which affects around 15-30 million worldwide and 1.6% of people in Canada. "I've read studies that compare ME's impact to multiple sclerosis, late-stage cancer or congestive heart failure. Yet there's barely any research funding, most medical schools don't even teach this disease, and they say as many as 9 out of 10 people aren't even diagnosed. I was lucky in that respect - but even with a diagnosis, we don't fully understand the cause or have a cure."
Despite her illness, which left her bedbound for years, Ko has managed to become a celebrated singer and show producer - a story told in the recent book 'Lighting Up a Hidden World: CFS and ME' by Valerie Free. At age 20 she co-founded the critically acclaimed arts company Opera Mariposa, and in the last five years the organization's annual benefit shows have raised over $50,000 for ME & FM. "I wrote Toward Tomorrow to bring attention to this crisis," says Ko. "For many people with ME or Fibromyalgia" - the latter a related but distinct illness - "symptoms are only half the struggle. The other half is dealing with widespread public misconceptions and a lack of medical support."
Still, Ko is hopeful. "Organizations like the ME/FM Society of BC do amazing work, and I think things are shifting. There have been protests for ME health equality in over 100 cities around the world, and the new ME documentary Unrest was shortlisted for an Academy Award. People are waking up to the widespread impact of this disease. Now we need research funding and public health policy to catch up, and I want to do what I can to help make that happen."
In Toward Tomorrow, Ko weaves together everything from opera arias to Broadway hits in a show that has something for everyone. She will be joined onstage by award-winning mezzo-soprano Brittony LeFever, multi-award-winning tenor Lyndon Ladeur and collaborative pianist Nina Horvath, performing songs from The Magic Flute, West Side Story, Hamilton, Dear Evan Hansen and more. The evening includes a dessert buffet, as well as a raffle contest with over $2,000 in prizes donated by local businesses.
TOWARD TOMORROW – Saturday, June 16th, 2018 at 7:30 pm
Marpole United Church, 1296 West 67th Avenue, Vancouver
$25 General | $20 Students/Seniors/Disability Benefit | $15 Groups of 4+
Tickets at the door, at operamariposa.com or from Brown Paper Tickets at 1-800-838-3006
ABOUT MARIPOSA: Opera Mariposa is a Vancouver-based company run by young artists, for young artists. They showcase emerging performers from around the world in a diverse program of concerts, original shows and fully staged opera and musical theatre productions. Their annual benefit shows have raised over $50,000 to date for a variety of charities. In 2016 the company expanded with the launch of the Mariposa Theatre Wing, which presents plays and musical theatre with operatic elements. Learn more at operamariposa.com