Yellow Earth Slates East/West Lineup for TYPHOON 2017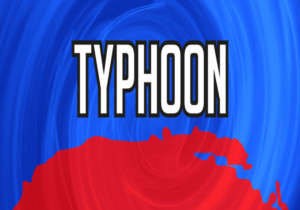 Yellow Earth Theatre seeks out, develops and produces quality new plays by East Asian writers who live in the UK and abroad.
This November, the company's TYPHOON festival will give audiences in London the perfect opportunity to experience some of this outstanding work when eight new plays are given semi-staged readings at the West End's Soho Theatre and the East End's Rich Mix.
Typhoon WEST at Soho Theatre features the work of British East Asian writers while Typhoon EAST at Rich Mix presents work by East Asian writers from around the world.
Yellow Earth's Artistic Director, Kumiko Mendl says: "We chose the name 'Typhoon' because it denotes the power and force of these exciting new plays with their origins in the East. This November's programme of new plays all have something fresh to say about contemporary life as East Asians and our place in a fast, evolving and often challenging global world. They are all well articulated, powerful and often very funny. Thought provoking and entertaining these plays should get everyone talking. There will be post-show Q&As with some of the writers present as well as the directors and actors."
There will be a panel discussion at Rich Mix on Saturday November 25th (between the two performances) with amongst others Caroline Jester, programme leader of our Professional Writers' group who has co-authored and edited the very recent Bloomsbury Press publication 'Fifty Playwrights on their Craft' available to purchase at the festival.
This year's Typhoon attracted hundreds of entries from the UK and many other countries; Yellow Earth's panel of readers were keen to find work that not only told a good story but also had something important and interesting to say about modern times. Says Kumiko: "I'm keenly aware of the underrepresentation of female playwrights and the lack of good roles for women in our industry. I am therefore delighted that this year's Typhoon includes five new works by women and six women directors"
The season will present work by writers from the UK, Singapore, Taiwan, USA, Korea, and Australia. Yellow Earth has good relationships with international theatre companies who also develop and produce new writing such as the Ma-Yi Theatre in New York City which is specifically dedicated to Asian-American new writing - Lloyd Suh is one of their members and one of this year's Typhoon playwrights.
"At Yellow Earth we believe that British East Asian work and artists should be better represented on British stages and screens," says Kumiko. "We are still seeing 'yellowface' productions in this country (ie East Asian characters being performed by white actors as if East Asian actors didn't exist). Typhoon 2017 presents a brilliant opportunity to celebrate and showcase the talents and voices of more than 50 East Asian actors, writers and directors from the UK and abroad."
---
IF YOU GO:
Typhoon WEST @ Soho Theatre
November 22nd 3pm Fulfillment Jeremy Tiang
November 23rd 3pm Zen Joyce Lee
November 24th 3pm Forgotten Daniel York Loh
Tickets: 020 7478 0100 www.sohotheatre.com
Venue: Soho Theatre, 21 Dean Street, London W1D 3NE
Typhoon EAST @ Rich Mix
November 24th 7.30pm A Fable For Now Wei Yu-Chia
November 25th 3pm Today Is My Birthday Susan Soon He Stanton
November 25th 7.30pm King of the Yees Lauren Yee
November 26th 3pm American Hwangap Lloyd Suh
November 26th 7.30pm White Pearl Anchuli Felicia King
Tickets: 020 7613 7498 www.richmix.org.uk
Venue: Rich Mix, Venue 1 (Upstairs theatre), BethnAl Green Road, London E1 6LA
---
THE PLAYS and PLAYWRIGHTS:
Typhoon WEST @ SOHO THEATRE
November 22nd - Fulfillment by Jeremy Tiang
Bennett works at an Amazon Fulfilment Center somewhere in America, but she's writing books instead of selling them. Her Masters Degree has left her with nothing but student debt and broken dreams. Most of her colleagues in this dead-end job dream of escaping - except Mengru, a Chinese immigrant, who has come to America to learn about capitalism and find a better life here. Can these two women survive in a system that's rigged against them and what will they have to sacrifice?
Jeremy Tiang's plays include The Last Days of Limehouse (Yellow Earth) and A Dream of Red Pavilions (Pan Asian Rep, NYC). He also translates novels and plays from Chinese, most recently Xu Nuo's A Son Soon (Manchester Royal Exchange). Jeremy's novel State of Emergency is published by Epigram Books in November 2017.
November 23rd - Zen by Joyce Lee
Caroline slogs away at a boring job in a high street bank while dreaming of a better future; her parents want her to return to Hong Kong and she feels increasingly trapped. After a violent event interrupts her world, her mind begins to unravel; internal voices propel her into an epic and fantastical journey across the UK where she discovers her past, encounters some pandas and finds some peace.
Joyce Lee started working on Zen at Yellow Earth's writers' surgery with dramaturg Drayton Hiers. Having had experience of psychosis, she felt a strong impulse to write a play that would convey to an audience what it's like to experience hearing voices and seeing hallucinations. Through exploring this mental health issue, she hopes the play might challenge stigma and trigger discussion around this topic.
November 24th - Forgotten by Daniel York Loh
1918. Republican China. Times are tough in Horse Shoe Village. Old Six and Second Moon struggle to earn enough to feed their young child. Big Dog struggles to overcome opium addiction and for Eunuch Lin, the fall of the Imperial Dynasty couldn't have come at a worse time. Could a fierce war far away in Europe present an opportunity?
Forgotten is inspired by the little known story of the 140,000 strong Chinese Labour Corps who left everything to work behind the front lines during WW1
Daniel York is an actor and writer. He has performed at the RSC, National Theatre and Donmar Warehouse. His play The Fu Manchu Complex ran at Ovalhouse. Along with composer Craig Adams, he won the 2016 Perfect Pitch award to create an original stage musical, Sinking Water. He also features in the UK best-selling essay collection, The Good Immigrant.
Typhoon EAST@RICHMIX
November 24th - A Fable For Now by Wei Yu-Chia
A Fable for Now is a collection of imaginary short stories set in the not so distant future; stories that are a deliberate jumble of moral lessons that could be seen as relevant and meaningful or irrelevant and meaningless. They feature a menagerie of human beings, a polar bear and other talking animals to explore the earth's political climate.
Wei Yu-Chia has a Masters in Playwriting from Taiwan University's Drama Department. A Secular Fable won the 2014 Taiwanese Literature Award for Playwriting and was produced in 2016 under the title # . Her other plays include Mama/Popstar (2015 Taipei Literature Award for Playwriting - Merit) and A Child From Nankoku (2017 New Taipei Award for Playwriting - Merit).
November 25th - Today Is My Birthday by Susan Soon He Stanton
Emily is a would-be writer whose bubble life in New York City has popped. Finding her homelife chaotic and unfulfilling, she becomes strangely activated after creating a sassy alter-ego for radio. Told through a playful mix of live radio, voicemail and phone calls, this is a quirky comedy about a life with a thousand friends on Facebook but no one to have dinner with on Saturday night.
Susan Soon He Stanton's plays include We, the Invisibles, Takarazuka!!! and SEEK. Most recently, she worked in London as a staff writer for the TV series Succession on HBO. She is a two-time Sundance Institute Theater Lab Resident Playwright. She has developed work at The Public Theater, Kennedy Center, NYTW and Disney Creative Entertainment. Today is My Birthday will have its world premiere at the New Ohio Theatre in NYC this November.
November 25th - King of the Yees by Lauren Yee
For nearly 20 years Lauren Yee's father Larry has been a driving force in the Yee Family Association, a seemingly obsolete Chinese American men's club formed 150 years ago. But when her father goes missing, Lauren plunges into the rabbit hole of San Francisco Chinatown to confront a world both foreign and familiar. At once bitingly hilarious and heartbreakingly honest, King of the Yees is an epic joyride across cultural, national and familial borders.
Lauren Yee's King of the Yees premiered at Chicago's Goodman Theatre and will soon be seen in San Francisco and Ottawa, Canada. Her work has been produced in many theatres across the US; she recently won the National Arts Club 2017 Kesselring Prize for her play In A Word which was named a New York Times Critic's Pick and joins past winner Tony Kushner. Lauren's work includes Ching Chong Chinaman (2010) and a number of Off-Broadway plays including The Hatmaker's Wife. Her latest, The Great Leap, made the US 2017 Kilroys List which honours plays by women.
November 26th - American Hwangap by Lloyd Suh
Steeped in the difficulty of reunification and reconciliation, American Hwangap tells the story of Min Suk Chun, who some 15 years earlier left his family in a West Texas suburb to return to his native Korea. On the occasion of his 60th birthday (hwangap), a milestone signifying the completion of the Eastern Zodiac and a type of rebirth, he returns to his ex-wife and now adult children as they struggle to reconcile their broken past with the mercurial, verbose and often exasperating patriarch now back at the head of the table.
Lloyd Suh is a member of New York's Ma-Yi Theatre; American Hwangap has been produced by Magic Theatre (San Francisco), Ma-Yi/Play Co. (NYC), Halcyon/A-Squared (Chicago), Tanghalang Pilipino (Manila) and PCPA (Seoul). Other plays include Charles Francis Chan, Jr, Jesus in India, The Wong Kids.
November 26th - White Pearl by Anchuli Felicia King
The management team at Clearday scramble to deal with a PR disaster after a leaked Chinese advertisement goes viral. Casual blackmail, allegations of corruption and a clash of philosophies fuel this darkly comedic boardroom drama about toxic ideas and the complexity of Pan-Asian relations.
Anchuli Felicia King is a multidisciplinary artist of Thai-Australian descent whose areas of interest include emerging technologies, VFX and projection design, and writing for performance. As a playwright, she explores linguistic hybrids, digital cultures and issues of global urgency. www.anchulifeliciaking.com
Related Articles View More UK Regional

Stories

Shows
More Hot Stories For You