Royal Surrey Women's Choir Announce Summer Charity Concert 2019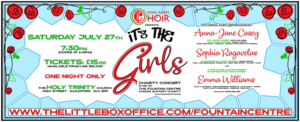 For one-night-only, on SATURDAY 27TH July 2019 at 7:30pm, Emcee Jake Hellier and the Royal Surrey Choir return to the stage for their 2019 Summer Charity Concert 'It's The Girls' celebrating the 60's Girl-Group revolution and featuring classic songs from Aretha Franklin, Dusty Springfield, Cilla Black, Carole King and more!
Performing on stage at the historic Holy Trinity Church (Guildford, GU1 3RR) the RSChoir will be raising much-needed funding for The Fountain Centre, Surrey's leading charitable organisation providing advice, on-going support, community and complimentary therapies to the individuals and families of those whose lives have been affected by cancer.
Accompanied by Musical Director Terence Penk and his live band, and featuring performances from critically acclaimed 4-time Olivier Award Nominee and What's on Stage Award Winner Emma Williams (Half a Sixpence, Chitty Chitty Bang Bang, Mrs Henderson Presents), legendary West End actress/singer/dancer and TMA Award Winner Anna-Jane Casey (Mack and Mabel, Sweet Charity, West Side Story), and renowned vocalist and What's on Stage Award Nominee Sophia Ragavelas (Cats, Les Miserables, Calamity Jane) the Royal Surrey Choir 2019 summer Charity Concert promises to be an unforgettable night of music and song.
Tickets: £15.00
Tickets available to buy online at: www.thelittleboxoffice.com/fountaincentre
For more information on The Fountain Centre: www.fountaincentre.org
Want to join the Royal Surrey Choir? Please contact: RSChoir@outlook.com
A selection of raffle prizes have been kindly contributed by local Surrey businesses. All vocalists, band, crew fees, and all other proceeds will be donated in their entirety to The Fountain Centre.