Photos: ROSENCRANTZ AND GUILDENSTERN ARE DEAD At TRH
Following a three week run at the Chichester Festival Theatre, Trevor Nunn directs a company led by Samuel Barnett and Jamie Parker in Tom Stoppard's Rosencrantz and Guildenstern Are Dead which runs at the Theatre Royal Haymarket from 16 June - 20 August, with press night on 21 June 2011. Set design is by Simon Higlett, with costumes by Fotini Dimou, lighting by Tim Mitchell, sound by Paul Groothuis and music by Steven Edis. Rosencrantz and Guildenstern are Dead is produced by the Chichester Festival Theatre, the Theatre Royal Haymarket and Triumph Entertainment Limited.
Joining
Samuel Barnett
(Rosencrantz) and
Jamie Parker
(Guildenstern) are
Chris Andrew Mellon
(The Player),
Michael Benz
(Horatio), Fiona Gillies (Gertrude),
Tom Gold
ing (Fortinbras),
Jack Hawkins
(Hamlet),
Andrew Jarvis
(Polonius/Ambassador), Katherine Press (Ophelia) and James Simmons (Claudius) as well as Trevor Allan Davies,
Tomm Coles
, Jody Elen Machin, Zac Fox, Charlie Hamblett,
Elisabeth Hopper
, Greg Last, James Northcote, Stephen Pallister and
Keith Thompson
.In Rosencrantz and Guildenstern Are Dead, a verbally scintillating and richly inventive play, Stoppard retells Hamlet through the eyes of two of its minor characters. Vaguely conscious that they are bit parts in a much bigger story of which they have no direct knowledge, Rosencrantz and Guildenstern hilariously and poignantly inhabit a world completely beyond their grasp.
Samuel Barnett
, who will play Rosencrantz, was last on stage as Leantio in Women Beware Women at
The
National Theatre
. He played Posner in
Alan Bennett
's The History Boys at
The
National Theatre
, on Broadway, on film and on the radio. His other theatre credits include His Dark Materials for
The
National Theatre
, The Whisky Taster and When You Cure Me for the
Bush Theatre
, Dealers Choice for the
Menier Chocolate Factory
, The Marriage of Figaro for the Royal Exchange Theatre, Accrington Pals for
Chichester
Festival Theatre
and Frankenstein for the Open Air Theatre Regents Park. On television his credits include Two Pints of Larger and a Packet of Crisps, Miss Marple, Beautiful People, Desperate Romantics, Crooked House,
John Adams
and the title role in Wilfred Owen: A Tale of Remembrance. His other film credits include Bright Star, Mrs Henderson Presents and Love tomorrow.
Jamie Parker
, who will play Guildenstern, has recently completed a run at Sheffield Theatre's as Tony Ferris in
David Hare
's Racing Demon. Previously he has been seen as Prince Hal in Henry IV Parts I and II; A New World-The Life of Thomas Payne and As You Like It at Shakespeare's Globe Theatre as well as in roles in My Zinc Bed at the Theatre Royal Northampton, Singer at the
Tricycle Theatre
and The Revenger's Tragedy for
The
National Theatre
. Parker also played Scripps in
Alan Bennett
's The History Boys at
The
National Theatre
, on Broadway and on film. His other film credits include Valkyrie. His television credits include The Hour, Horne and Cordon, Silent Witness, Maxwell, Wire in the Blood and Foyles War. Rosencrantz and Guildenstern Are Dead was first staged at the Edinburgh Festival in 1966 and at
The
National Theatre
the following year. Since then, it has been performed in many languages. In 1990, the play was made into a film directed by the author.
Tom Stoppard's plays include The Real Inspector Hound, Jumpers, Travesties, Night and Day, The Real Thing, Hapgood, Indian Ink, Arcadia, The Invention of Love, The Coast of Utopia and Rock 'n' Roll. The later two, and Arcadia and Every Good Boy Deserves Favour (1977) were directed by Trevor Nunn. His translations and adaptations include works by Lorca, Nestroy, Schnitzler, Molnar, Pirandello and Chekhov. Among his television credits are Professional Foul and Squaring the Circle. Stoppard's film work includes Billy Bathgate, Empire of the Sun, Enigma and Shakespeare in Love for which he was awarded an Oscar for Best Screenplay, together with co-writer Marc Norman. Radio plays include If You're Glad, I'll Be Frank, Albert's Bridge, In the Native State and On Dover Beach (2007).
Trevor Nunn was the longest-serving Artistic Director and Chief Executive of the Royal Shakespeare Company (1968 to 1986). During that time he directed most of the Shakespeare canon, as well as Nicholas Nickleby and Les Misérables. He returned to the RSC to direct King Lear and The Seagull. From 1997 to 2003 he was Director of The National Theatre where his 21 productions included award-winning revivals of Troilus and Cressida, The Merchant of Venice, Summerfolk and The Cherry Orchard, as well as Oklahoma!, My Fair Lady and Anything Goes. He has directed the world premieres of Tom Stoppard's Arcadia, Every Good Boy Deserves Favour, The Coast of Utopia and Rock 'n' Roll, and of Cats, Starlight Express, Aspects of Love, Sunset Boulevard and The Woman in White by Andrew Lloyd Webber. His more recent theatre work includes Hamlet and Richard II at The Old Vic, Timon of Athens and Skellig for the Young Vic, The Lady From the Sea for the Almeida, Scenes from a Marriage for the Belgrade, Coventry, A Little Night Music for the Menier Chocolate Factory, in the West End and on Broadway, Cyrano de Bergerac for Chichester Festival Theatre, Inherit the Wind for The Old Vic and Birdsong at the Comedy Theatre.
Trevor Nunn
's opening production as Artistic Director of the Theatre Royal Haymarket Nunn was Flare Path. Following the run of Rosencrantz and Guildenstern Are Dead, Nunn will direct
Ralph Fiennes
in The Tempest.LISTINGS INFORMATION Dates: 16 June - 20 August 2011Press night: 21 June 2011 at 7pmPerformances: Monday - Saturday at 7.30pm
Thursday and Saturday matinees at 2.30pmTicket prices: £17 - £50 plus concessions
N.B. a £1 restoration levy will be added to all ticket prices
Day Seats - a number of top price tickets at £20 will go on sale at 10am on the day of each performance and can purchased from the Theatre Royal Haymarket Box Office in personAddress: Theatre Royal Haymarket, Haymarket, London, SW1Y 4HTBox Office: 0845 481 1870Website:
www.trh.co.uk
Photographer credit: Catherine Ashmore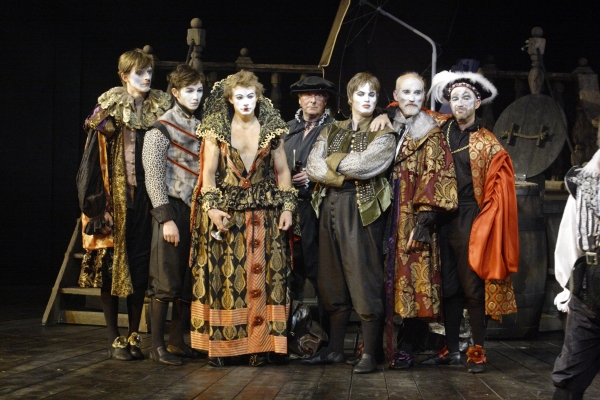 The Players in Rosencrantz and Guildenstern are Dead at TRH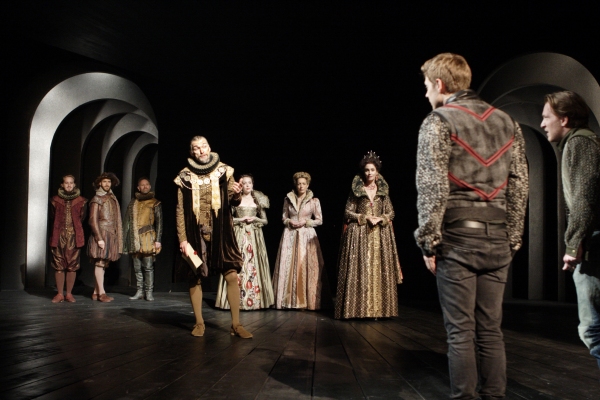 Samuel Barnett and Jamie Parker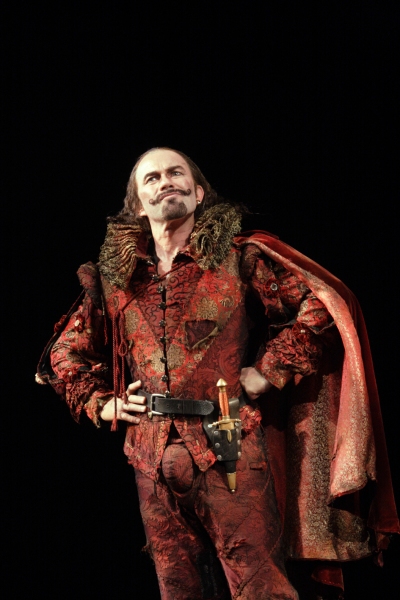 Chris Andrew Mellon

Samuel Barnett, Chris Andrew Mellon and Jamie Parker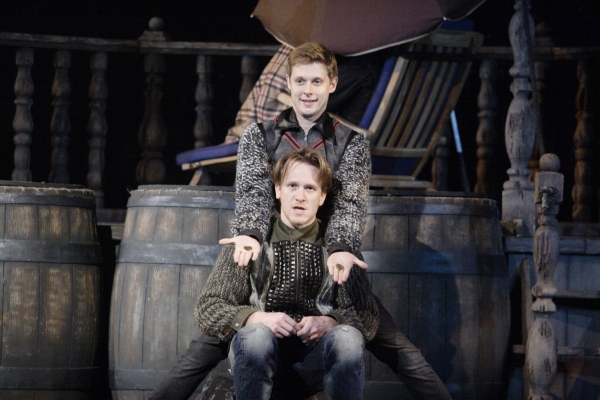 Samuel Barnett and Jamie Parker